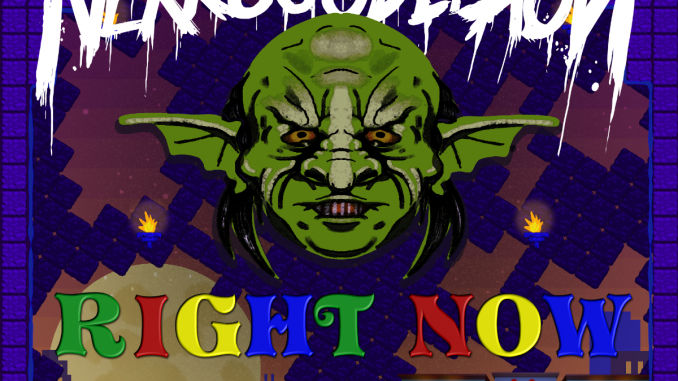 The self-proclaimed "Best Goblin Metal on the Planet" known as Nekrogoblikon have dropped the video for the brand new single "RIGHT NOW." Watch it here.
The video also serves as a teaser for John Goblikon's talk show of the same name, which also features Blake Anderson (Workaholics), comedian/musician Reggie Watts, DJ Dillon Francis, and Tosin Abasi (Animals as Leaders).
"We're very excited to finally share the first single and video from our new album with you all," the band says. "Since the song JUST SO HAPPENS to have the same name as John Goblikon's talk show RIGHT NOW, we figured we'd also give you a sneak peak of what's to come in Season 4 amidst all the goblin metal antics. Hope you enjoy!"
Can't beat a lil' shameless self-promotion.
The song will appear on the band's upcoming album, due out in 2022. Stay tuned for more details.
Season 4 of RIGHT NOW premieres on Wednesday November 17, with special guest Blake Anderson.
ABOUT NEKROGOBLIKON:
Los Angeles, California's Nekrogoblikon are melodic hard rock pranksters who deploy gnarly death metal earworms filled with crafty hooks, claw-pumping choruses, lightning-fast riffs, and over the top, EDM-style keyboard flourishes. With their ostentatious goblin hypeman John Goblikon, the band takes cues from hyperbolic horror-metal enthusiasts like GWAR, Finntroll, and Dethklok, while maintaining an affable, self-referential sense of humor. The group's early outings, like 2007's Goblin Island, were largely low-fidelity affairs, but by the early 2010s, Nekrogoblikon were operating at a far higher technical level, and employing a rotating cast of talented players.
Founded in 2006, Nekrogoblikon self-produced their debut album, the relatively lo-fi Goblin Island, in a basement. The LP was released in 2007, and an expanded lineup was quickly assembled to help flesh out the fledgling group's audacious live shows. The more technically proficient Stench arrived in 2011, and included the single "No One Survives" — the video written and directed by Brandon Dermer (Panic At The Disco, Every Time I Die, Diplo, Dillon Francis) became a viral hit, and landed the band festival slots at Download Festival in the UK and Rock Im Park/Rock Am Ring in Germany. The Power EP was issued the following year, and in 2014 the band joined Limp Bizkit on the Kerrang! Tour. In 2015 they released the concept LP Heavy Meta via their own Mystery Box label, and in 2018, Nekrogoblikon issued their fourth studio long-player, Welcome to Bonkers, which was followed by extensive touring including performing on the entirety of the final cross-country Vans Warped Tour and Summer Slaughter. In between touring stints, the band (along with Brandon Dermer and writer/actor Dave Rispoli) released 3 seasons of RIGHT NOW, a comedic talk show starring band mascot John Goblikon. The series features a wide array of high profile guests including comedian Bobby Lee, The Used, Keith Buckley from Every Time I Die, Wes Borland from Limp Bizkit, and Joe Trohman from Fallout Boy.