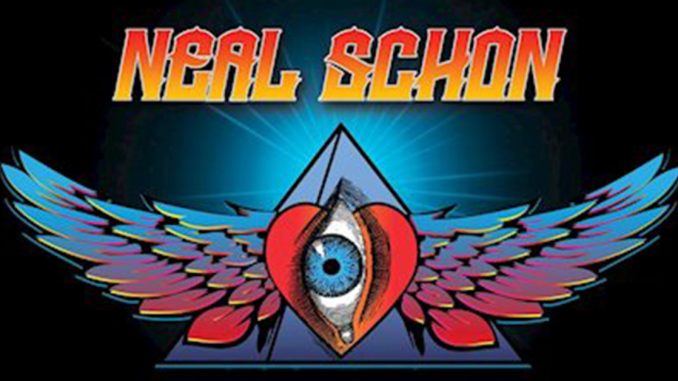 There's a huge difference between the debut of Journey up through 1977 and then 1978 through 1986. During this time, there's been one consistent face in the lineup. That would be guitarist and founding member Neal Schon.
Earlier in his career, Schon was a member of Santana and has played with a variety of other acts such as Bad English, Hardline and HSAS. He also spent time with composer Jan Hammer and vocalist Paul Rodgers of Bad Company fame.
Through it all, Schon has released ten solo albums with his latest offering being titled Journey Through Time. The best description is a grouping of musicians that have played with Schon, past and present.
Prior associations joining Schon include former Santana and Journey bandmate, keyboardist Gregg Rolie. As for the present day, Journey bandmates, drummer Deen Castronova, bassist Marco Mendoza and keyboardist John Varn.
The grouping Journey Through Time made their debut on February 9, 2018 at the Independent in San Francisco in front of a sold-out crowd.
There was good will behind this debut performance. It was a benefit concert for the Northern California Wildfires from October 2017. The wildfires reached 250 with 21 of those being major fires. All together, 245,000 acres were burned.
The Journey Through Time 29-song debut performance will be available as a 3CD / DVD set and Blu Ray.
Just as the project release title says, it's a Journey Through Time of Schon's career.
The 2.41.42 recording doesn't just consist of Journey's massive hits and familiar songs from 1978 Journey forward. It's a representation dating back to the 1975 same title debut album as well as Look into the Future and Next.
For 1978 and after, material up through 1986's Trial by Fire sees representation.
In addition to the wide range of Journey material, two songs from Schon's stint with Santana are represented as well. There's "Black Magic Woman" from 1968 and "Oye Como Va."
There's a great selection of the music spanning Schon's career up through 1986.
Nine songs, three each come from the first three albums, Journey, Look into the Future and Next. The music from the first three albums slides more towards a jazzy, progressive rock and jazz fusion side of things. The instrumental, "Kohoutek" from the debut Journey shows just that. The distribution of the nine of over the three disc is fairly even.
Five tracks are represent 1978's including "Feelin' that Way," "Anytime," "Wheel in the Sky", "lights" and "La Do Da."
The follow up, Evolution contributes five songs, "Lovin' Touchin' Squeezin'," "Just the Same Way", "Lady Luck" and two others.
Departure from 1980 sees three contributions, "Anyway You Want It," "Walks Like a Lady" and "Line of Fire."
"Stay Awhile" from Departure along with "Patiently" from Infinity and "Trail by Fire" from the release of the same name combine for a melody.
"Don't Stop Believin'," "Mother Father" and "Still They Ride" represent Escape, Journey's first number one album.
It is strange hearing another voice singing these songs. Journey Through Time is a project that focuses on Schon's lengthy and successful career. There should be an anticipation of different vocalist.
What may be surprising though is that Rolie doesn't sing all the songs, Castronova has vocal duties as well. For example, Castronova does a commendable job handling vocals for "Lights," "Separate Ways," Lovin', "Touchin' Squeezin'" and others.
Journey Through Time releases Friday, May 19, 2023 through Frontier Records.