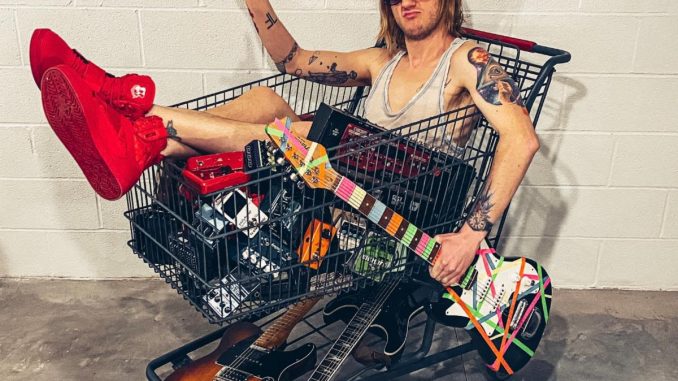 The anthemic new track from Nashville rock supergroup THE FRST, "Small Talk," is scheduled for release this Friday, May 28.
While they may be best known as Nashville, TN's "rock supergroup" with musicians from Taking Back Sunday, Insane Clown Posse, and even Rodney Atkins, THE FRST's fiery new ode to the Covid-19 pandemic saw vocalist/producer Mikei Gray performing all 130+ tracks in the recording session entirely himself.
"I think this past year we've seen the death of small talk," Gray says. "Hence 'Small Talk' was written as an analogy for these post pandemic times where human contact is all but extinct. While in quarantine I recorded over 130+ tracks in the recording session myself, although it was an old Digitech 'Grunge' distortion pedal that Adam Lazzara (Taking Back Sunday) gave me that really brought the guitar tones together and cutting through the mix. Steve Hardy deserves a lot of credit for wrangling all those tracks together. Of course, working with Andy VanDette is always incredible. He knows how to get the best out of a song."
After a decade spent as a decorated live rock guitarist, sharing stages with artists spanning the width and breadth of the music industry, such as Portugal. The Man, Florida-Georgia Line and Sublime with Rome, singer/guitarist Gray had something different in mind when he started THE FRST in early 2017. Gray and his ever-rotating cast of accompanying Nashville music heroes (including Andrew Leahey, Nathan Cogan (Taking Back Sunday), Jeffrey Cashmere (Insane Clown Posse) and Justin Smith spent much of 2017 touring the entire eastern seaboard.
"Hard rock riffs and meaningful songwriting." – American Songwriter
"Full of angst-ridden vocals and heavy guitar riffs that are keeping grunge very much alive." – Alternative Press
"Radiant backing harmonies imbue the tune with glowing depth and dimension, emphasizing the delicious sonic pressure of the song." – Tattoo.com
THE FRST online: