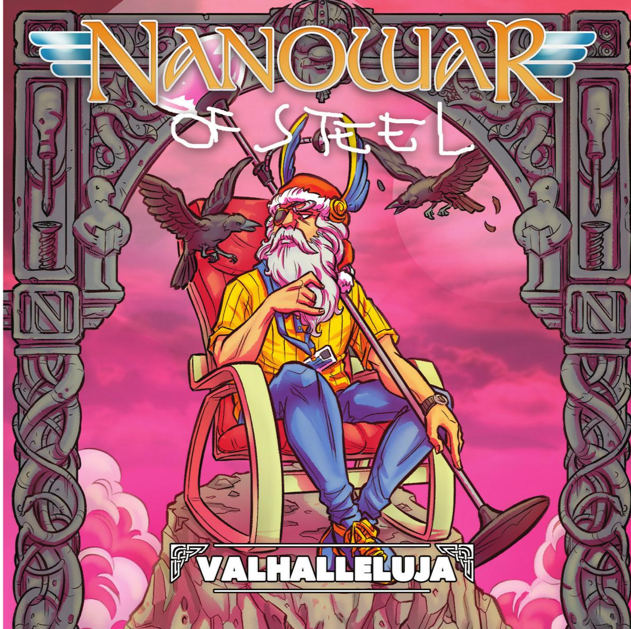 Our Father Odin, Who Art in IKEA: Sing "Valhalleluja"!

Smash Christmas Hit out Friday, December 13
Make some room under your Christmas tree, because NANOWAR OF STEEL have delivered the most perfectly zany Christmas present of the year! If you thought Odin, Gloryhammer, IKEA and Christmas had nothing in common, you are about to be proven wrong.
Masters of parody metal NANOWAR OF STEEL have combined all of these seemingly very different things into one wild and energetic gospel-metal tune. Channeling Viking vibes while retaining a rousing yuletide atmosphere, NANOWAR OF STEEL proudly present their upcoming holiday masterpiece, "Valhalleluja", featuring the powerful guest vocals of Angus McFife of Gloryhammer. "Valhalleluja" will be available as a 7" Single and will include one bonus track.
NANOWAR OF STEEL on Vahalleluja:
"Valhalleluja is NANOWAR's very own take on Christmas and modern-day Vikingness, featuring Sir Angus McFife of Gloryhammer. It's an epic gospel-metal song praising the virtues of our Lord and Saviour Odin, master of IKEA and protector of the stylish-furniture loving Metalheads. This song will change the way you look at your living room for good."
Celebrate Furniture Like You Never Have Before:
Pre-Order the Valhalleluja 7" Single
HERE
!
NANOWAR OF STEEL are releasing this limited 7" single just in time for Christmas on December 13. The single will contain the songs ""Valhalleluja" and "Sottosegretari alla presidenza della repubblica del True Metal ft. Gli Atroci".
VALHALLELUJA will be available in the following formats:
– 7″ Vinyl Single
– T-Shirt & 7″ Vinyl Single (Bundle)
– Digital Single
Ladder To Valhalla Tour:
12.02.2019 FR – COLMAR / GRILLEN
13.02.2019 FR – ST. MARTIN D'HÈRES / L'AQUARIUM
15.02.2019 FR – BORDEAUX / IBOAT
16.02.2019 FR – TOULOUSE / L`USINE À MUSIQUE
17.02.2019 FR- NANTES / FERRAILEUR
18.02.2019 FR – PARIS / LE PETIT BAIN
20.02.2019 IT – MONCALIERI / AUDIODROME
21.02.2019 IT – NONANTOLA / VOX
22.02.2019 IT- ROME / LARGO VENUE
27.02.2019 ES – ZARAGOZA / SALA LOPEZ
28.02.2019 ES – BARCELONA / SALAMANDRA*
29.02.2019 ES – MURCIA / GARAJE*
05.03.2019 ES – OVIEDO / LATA DE ZINC
06.03.2019 ES – PALENCIA / INFINITY
07.03.2019 ES – LA CORUÑA / FILOMATIC
02.05.2019 LI – BALZERS / OPEN HAIR FEST
16.05.2019 ES – MADRID / FOSA DE FRIKIS
04.07.2019 CH – VALLORBE / KHAL'FEST
* with Gigatron
NANOWAR OF STEEL are:
Mohammed Abdul – guitar and backing vocals
Gatto Panceri 666 – bass and backing vocals
Uinona Raider – drums
Potowotominimak – vocals
Mr. Baffo – vocals
More Info: