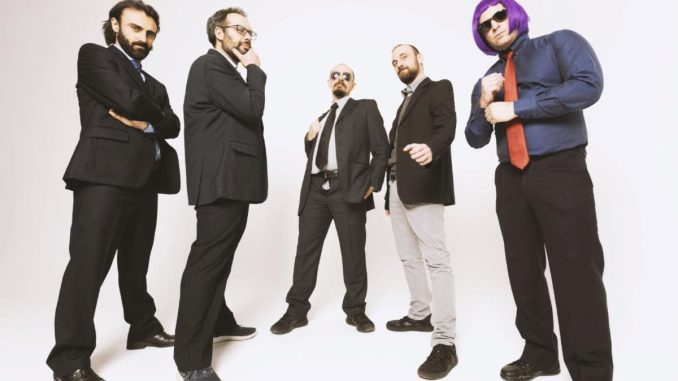 NANOWAR OF STEEL & Joakim Brodén of Sabaton
Grieve the Loss of the 1994 FIFA World Cup
on Third Single "Pasadena 1994"
Watch HERE!
New Studio Album, 'Dislike To False Metal',
Out This Friday, March 10, 2023
Pre-Order NOW!
On European Tour in March and April!
Sabaton's Joakim Brodén on "Pasadena 1994":
"When dealing with these guys two things are certain:
1: It's gonna be fun as hell
2: It's gonna be fucked up."
Even after almost three decades, Italy still grieves the loss of the 1994 FIFA World Cup. To process this terrible catastrophe, NANOWAR OF STEEL have released the charging third single "Pasadena 1994", cut from their highly anticipated new album, 'Dislike To False Metal', out this Friday, March 10, 2023 via Napalm Records. Featuring Sabaton singer Joakim Brodén, the single tackles Italy's battle against Brazil and unites the most hilarious aspects of the Italian quintet with Sabaton and their stylings.
The breathtakingly intense and equally comical music video paints a highly amusing image of the historic and dramatic football game. Guest vocalist Joakim Brodén acts as sports commentator for the historically significant event, and is certainly not the only nod toward Sabaton as the teams fight with total commitment for the World Cup championship.
NANOWAR OF STEEL about "Pasadena 1994":
"This song is probably NANOWAR OF STEEL's first serious song. This song is a celebration of that tragic 17th of July 1994, a day that our Nation still remembers with tears and sadness nowadays. This song is a tribute to the heroes of an epic battle, sang with the world's master of singing about heroes of epic battles – Joakim Brodén of Sabaton. Join us and pay tribute to the fallen ones!"
Watch the Music Video for "Pasadena 1994" HERE
NANOWAR OF STEEL raises the curtains of 'Dislike To False Metal' atop the seven seas with "Sober", marauding as the world's first health-conscious, mineral-water chugging pirate metal collective on the hunt for Bitcoin treasure!

On the dramatic symphonic metal anthem "Winterstorm In The Night" featuring Eleine singer Madeleine Liljestam, the listener is enchanted in a peaceful tundra of gently cascading dandruff scales, while "Disco Metal" pays homage to the club sound of the 90s with a metal techno rager for undead partygoers clamoring for a scary good time.

Keyboard warriors around the world will unfollow NANOWAR OF STEEL after being triggered by "Metal Boomer Battalion". These soon to be earworms are just a taste of the tear-jerking hilarity to be found on the album, as NANOWAR OF STEEL's dual mastery of comprehensive, eclectic performance styles and quick-witted, satirical concepts makes 'Dislike To False Metal' a sonic metal meme worth posting about – and then some!
Gaining millions of views and streams with their famous hits "Norwegian Reggaeton" (ft. Charly Glamour & Gigatron), "Valhalleluja" (ft. Angus McFife) and the party song "Uranus" (ft. Michael Starr), NANOWAR OF STEEL are ready to prove their status as one of the genre's most unconventional bands to watch.

With their fifth studio album, 'Dislike To False Metal', the band arrives with a disturbingly addictive collection of entirely new tracks. Expertly exploring a mind-boggling amount of entirely different metal subgenres on 10 hilarious anthems, NANOWAR OF STEEL never cease to amaze with an equally-impressive dose of intelligently fresh comedic delivery that'll have listeners rolling with laughter, and undeniable songwriting skill that'll have their fellow genre-mates scheduling more practice sessions.

'Dislike To False Metal' is beyond a comedy album – it's a disconcertingly masterful showcase of above-the-bar musicianship, creative lyricism and boundless imagination.
'Dislike To False Metal' Track List:
1.Sober
2.Winterstorm in the Night feat. Madeleine Liljestam (Eleine)
4.Muscle Memories
5.Chupacabra Cadabra
6.Pasadena 1994 feat. Joakim Broden (Sabaton)
7.Metal Boomer Battalion
8.Dimmu Boogie
9.Protocols (of the elders of Zion) of love
10.The Power of Imodium
'Dislike To False Metal' will be available in the following formats:
=> 1 LP Gatefold PURPLE
=> 1CD Digisleeve
NANOWAR OF STEEL Live 2023:

After a hot 2022 summer tour and several festival appearances, NANOWAR OF STEEL are ready to play another stretch of shows in this brand new year!

In case you missed the opportunity to see these mighty comedic heavy metal masters, here's another chance to experience NANOWAR OF STEEL live on the band's upcoming European tour, Death To False Tours, in Spring of 2023!

Death To False Tours 2023

11.03.23 IT – Roma / Largo Venue SOLD OUT

12.03.23 IT – Roma / Largo Venue SOLD OUT

w/ Frozen Crown

17.03.23 IT – Livorno / The Cage

18.02.23 IT – Genova / Crazy Bull SOLD OUT

24.03.23 IT – Roncade (Treviso) / New Age SOLD OUT

25.03.23 IT – Cesena / Vidia Club

31.03.23 DE – Geiselwind / Metal Franconia Fest

01.04.23 CH – Aarburg / Musigburg

02.04.23 DE – Munich / Backstage Club

03.04.23 AT – Vienna / Viper Room

04.04.23 HU – Budapest / Analog Music Hall

05.04.23 PL – Krakow / Zaścianek

06.04.23 PL – Warsaw / Hydrozagadka

08.04.23 DE – Hanover / Cafe Glocksee

09.04.23 DE – Hamburg / Logo

10.04.23 DK – Copenhagen / Stengade

12.04.23 NL – Rotterdam / Baroeg

13.04.23 DE – Frankfurt / Nachtleben

14.04.23 DE – Essen / Turock

15.04.23 DE – Trier / Mergener Hof

16.04.23 BE – Vorselaar / De Dreef

w/ Tragedy

20.04.23 UK – Hull / The Welly Club

21.04.23 UK – Carlisle / The Venue

22.04.23 UK – Glasgow / Cathouse

23.04.23 UK – Sheffield /O2 Academy 2

24.04.23 UK – Newcastle / Think Tank

25.04.23 UK – Liverpool / O2 Academy 2

26.04.23 UK – Birmingham / O2 Institute 2

27.04.23 UK – London / O2 Academy Islington

28.04.23 UK – Dorset / Teddy Rocks Festival

29.04.23 UK – Bristol / Thekla

30.04.23 UK – Brighton / Patterns

02.05.23 FR – Nantes / Ferrailleur

03.05.23 FR – Paris / Petit Bain

04.05.23 FR – Toulouse / Connexion Live

05.05.23 ES – Barcelona / Sala Bóveda

06.05.23 ES – Madrid / Sala Revi Live

07.05.23 PT – Lisbon / RCA Club

08.05.23 ES – Murcia / Sala Garage Beat Club

09.05.23 ES – Valencia / Sala Peter Rock

10.05.23 ES – Portugalete (Bilbao) / Sala Groove

11.05.23 FR – Lyon / Rock 'n' Eat

21.10.23 IT – Milan / Alcatraz, 20 Years Of Steel Special Show
NANOWAR OF STEEL are:

Gatto Panceri 666 – Bass

Potowotominimak – Vocals

Mr. Baffo – Vocals

Mohammed Abdul – Guitar

Uinona Raider – Drums

FOLLOW NANOWAR OF STEEL: