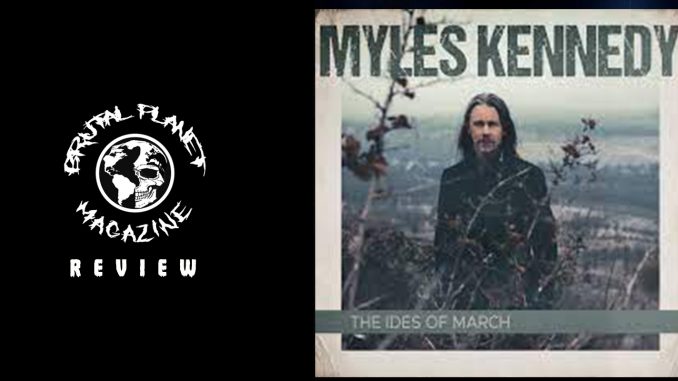 Myles Kennedy has one of the most recognizable voices in the rock genre and I find few people who disagree with me when I say that he is one of the best. He is also an incredible guitarist and an accomplished songwriter. For years, we have enjoyed his work in Alter Bridge as well as his collaboration with Slash and the Conspirators. In 2018, Myles released his debut solo album, "The Year of the Tiger," which received extremely positive reviews. Now, his follow-up work, "The Ides of March," will be released May 14th through Napalm Records.
Myles hooked up with drummer Zia Uddin and bassist Tim Tournier, both of whom played on the "Year of the Tiger," and drove down to Clear Track Studios in Florida, where they recorded with legendary producer, Michael "Elvis" Baskette (Sevendust, Trivium, Chevelle). The opening track, "Get Along," should be listened to by every citizen of our country. Let me make this clear- it's NOT a political song, but it is one of desperation- crying out for the peace and unity we all long for. In an age where everything seems to divide us, Myles has written from an honest heart, singing, "With empty words, we keep on fighting, we're only getting weaker cause we're too headstrong. Well, now there's no real way of deciding who's right or wrong."
While "The Year of the Tiger" was fairly stripped down and focused around Myles lyrics, "The Ides of March" really showcases his musicianship and guitar skills. His talent to blend blues and rock is evident in his first two singles, "In Stride," and the album's title track. "In Stride" is one of the heavier songs on the record- exhibiting a wild slide guitar and a catchy chorus. In a recent interview, Myles says of the single, "Chill out. That pretty much sums it up. The lyric paints a picture of a survivalist preparing for an impending zombie apocalypse. It was inspired by the first wave of lockdowns as everyone was buying vast amounts of toilet paper and supplies. I started to ask myself if it might be wise to try and gain some perspective and not overreact… keep calm and carry on." "The Ides of March," released March 16th, was a surprising choice as a single considering its length is over seven minutes long. The song starts with some beautiful fingerpicking and a whispering Myles, quickly shifting to a bluesy ballad that ebbs and flows for several minutes. It also features a wicked solo, a crescendoing climax, and is brought back down to a whisper once again. The song is brilliant.
The entire album is full of songs that show off the dynamic musicianship of Myles. Songs like "A Thousand Words," Tell It Like It Is," and "Wake Me When It's Over" are driving and upbeat; the kind of songs you have fun driving to. "Moonshot," a song written in one afternoon, swells back and forth in a big rock sound while it sprinkles in just a flair of country, and "Wanderlust Begins" displays a stellar performance of both fingerpicking and charismatic vocals. "Love Rain Down" seems to be written from a vulnerable state of mind and "Worried Mind," my favorite track, concludes the album in a monumental way.
I loved "The Year of the Tiger" but "The Ides of March" thrusts everything we love about Myles into the spotlight- great blues riffs, killer solos, and that extraordinary tenor voice. You can tell when an artist has fun making an album. "The Ides of March" is an album you don't simply enjoy hearing- you'll feel it.