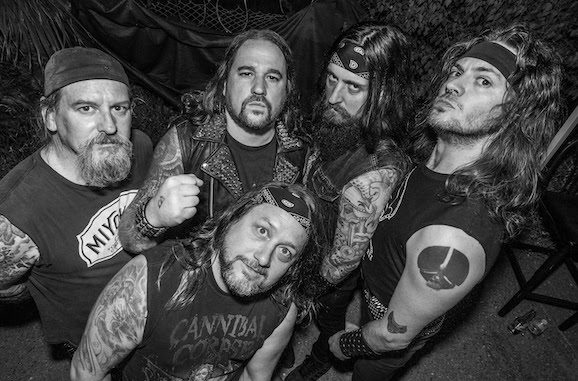 It's time! Time to get a taste of that new WASTE! After months of anticipation, Richmond's hard-charging, thrash metal maniacs
MUNICIPAL WASTE
have released their 7th studio album, "
Electrified Brain
," today via
Nuclear Blast
. The
Decibel Magazine
cover band has returned with the modern day thrash-crossover classic fans have been waiting on and critics agree.
"…a rocket ride of old school thrash that doesn't overstay its welcome, wrapping up in a streamlined 34 minutes…Electrified Brain is fun and cathartic album you can crank up and forget about your cares for a while." – MetalInjection.net
"Municipal Waste remain the ultimate soundtrack for smashing cans and banging heads." – Kerrang.com
"Electrified Brain is exactly everything you expect from the Waste: high speed party metal—nothing more and nothing less." – HysteriaMag.com
"Electrified Brain" is available now, digitally as well as on cassette and a number of different limited edition colored vinyl in various bundles,
Purchase "Electrified Brain": https://www.municipalwaste.net/electrified-brain
Stream "Electrified Brain": https://municipalwaste.bfan.link/electrified-brain
More from "Electrified Brain":
"Grave Dive" Audio Single – https://youtu.be/ACnkjKmRCrs
"High Speed Steel" Lyric Video – https://youtu.be/0KnlmGPbToQ
"Electrified Brain" Music Video: https://youtu.be/UW5tPOBp-ck
"Electrified Brain" Tracklisting:
1. Electrified Brain
2. Demoralizer
3. Last Crawl
4. Grave Dive
5. The Bite
6. High Speed Steel
7. Thermonuclear Protection
8. Blood Vessel – Boat Jail
9. Crank The Heat
10. Restless and Wicked
11. Ten Cent Beer Night
12. Barreled Rage
13. Putting On Errors
14. Paranormal Janitor
MUNICIPAL WASTE
will be on the road in support of "
Electrified Brain
" all summer and fall in North America and Europe including tours with
AT THE GATES
and
ANTHRAX.
Purchase tickets here:
https://www.municipalwaste.net/tour
North America 2022
w/AT THE GATES, THROWN INTO EXILE
Aug 17 – Los Angeles, CA – The Fonda Theatre
Aug 18 – Pomona, CA – The Glass House
Aug 19 – Berkeley, CA – The UC Theatre
w/AT THE GATES, ENFORCED
Aug 22 – Englewood, CO – Gothic Theatre
Aug 23 – Lawrence, KS – The Granada
Aug 24 – Chicago, IL – Concord Music Hall
Aug 25 – Toronto, ON – The Danforth Music Hall
Aug 26 – Montreal, QC – Theatre Corona
w/ANTHRAX, BLACK LABEL SOCIETY, HATEBREED, AT THE GATES, ENFORCED
Aug 27 – Worcester, MA – Tattoo The Earth Festival @ Palladium
w/AT THE GATES, ENFORCED
Aug 28 – Philadelphia, PA – Union Transfer
Aug 29 – Silver Spring, MD – The Fillmore
Aug 30 – New York, NY – Irving Plaza
Sep 8 – Cave-In-Rock, IL – Full Terror Assault 2022
Sep 10 – Alton, VA – Blue Ridge Rock Festival 2022
Europe 2022 (w/ANTHRAX)
Sep 27 – Birmingham, UK – O2 Academy
Sep 29 – Manchester, UK – Manchester Academy
Sep 30 – Glasgow, UK – O2 Academy
Oct 1 – Newcastle, UK – O2 City Hall
Oct 3 – Leeds, UK – O2 Academy
Oct 4 – Nottingham, UK – Rock City
Oct 6 – Bristol, UK – O2 Academy
Oct 8 – London, UK – Brixton Academy
Oct 10 – Brussels, BE – Ancienne Belgique
Oct 11 – Tilburg, NL – Poppodium 013
Oct 13 – Paris, FR – Bataclan
Oct 14 – Oberhausen, DE – Turbinenhalle
Oct 15 – Leipzig, DE – Werk 2
Oct 17 – Copenhagen, DK – Vega Main Hall
Oct 18 – Göteborg, SE – Restaurang Trägårn
Oct 19 – Stockholm, SE – Annexet
Oct 21 – Oulu, FI – Tapahtumakeskus Tullisali
Oct 22 – Turku, FI – Logomo Kitchen
Oct 23 – Tallinn, EE – Tallinna Kultuurikatel
Oct 25 – Warsaw, PL – Klub Stodola
Oct 26 – Frankfurt, DE – Batschapp
Oct 27 – Stuttgart, DE – LKA Longhorn
Oct 29 – Brno, CZ – Sono Centrum
Oct 31 – Budapest, HU – Babra Negra
Nov 1 – Zagreb, HR – Culture Factory
Nov 2 – Vienna, AT – Arena
Nov 4 – Milan, IT – Alcatraz
Nov 5 – Zurich, CH – Komplex 457
Since 2001,
MUNICIPAL WASTE
have uncompromisingly stuck to their guns as hard-partying and even harder-hitting torchbearers of 21
st
century thrash metal. The Richmond, VA quintet—Tony Foresta [vocals], Ryan Waste [guitar], Philip "Landphil" Hall [bass], Dave Witte [drums], and Nick Poulos [guitar]—have transformed from a cult favorite into metal mainstays for a generation. Along the way,
Decibel
touted "
The Art of Partying"
in its coveted
"Hall of Fame"
and asserted it
"revved up interest in thrash and inspired a fresh wave of youthful new bands
.
"
Metal Hammer
christened "
The Art of Partying"
one of
"The 50 Greatest Thrash Metal Albums Ever
,
"
while
Loudwire
pegged "
The Art of Partying"
as
"The Best Thrash Album of 2007"
and "
Hazardous Mutation"
as
"The Best Thrash Album of 2005
.
"
The guys have sold out countless shows on multiple continents and piled up tens of millions of streams in the process. 2017's "
Slime and Punishment"
bowed in the Top 3 of the
Billboard
Heatseekers Albums Chart, and "
The Last Rager"
EP only accelerated their momentum in 2019.
Municipal Waste maintain course as vicious and vital as ever on 2022's "Electrified Brain" [Nuclear Blast] as heard on tracks like "Grave Dive," "High Speed Steel" and "Crank The Heat." Recorded during the pandemic in Philadelphia with producer Arthur Rizk [Power Trip, Code Orange], the sessions would be the first time the band reunited in person after a year. Together, they achieved "a thicker and heavier sound."
In the end, "Electrified Brain" will give you everything you'd want from a Municipal Waste record or heavy metal record, period. "We hope you walk away with some bloody ears, blown speakers, pissed off parents, black eyes, and a healthy distrust of authority," says Tony.
Photo Credit: Rob Coons