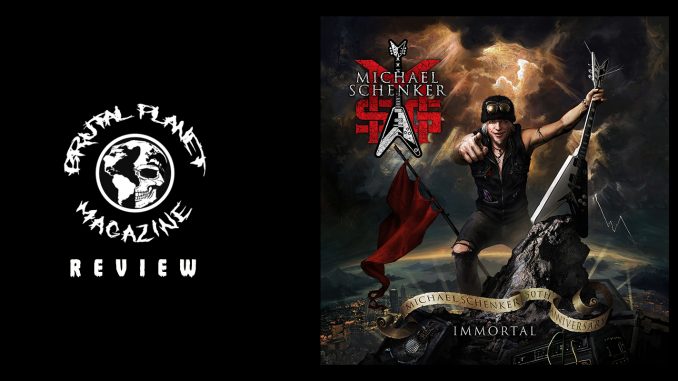 When it comes to celebrating 50 years of making music, Michael Schenker cuts no corners and brings out some great musicians to help him celebrate the milestone with his latest album Immortal.
To start with, Ralf Scheepers (Primal Fear/ex-Gamma Ray) sings two songs on the album. Scheepers adds his high-pitched melodic vocals to the opening song, "Drilled To Kill." The track begins with a machine gun-like opening, continues with a fast beat, and is a perfect song to introduce the listener to the album and foreshadow what is to come. Scheepers distinct voice can be heard again later on in the album with "Devil's Daughter." The raise your fist like anthem is the perfect place for his Halford-like voice.
Also appearing on the album is none other than Joe Lynn Turner. He lends his voice to "Don't' Die On Me" and "Sangria Morte." Both songs are very much in the style Turner is used to, as he is belting out with his warm, friendly but firm voice.
Michael Voss makes it on the album too, with the ballad "After The Rain" and the catchy upbeat "The Queen Of Thorns And Roses."
The real treat on this album is Schenker's use of Chilian born vocalist Ronnie Romero. The Rainbow and Lords of Black singer belts out some of the most amazing vocals that harken back to the days of Robin McAuley. Romero puts his stamp on "Knight Of The Dead," "'Sail The Darkness," and "Come On Over." I have said this over and over; anything that Ronnie Romero touches turns to gold, and this is no different.
The album ends with a new version of "In Search of Peace of Mind," which was the first song ever that Schenker ever wrote. The song also appeared on the Scorpions debut Lonesome Crow way back in 1972.
The all-star line up of guests contributing vocals on Immortal also includes Gary Barden, Robin McAuley, and Doogie White on backing vocals. If you still need a reason to pick this album up, it also features Derek Sherinian (Sons of Apollo, former Dream Theater) on Keyboards.
If you love classic MSG, you are going to be happy to hear yet another chapter in the band's storied carrier. If you are young and might be wondering if it is for you, I can assure you that many bands you listen to were influenced and possibly stole some riffs from the mighty Michael Schenker. Immortal will be released on January 29, 2021, via Nuclear Blast Records.