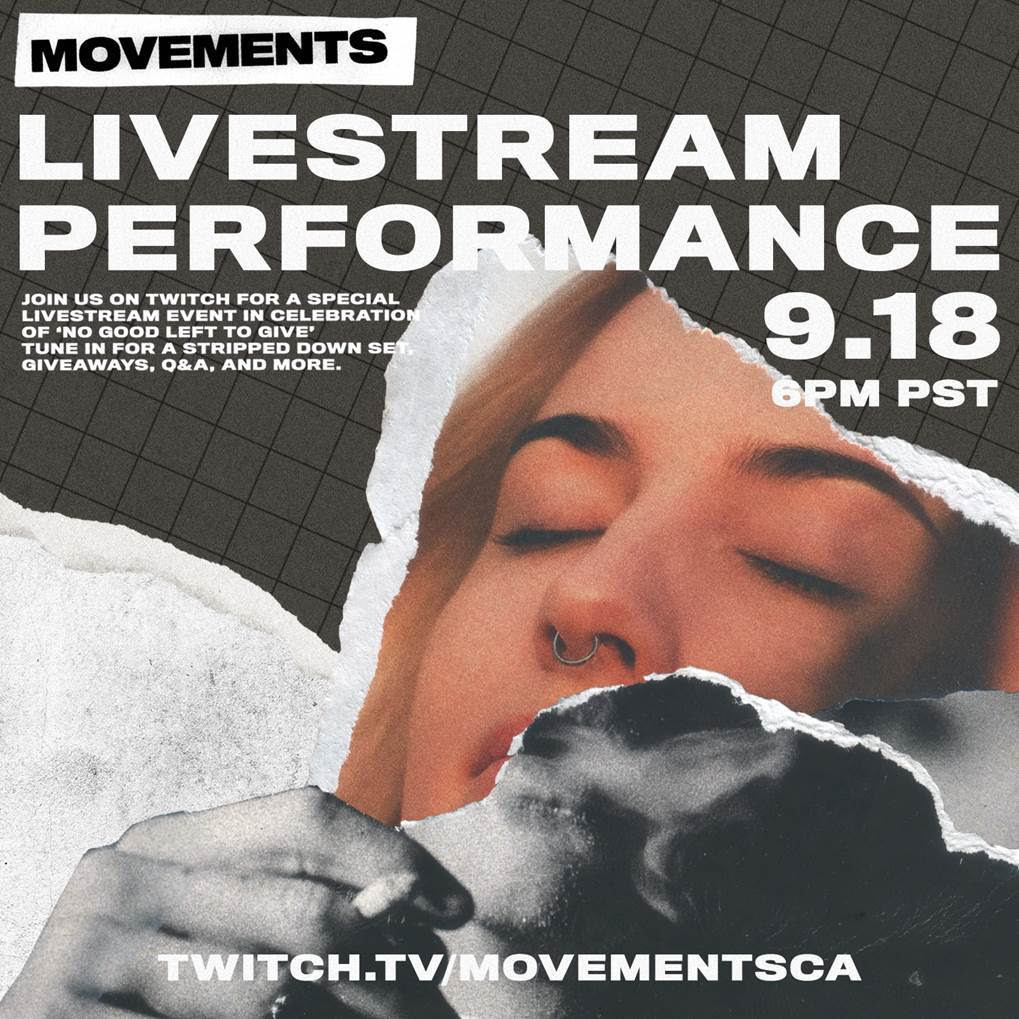 LIVESTREAM PERFORMANCE ON TWITCH SET FOR 9PM ET/6PM PT
Southern California quartet MOVEMENTS — Patrick Miranda [vocals], Ira George [guitar], Spencer York [drums], and Austin Cressey [bass] — have released their second album No Good Left To Give today, September, 18 via Fearless Records.
Tune in for a stripped down, livestream performance on Twitch this evening at 9pm ET/6pm PT. There will be a Q+A, giveaways, and more. Go here to watch.
Movements shared the visually stunning animated video for the first single "Don't Give Up Your Ghost." They followed with the video for "Skin to Skin" and a lyric video for "Tunnel Vision"
ICYMI:
Check out Cressey's playthough over at Guitar World. Movements are also featured in the November 2020 issue of INKED and in the pandemic side gig feature at Outburn. The band was also profiled at The Alternative.
ABOUT MOVEMENTS:
Movements formed in 2015. Following the 2016 EP Outgrown Things, the group cemented a singular sound on their 2017 full-length debut, Feel Something. Eclipsing 40 million total streams by 2020, it immediately connected by way of "Daylilly" [11.1 million Spotify streams], "Full Circle" [6.1 million Spotify streams], and "Colorblind" [5.5 million Spotify streams]. Along the way, the four-piece received acclaim from Brooklyn Vegan, AXS, Rock Sound, Culture Collide, and more. In between packing shows worldwide, they joined forces with Alzheimer's Association for the "Deadly Dull" video and covered "Losing My Religion" by R.E.M. for the Songs that Saved My Life compilation. During 2019, Movements entered the studio with longtime producer and frequent collaborator Will Yip [Title Fight, Turnover] to record No Good Left To Give. Movements spent the most time they ever had in the studio, which resulted in the most collaborative effort to date with Yip, adding another dimension to their music.