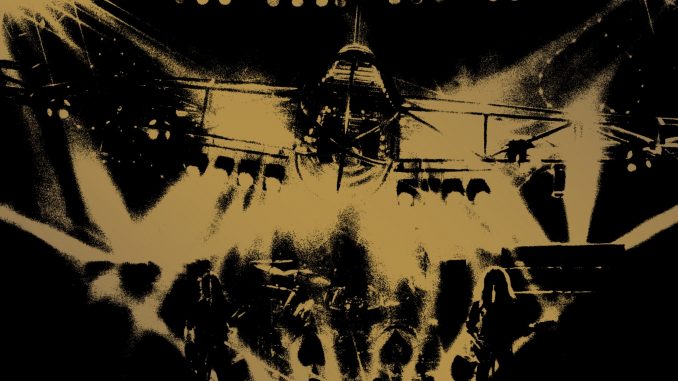 1981 was a great year for hard rock and heavy metal. There were studio albums from Maiden, Sabbath, Riot, Venom, Priest and Def Leppard just to name a few.
Then there was the nasty, dirty and raw Motorhead releasing not a studio album but No Sleep 'Til Hammersmith, the band's highest charting and legendary album.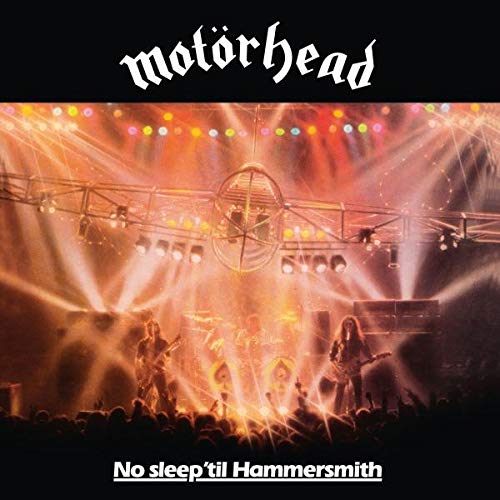 To commemorate the 40th Anniversary of this landmark album, the powers that be will be releasing the No Sleep 'Til Hammersmith box set in new deluxe editions.
One edition will consist of hardback book-packs in two CD and triple vinyl formats. What's unique is these editions will feature a remaster of the No Sleep 'Til Hammersmith as well as bonus tracks and the complete Newcastle City Hall show.
Then there's the four CD box set that consists of the three shows in their entirety that were used for the release of the No Sleep 'Til Hammersmith. Two of those shows were played at New Castle City Hall and the third Leeds Queen Hall.
The remastered No Sleep 'Til Hammersmith disc features sound checks of "Stay Clean," "Limb from Limb" and "Iron Horse. These three tracks all come from the New Castle shows. Then also a live rousing version of "Train Kept a Rollin." It's nice to hear music that inspired Lemmy and being documented from 1981.
The set lists for the three shows that ran three nights straight remain fairly consistent with slight variations. One variation has Motorhead playing Iron Horse on the second New Castle show but not on the other two.
The benefit of these full shows has Motorhead in full dirty, raw and loud mode. Listeners can hear specific differences between all the tracks.
Throughout the tracks, the band and interactions are just down to earth. No attitudes. Nothing. The band interacts with the audience and even instructs security / bouncers to allow the fans to reach the stage at one point.
The box set presentation music wise provides a plethora of material and leaves one wondering if anything is missing. The box set though does not just contain 71 tracks of music.
There's cool stuff for the collectors. A double sided, A 3 1981 concert posters, reproduction USA '81 tour pass and a Motorhead "England" plectrum.
For those that want to learn more about the story behind the historical album told through unpublished and interviews from those that were there.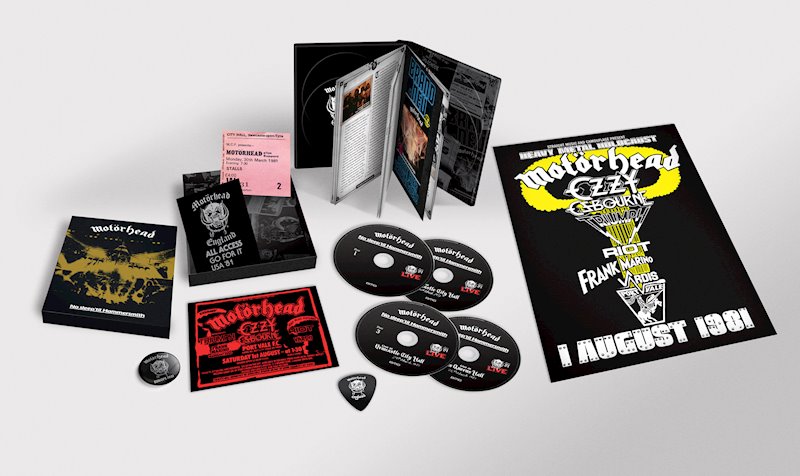 The No Sleep 'Til Hammersmith Anniversary Box Set a respectful and informative presentation. The album still commands respect to this day.
A purist that possesses an original release of No Sleep 'Til Hammersmith shouldn't have second thoughts release. It would be a historical and tremendous acquisition for any music fan.
The anniversary box set hits the streets Friday, June 25 2021. That's two days short of 40 years to the day that Motorhead dropped this massive piece of their catalog arsenal.