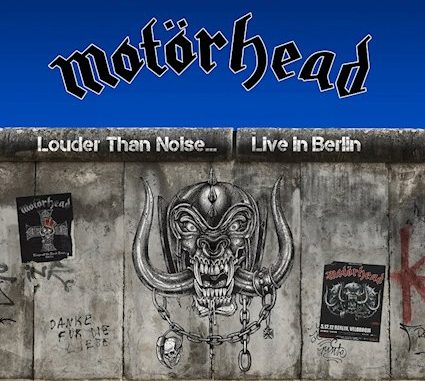 They were Motorhead and they played rock and roll. To be specific, it was loud, nasty and dirty, ear ringing rock and roll. That's what one would walk away with from a Motorhead show.
With the release of Louder Than Noise… Live in Berlin, a live Motorhead release through Silver Lining Music on Friday, April 23, that's what one will get.
The release captures during the band's 2012 Kings of the Road Tour presents Motorhead storming through their set with ease. The trio featuring Lemmy, Phil Campbell and Mikkey Dee make up the longest consistent roster in Motorhead's history.
With a discography that stretches four decades, there's plenty of material for the night's set list. Set staples such as "Killed by Death", "Ace of Spades" and "Overkill" are included and close out the night. Yet, there's plenty of other old Motormaterial. Vintage tracks such as "Metropolis," "Stay Clean," "Damage Case" and "Orgasmatron" are there.
Various eras like Another Perfect Day, No Remorse, Orgasmatron, 1916 and March or Die are present. It's a 15- track listing that should please any Motorhead fan.
Even though the majority of the night comes from the older era, there's no shame. Being able to do so was an earned right. Now the band start with the title track of their 2011 release, I Know How to Die. This easily set the tone for the night. The remainder is an enjoyable voyage in the Motorhead time machine. Just add some Phil Campbell on stage humor.
During the set, Campbell is featured with his "String Theory" guitar composition following "Doctor Rock."
As for Dee, his solo on the kit extends "The One to Sing the Blues" into the eight minute mark.
For "Overkill," members of Anthrax took to the stage and added a tad extra for the night's final song.
For a live Motorhead release after Lemmmy's departure, there isn't a better place than Germany's capital. It's evident from the crowd reaction. There's a special bond between Motorhead and Berlin and a live recording of it is available. Not only on audio but video as well.
The release in various packaging will be available in CD / DVD and vinyl formats as well as digital streaming.
Louder Than Noise… Live in Berlin accurately captures what Motorhead was all about, just rock and roll.
Video for Over the Top from Louder Than Noise… Live in Berlin