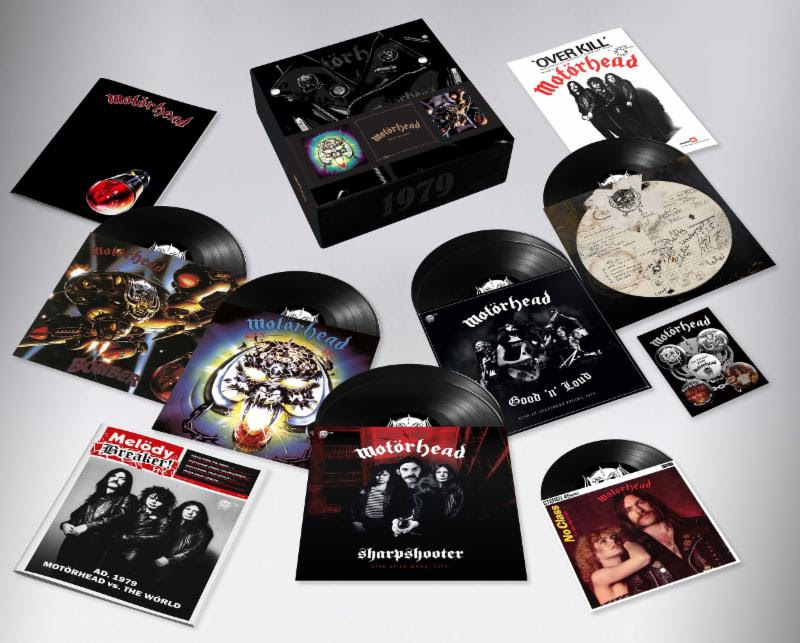 Band Nominated for the Rock & Roll Hall of Fame
Daily Voting Now Open to the Fans!
"Motörhead was a rock'n'roll band like no other, and it was in 1979 that a legend was born" – 10/10 Classic Rock
"Overkill and Bomber really are two of the bands best – punky and nasty rock & roll" – Album of the week, LA Weekly
"Reaffirm Motörhead as genre-defining gods of hard, fast, dirty rock'n'roll" – Record Collector
A hybrid of punk, rock and heavy metal played with relentless, ear-curdling power, MOTÖRHEAD was life-changing for millions. The alchemy of bassist and vocalist Ian "Lemmy" Kilmister, guitarist "Fast" Eddie Clarke and drummer Phil "Philthy Animal" Taylor gloriously ruined ears and lawns worldwide, and these three outrageous madmen shared a wonderful "crackpot band of brothers" approach to life and music; there was no "off" switch and they became legends as a result.
Out today are the incredible 40th Anniversary deluxe editions of the Overkill and Bomber albums, both as hardbound bookpacks in two CD and triple LP format. The releases feature previously unheard concerts from the '79 tours, interviews and many unseen photos. Also out today is the spectacular ultimate fan/collectors 1979 box set. All three of these releases have been created with the full cooperation and involvement of the estates of Ian "Lemmy" Kilmister, "Fast" Eddie Clarke and Phil "Philthy Animal" Taylor.
The 1979 box set contains:
* Both the original Overkill and Bomber albums half-speed mastered and pressed on 180-gram vinyl created from the original master tapes
* Two double-live albums of previously unheard concert material from the '79 tours
* A 40-page period-accurate "music magazine" featuring unseen photos and fresh interviews regarding the era
* The Rest Of '79 vinyl, featuring B-sides, outtakes and rare tracks
* "No Class" seven-inch single with gatefold art
* The Bomber tour program
* Overkill sheet music book
* '79 badge set
* All encased in black biker jacket box
By going through the band's extensive private archives, to receiving the assistance of key people who were part of their '79 circle of friends, crew, and accomplices – as well as consulting with super fans – all parties are immensely proud to show the level of detail and commitment which has gone into all three of the '79 releases, and which will continue with future projects. It was always Lemmy's demand to give the fans the very best possible in every respect, we believe we have achieved that with these reissues.
As the press praise for these highly anticipated, 40th anniversary editions of these seminal albums began to roll in more exciting news of the MOTÖRHEAD legacy came in. The band have been nominated for the 2020 inductions to the Rock & Roll Hall of Fame! After initially being excluded, long serving members Phil Campbell and Mikkey Dee were added to the list of eligible band members after uproar from fans and press alike.
Cast your daily vote for Motörhead's here –
https://goo.gle/RHFanVote
and let's get them inducted into the Rock & Roll Hall of Fame!
As if the critical appraisal for 1979 and the nomination for the Rock 'N'Roll Hall of Fame wasn't enough, 2020 is also the 40th anniversary of the landmark album Ace of Spades. If 1979 paved the way to MOTÖRHEAD's rise to legendary status, Ace of Spades kicked down the door and took them over the top!
2020 watch out! It's going to be the year of MOTÖRHEAD!