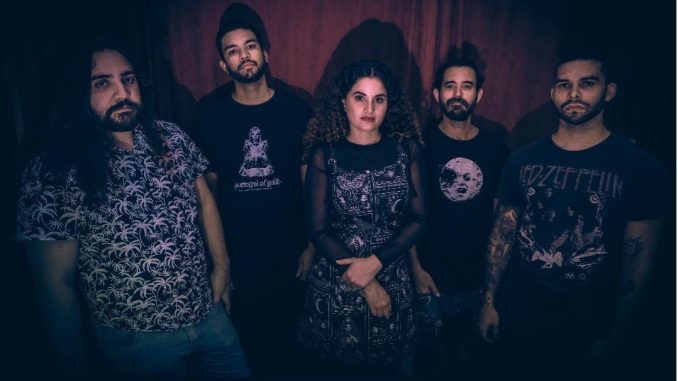 Puerto Rican prog/stoner rockers MOTHS have announced a string of US fall dates. The band is currently supporting their widely applauded 2022 full length, 'Space Force'. The upcoming trek kicks off in Asheville, NC on October 14, and will conclude on October 21 in Brooklyn, NY. Following these US shows, MOTHS will return home to wrap the tour in Santurce, PR on October 28th.

Commenting on their upcoming shows in the states, the band shares:

"We are absolutely thrilled to return to the US after four long years! Our latest album, 'Space Force,' dropped just last year, and we can't wait to bring it to life on this tour. We're also playing new material that explores a more dark and extreme side of the band. We're just excited to meet new faces and connect with them through our music!"
MOTHS
Chrysalis Migration 2023 Tour
October 14 – Asheville, NC @ Fleetwood's
October 16 – Durham, NC @ Rubies on Five Points
October 18 – Baltimore, MD @ The Depot
October 19 – Reading, PA @ Nitro Bar
October 20 – Medford, MA @ The Bang Space
October 21 – Brooklyn, NY @ The Meadows
October 28 – Santurce, PR @ La Respuesta
MOTHS, a trailblazing progressive metal band hailing from the vibrant city of San Juan, Puerto Rico, has consistently captivated audiences with their innovative musical tapestries and unique creative spirit. A quintet of remarkable talent, the band's musical journey is characterized by their fearless exploration of diverse genres, resulting in a distinct fusion that defies categorization. With a discography that includes their eponymous debut 'MOTHS' (2018), a groundbreaking split album with Philadelphia's The Stone Eye in 2020, and the acclaimed masterpiece 'Space Force' (2022), MOTHS has etched their name as one of the most exciting acts in the modern metal scene.

Driven by a desire to reimagine the boundaries of sound, MOTHS have proven themselves as artisans of sonic alchemy. Seamlessly blending elements of progressive metal, stoner, and doom metal with intricate nuances of jazz and math rock, their music transcends conventions and crafts a unique auditory experience that resonates deeply. The band's lineup comprises the dynamic Mariel Viruet, whose vocals wield emotive power, Weslie Negrón on bass, Omar González and Jonathan Miranda on guitars, and Daniel Figueroa on drums, each member contributing a vital ingredient to the musical cauldron.

MOTHS' creative prowess extends beyond sound, as they ingeniously interweave their music with visual artistry to construct a holistic audiovisual journey. This seamless integration of artwork and music elevates their performances into an immersive sensory escapade, forging an unbreakable connection between the auditory and visual realms.

'Space Force,' the band's magnum opus, has garnered widespread acclaim from critics and connoisseurs alike. Earning accolades from prominent rock and heavy metal publications such as Guitar World Magazine, Loudwire, Metal Injection, MetalSucks, and more, the album's audacious soundscapes and thought-provoking narratives have left an indelible mark on the music landscape.

Their live performances have also left audiences awestruck, having shared stages with German titans The Ocean Collective and the venerable Stoner Metal icons, The Well from Austin, Texas.

As the momentum surges, MOTHS embarks on their eagerly awaited Chrysalis Migration 2023 Tour, marking their second-ever tour in the United States. This monumental journey will traverse seven cities along the East Coast, allowing fans and newcomers alike to experience the electrifying energy and boundless creativity that defines MOTHS' live shows.

For enthusiasts of bands such as Mastodon, Baroness, and The Mars Volta, MOTHS offers an unparalleled sonic odyssey. With their artistry evolving and their impact expanding, MOTHS continues to reshape the sonic landscape, reminding us that the realm of possibilities within music is infinite when guided by innovation and passion.
MOTHS are:

Damaris Rodríguez – Vocals

Daniel Figueroa – Drums

Jonathan Miranda – Lead Guitar

Omar González – Rhythm Guitar

Weslie Negrón – Bass