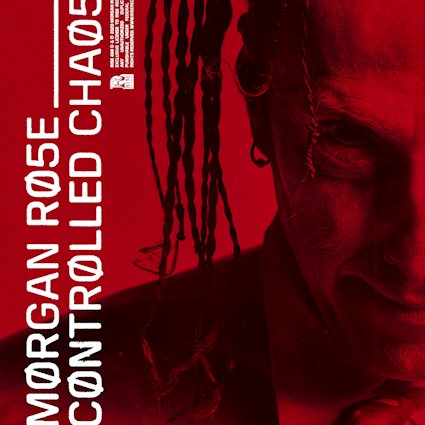 Over the years I have heard quite a few drummers get teased about their lack of creativity. I think it's inaccurate, but it can be quite comical watching a drummer get worked up when their fellow band members give them crap for their alleged lack of musical input. With this in mind, one might wonder what to expect when it was announced that Morgan Rose, the drummer of the Grammy-nominated band, Sevendust, was going to be putting out a solo album. Sure we all know he is amazing behind the kit, but what would he create if he was the mastermind behind an entire project? It might surprise you!
Morgan is releasing his first solo EP, "Controlled Chaos" on November 27th through Rise Records. Teaming up with fellow Sevendust member, Clint Lowery on guitar and friend Jason Christopher (Corey Taylor, Prong) on bass, Morgan entered The Lair studio in Culver City, CA, and tracked six songs within ten days. Many people will be surprised by Morgan's vocal ability. We've been seeing him dish out violent screams with his main gig, but have you ever imagined him singing?
The first single to be released was "The Answer" and it is an absolute banger. After a short intro, the main riff comes in. It is heavy. It is groovy. You won't be able to get it out of your head. Then comes the vocals. Morgan does an excellent job mixing singing and screaming. The music video was released on November 13 on YouTube and has already amassed nearly 100,000 views. Describing the song, Morgan states, "It's about a narcissist. A lot of the record is based on my interactions- trying to let people see their ways. They lean on you for help and don't take it."
The rest of the EP is not as heavy as "The Answer," but it is equally good. "Faster Man" features a slower tempo and beautiful keys. "Clarity" really showcases Morgan's vocal range as the chorus climbs with an anthemic build. "Come Alive," takes a slightly different direction- it picks up the tempo again and switches between eerie vocals in the verses to a chorus entwined with agony and desperation. The last track, "Exhale," will shock you. Morgan sings in a much higher range than the rest of the album and the song has a solo piano and an ambient orchestra in the background. This closing track leaves you wanting more and feels like the perfect way to close this EP.
It seems as if every member of Sevendust has taken the opportunity during the pandemic to branch out and give fans more great music. Clint Lowery gave us two albums earlier this year. John and Vinnie have been working on new Projected material, and now Morgan has shown us that he is not only an incredible drummer but an excellent songwriter and vocalist as well.
"Controlled Chaos" exhibits a delightful balance of melody and aggression. Please support Morgan and buy this EP!