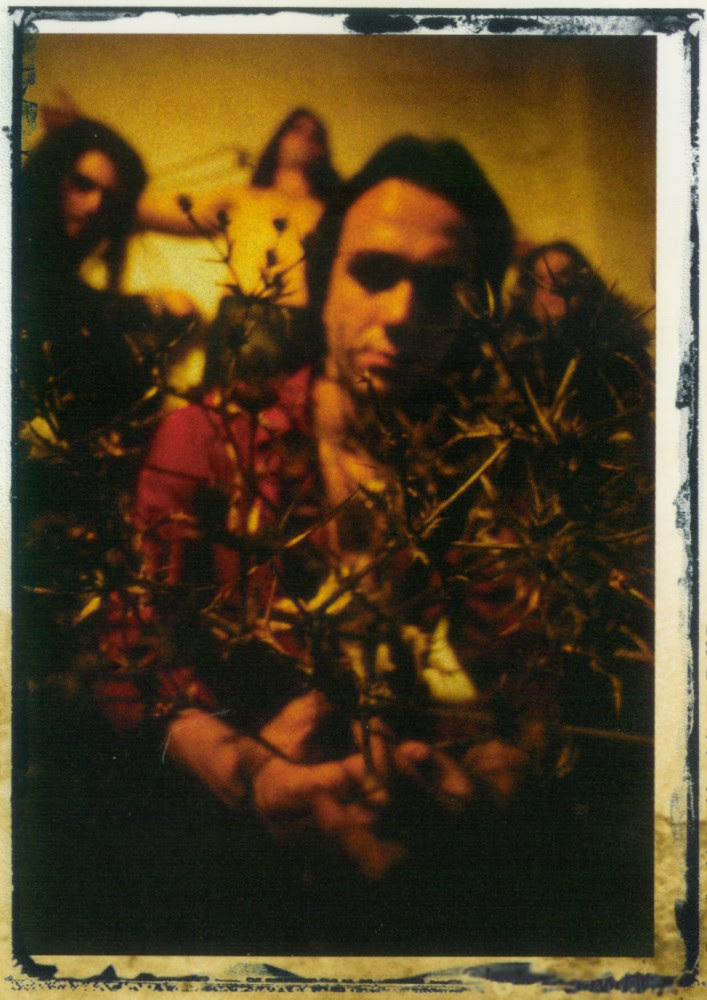 | | |
| --- | --- |
| Sin/Pecado + 2econd Skin Records by the Portuguese Metal Pioneers! | |
Originally released by the band in 1998, Sin/Pecado became the great divider of the Moonspell wolfpack. Produced by their long time companion (Waldemar Sorychta-Wolfheart, Irreligious), the songs of this "accursed" album were signs of a rebellion of the band against the sound that made them famous in the scene. Instead of wolves and vampires, Moonspell set the compass to songs filled with electronica and darkwave moods that talked about the European Community or the love for a woman. December 13rd2019 will see the band, in collaboration with Napalm Records and under the licence of Century Media, to re-release their pathbreaking Sin/Pecado album in a Deluxe Edition; serving a sinful cup to our lips and see if that red wine has aged better or tastes sweeter than more than twenty years ago!
"Moonspell's biggest flaw or quality, judge for yourself, is never to be satisfied with anything. Frontman Ribeiro says."There was true creative anguish burning inside us in 1997, after we were done with the endless Irreligious' tours, that created the perfect (shit)storm that would be Sin. It was a strange year for us, Paradise Lost, My Dying Bride, were letting loose and seemed to be also under the same mood as we did, or vice-versa. It doesn't matter. Metal was turning its wheel and we're all on the falling side. We took the fall and enjoyed doing it anyway. It wasn't Moses dividing the waters, but it did hurt sometimes to feel alone. Curiosly a lot of other people entered Sin's mood a couple of years later and now they beg of us to play those songs live. If you're reading this and need another taste at sin, let's indulge each other and pick up that second skin from the late-nineties deep closet."
Sin/Pecado was recorded at the Woodhouse Studios in 1997, produced and mixed by longtime friend and renowned Waldemar Sorychta ( Wolfheart, Irreligious). The re-issue will be coming on CD Digipak as well as LP Gatefold, consisting ofSin/Pecado AND Moonspell's hard-to-find 2econd Skin album. The Pre-Sale of these timeless masterpieces, which belong in every well-sorted Moonspell record collection, has just started at
THIS LOCATION!
Furthermore, Moonspell are about to release their hotly-anticipated biography, Wolves Who Were Men, finally available in english! The book will explore three decades of the legendary Portuguese metal band. Totalling a huge 450 pages and including numerous photos, many previously unseen, the book was created by author Ricardo S. Amorim, a countryman and long-time friend of the band. Wolves Who Were Men includes extensive interviews with all members of the band – Fernando Ribeiro, Miguel Gaspar, Pedro Paixão, Ricardo Amorim, Aires Pereira – as well as past members of the group and many of the band's peers, including members of Rotting Christ, Cradle Of Filth, Samael, Kreator,Decayed, The Gathering, Amorphis and more.
Wolves Who Were Men will be released October 31st 2019, available in two formats:
1) Stand alone Paperback
2) Deluxe hardback boxset containing:
1) The book in hardback edition
2) Exclusive CD featuring the out-of-print 1993 'Anno Satanæ' demo plus bonus tracks by pre-Moonspell outfit Morbid God.
3) Large and extremely high quality flag
4) Deluxe reinforced card box with hot foil gold Moonspell logo 5) 12 x 350gsm art prints, featuring superb photography of the band
6) 'Wolves Who Were Men' double-sided print bookmark
7) Guitar plectrum with double-sided print
8) A certificate of authenticity *signed by all band members*
In cooperation with Cult Never Dies and Fernando Ribeiro's label Alma Mater Records & Books, the biography of Moonspell will be available at:
In October 2019, Moonspell will embark on an extensive tour withRotting Christ, make sure to catch this heavy as hell package live at the following dates:
24.10.2019 DE – Hamburg / Markthalle
25.10.2019 DE – Bochum / Matrix
26.10.2019 NL – Hengelo / Metropool
27.10.2019 NL – Amsterdam / Melkweg
28.10.2019 FR – Nancy / L'Autre Canal
29.10.2019 UK – London / Islington Assembly Hall
30.10.2019 BE – Antwerp / Trix
31.10.2019 FR – Rennes / L'Etage
01.11.2019 FR – Paris / La Machine du Moulin Rouge
02.11.2019 FR – Toulouse / Metronum
03.11.2019 ES – Madrid / Mon
07.11.2019 ES – Murcia / Garaje
08.11.2019 ES – Barcelona / Salamandra
09.11.2019 FR – Bourg-en-Bresse / La Tannerie
10.11.2019 IT – Milano / Magazzini Generali
11.11.2019 IT – Bologna / Estragon
15.11.2019 TR – Istanbul / If Performance Hall
16.11.2019 RO – Bukarest / Quantic Club
17.11.2019 BG – Sofia / Mixtape 5
18.11.2019 HR – Zagreb / Mochvara
19.11.2019 AT – Graz / Dom im Berg
20.11.2019 SK – Bratislava / Majestic Club
21.11.2019 AT – Vienna / Simm City
22.11.2019 HU – Budapest / A 38
23.11.2019 CZ – Zlin / Winter MOR – Euronics Sports Hall
24.11.2019 PL – Krakow / Kwadrat
25.11.2019 PL – Warszaw / Progresja
26.11.2019 PL – Gdansk / B90
27.11.2019 LV – Riga / Melna Piektdiena
28.11.2019 EE – Tallinn / Tapper
29.11.2019 FI – Helsinki / Tavastia *SOLD OUT
30.11.2019 FI – Tampere / Klubi *SOLD OUT
01.12.2019 FI – Turku / Apollo
03.12.2019 SE – Stockholm / Slaktkyrkan
04.12.2019 NO – Oslo / Parkteatret
05.12.2019 DK – Kolding / Godset
06.12.2019 DK – Roskilde / Gimle
07.12.2019 DE – Berlin / Columbia Theater
08.12.2019 DE – Hannover / Musikzentrum
09.12.2019 DE – Mannheim / MS Connexion Complex
10.12.2019 LU – Esch Alzette / Kluturfabrik
11.12.2019 CH – Geneve / PTR
12.12.2019 CH – Pratteln / Z7
13.12.2019 DE – Leipzig / Hellraiser
14.12.2019 DE – Würzburg / Posthalle
15.12.2019 DE – München / Backstage
For More Info Visit: