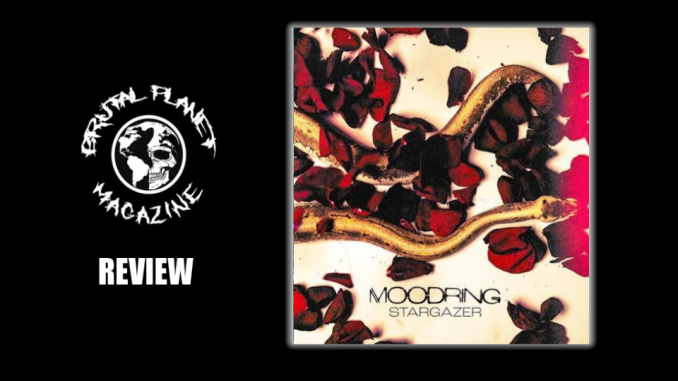 A lot of new music gets thrown my way. Sometimes it is really hard for me to pick what I want to review with the limited time I have, but when I heard Moodring, (Hunter Young- vocals/guitar, Sean Dolich- guitar/backing vocals, Kalan Adam- bass, Lindy Harter-drums) I was thrown back to the late 90's/early 00's when I fell in love with the Deftones. I know they probably get that comparison a lot, but I mean it in a sincere way.  Moodring really sounds like the Deftones.  It makes me feel grateful for having the opportunity to review the band's debut full-length, "Stargazer." The album will be released on June 10 through UNFD, an artist-focused independent record label. 

The band started in the Spring of 2019 and quickly found its sound. They released an EP titled "Showmetheralyou" in the summer of 2021.  "Our band name is effectively a disclaimer," reveals Hunter, "Moodring is not easily defined; our sound can and will change, morph and evolve, even across the course of a single song. Our identity is genre-fluid." Hunters' words are so true. The band's sound is hard to nail down, but why do we feel like we always need to label things and place them in a box?  Moodring is extremely easy to get into, no matter what genre you normally gravitate toward. The EP really gave a flicker of what the band could do, but with "Stargazer," their talent really shines bright.

The album starts out with an instrumental intro called "How to Leave Painlessly" and quickly shifts into "Disintegrate," the band's first single from this release. "Disintegrate" was released on January 19 and was received extremely well by listeners. It is a solid rock song that is really easy to get into.  For fans that like the heavier side of music, their second single, "Constrict," is guaranteed to please.  It was released on March 17 and the accompanying music video is dark and sultry.  This bass-heavy song is sure to be a fan favorite to sing along to in a live setting. The band's latest single, "SYNC.wav," which was just released at the end of April, is probably the most Deftones-sounding song you can get without being the Deftones. It really is incredible to hear. Check out the official music video below. You will love this song!
I really like the song "Red Light Gossip." Its groovy beat and catchy lyrics have been stuck in my head all afternoon.  I think my favorite song on the album is "N.I.K.E." This one is so different and hits hard. The electro-rock really surprised me and quickly gave me respect for this band being able to do it without sounding like they were trying too hard. This Florida quartet really has a lot of talent and my prediction is that although they are only the opening band on the Cane Hill tour, they will be stealing the show and selling out merch. "Peel" is a peppier-sounding song and shows off the higher range of vocalist Hunter Young. The title track, "Stargazer," is another great rock song that features dreamy and inviting lyrics, and "Xeno (Foreign Love)" is ethereal, yet heavy.
I'm really excited to see what the future has in store for this band.  This debut album is quite impressive and if they are willing to continue putting in the hard work of extensive touring and engaging with their fans, the members of Moodring will undoubtedly find massive success before they release their sophomore album. Whether you are driving home from work or simply chilling in your basement, listening to "Stargazer" straight through is sure to please any music fan. Pre-order it today!