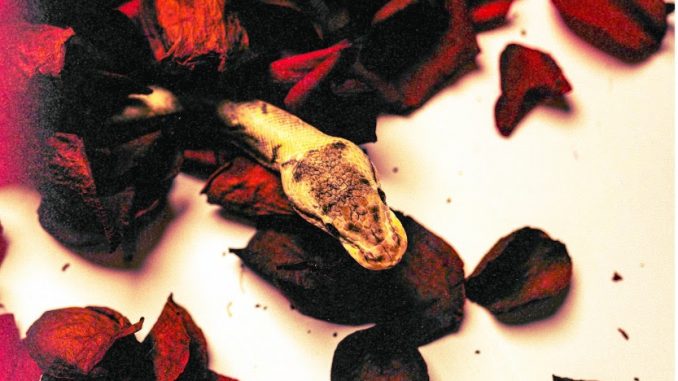 Rising high off January's soaring mini-epic "Disintegrate," Floridian alt-metal quartet Moodring have unveiled their brand new single "Constrict." Watch the video here.
 
In turns pummeling and infectiously catchy, "Constrict" is as likely to leave listeners with neck aches as humming the track's immense chorus on repeat.

"'Constrict' is a song about toxic spirals," shares Moodring vocalist and creative driver Hunter Young. "It sees the narrator stuck within the confines of a one-sided relationship, comparing the relationship to the way Constrictor snakes kill their prey by coiling around them and squeezing until they're crushed, void of oxygen. The narrator searches for truth, but when they finally reach it, they do not have the stomach to leave the situation. The song climaxes with them knowing the relationship is dead, but still sticking around, despite the fact that it's long been over, giving up and letting the story spiral downward into even more toxic situations."

Matching jarring, claustrophobic visuals to the intensity of its sonics, today's "Constrict" release also comes alongside its brand new music video. Directed by UK-based filmmaker Zak Pinchin (Loathe, Holding Absence, Modern Error), the "Constrict" video threads the needle between sultry and scary, a perfect companion to the powerful contrasts inherent to the Moodring sound. 

Watch the video for the previously released "Disintegrate" here.

Moodring will tour with Cane Hill, Victims, and Afterlife this spring. All dates are in the graphic below.
ABOUT MOODRING: 
 Forged in a furnace of experience, experimentation, and existential crisis, Moodring is an entity orbiting a lone, core ambition: to create music with no ceiling. 
 
"I grew up on the alternative bands of the 1990s," says frontman Hunter Young. "No matter what new interests might come and go, I am forever drawn back to the classic albums of that era; they feel larger than life, not bound to a fad or trend — timeless. That's what we aspire to with our band, to create songs that can transcend any scene."
 
Between them, the members of Moodring — Young, guitarist Sean Dolich, drummer Lindy Harter, and bassist Kalan Blehm — have a musical rap sheet longer than any of them care to recall. Yet, despite all this musical promiscuity, it wasn't until May of 2019 that they finally found the vehicle that could carry forth their most authentic creative selves. 
 
"We were searching for the sound in our heads," says Young. "In modern life, we all struggle to stop, to be still; I know that there are few things that can hold my attention for very long. But when we are writing music for Moodring, we feel a different level of focus. Once we'd tapped the right vein, the sound just started to gush from us."
 
Moodring's Eureka moment came with "Gasoline." A driving slab of rhythm guitars and atmospheric leads topped by moody, ethereal vocals, the song freed the dragon that Young had been chasing. And, cage unlocked, the songs which comprise debut EP Showmetherealyouburst forth. Moodring was born. 
 
"Our band name is effectively a disclaimer," reveals Young. "Moodring is not easily defined; our sound can and will change, morph and evolve, even across the course of a single song. Our identity is genre-fluid." 
 
A deep blue cocktail of shoegaze and grunge, rock and metal, Showmetherealyou is the zenith of many years of trial and error, angst and anguish, at last oscillating in perfect harmony with a collectively unfettered passion and drive. 
 
"Lyrically, Moodring is pure teenage angst," Young reveals, speaking of deeply personal vignettes which hint at toxic relationships and cycles of abuse. "When people contact me via the Moodring page and tell me something like, 'I relate to this,' I legitimately feel bad for them. I'm like, 'Fuck, I'm sorry, I really wish you didn't.' But, in my experience, that is how human beings relate to each other, through misery."
 
Originally self-released in early 2021, the Showmetherealyou EP was reissued on August 4 via Moodring's new label home UNFD. Its original tracklist was further bolstered by a brand new cut, "Empty Me Out." A thundering attack of discordant guitars over pulsing grooves, built around a soaring chorus refrain, which is somehow equal parts melancholy and triumph, "Empty Me Out" showcases a nastier, darker dimension of the band, as the band further find their feet — and their fangs.
 
 MOODRING ARE: 
Hunter Young — Vocals/Guitar/Production
Sean Dolich — Guitar/Backing vocals     
Kalan Blehm — Bass    
Lindy Harter — Drums