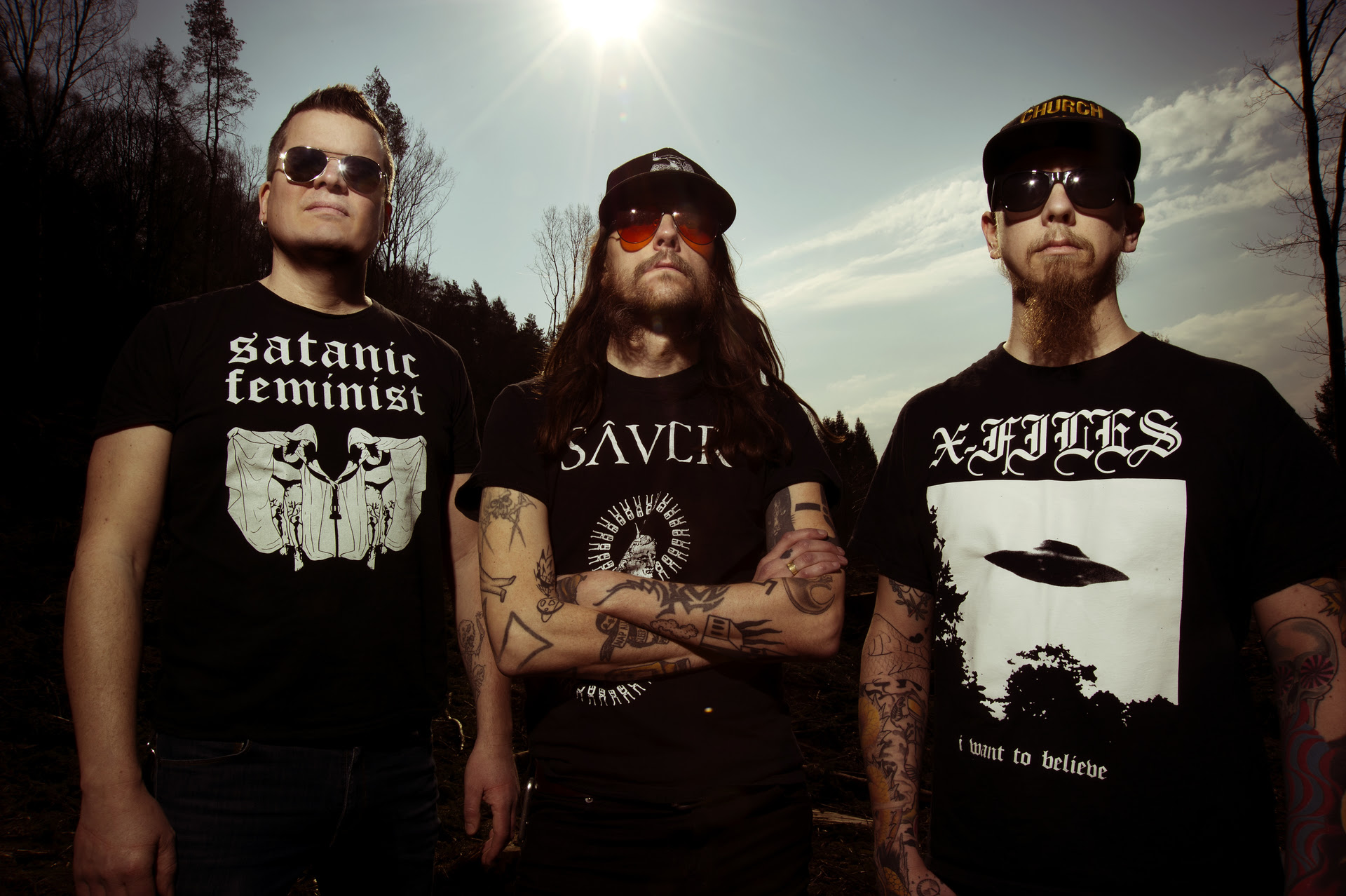 Sept. 18, 2019, Gothenburg, Sweden – Monolord stream their highly-anticipated Relapse Records debut, No Comfort (Sept. 20 release), via Kerrang!: https://www.kerrang.com/the-news/monolord-provide-peace-of-mind-through-crushing-doom-on-their-new-album/.

The 47-minute, six song collection is the band's most personal offering to date, with singer/guitar player Thomas Jäger diving deep into the world that surrounds him. "It's more emotional than the others. There are lyrics about disease—we've had relatives with cancer and things like this—and when you think you're done with one crisis, the next one comes along. So sometimes you feel there's no comfort left. Anyone going through a rough time can relate, I think."

"Thomas wrote all lyrics, but I relate heavily to them, connecting them to my own life and what goes on in the world around us," offers drummer Esben Willems. "Many of the lyrics also question the existence of religion and general hatred and ignorance spreading like a pandemic across the globe. Misanthropy is a constant theme in our conversations — it's a struggle to not lose faith in humanity when the world is on fire and all we do is argue about how to put the fire out, or question if there even is a fire."

No Comfort is also the first of the band's four full-length albums where the Swedish trio felt comfortable turning over the recording to an outsider, Kim Gravander of Gothenburg-based Let Them Swing Studios. Jäger said of the decision to bring in an external voice: "It's probably the best production we've had."

No Comfort pre-orders, which include an instant download of "The Last Leaf" and "The Bastard Son" (https://youtu.be/tTmdatz1xZY) are available now, with several limited-edition vinyl variants, including a Relapse.com exclusive in partnership with Orange Amps, available. The Orange Amps/Relapse offering is limited to 100 copies and features the actual material used to wrap Orange Amps, with the album itself being pressed on neon orange vinyl. The set also includes an exclusive two-sided Orange Amps inspired t-shirt and guitar pick set. To view the various CD/2xLP/CS/Digital offerings, visit https://ffm.to/monolordnocomfort.

Monolord tour dates:

Sep 28 London, UK The Garage (w/ Ufomammut)

Sep 29 Sheffield, UK HRH Doom V Stoner

Sep 30 Bournemouth, UK The Anvil

Oct 1 Utrecht, NL De Helling

Oct 2 Brussels, BE Magasin 4

Oct 3 Pratteln, CH Up In Smoke Festival

Oct 4 Reims, FR La Cartonnerie

Oct 5 Paris, FR Saturday Mud Fever Festival

Oct 7 Dortmund, DE Junkyard

Oct 8 Nuremberg, DE B-Zau

Oct 9 Cologne, DE Helios 37

Oct 10 Mainz, DE Schon Schon

Oct 11 Hamburg, DE Molotow

Oct 16 Oslo, NO John dee

Oct 17 Gothenburg, SE Sticky Fingers

Oct 18 Malmo, SE Babel

Oct 23 Linkoping, SE The Crypt

Oct 24 Stockholm, SE Close Up Baten

Oct 25 Tampere, FI Olympia

Oct 26 Helsinki, FI Nosturi

Nov 5 San Diego, CA Brick by Brick

Nov 6 Tucson, AZ Club Congress

Nov 7 Albuquerque, NM Sister Bar

Nov 8 Dallas, TX Gas Monkey Live!

Nov 9 Austin, TX Levitation x Relapse Showcase (Empire)

Nov 10 Lafayette, LA Freetown Boom Boom Room

Nov 11 New Orleans, LA One Eyed Jacks

Nov 12 Atlanta, GA The 529

Nov 13 Asheville, NC The Mothlight

Nov 14 Richmond, VA The Camel

Nov 15 Baltimore, MD Metro Gallery

Nov 16 Philadelphia, PA First Unitarian Church

Nov 17 Brooklyn, NY Saint Vitus

Nov 20 Chicago, IL Reggies

Nov 21 Indianapolis, IN Black Circle

Nov 22 St. Louis, MO Fubar

Nov 23 Lawrence, KS Bottleneck

Nov 25 Denver, CO Marquis

Nov 27 Los Angeles, CA Teragram Ballroom

All headlining European dates supported by Firebreather; Blackwater Holylight supports on U.S. tour dates.
Photo credit: Ester Segarra
Monolord is singer/guitar player Thomas Jäger, drummer Esben Willems and bass player Mika Häkki. The band released their debut album, Empress Rising in 2014, with full-length albums Vænir arriving in 2015 and Rust following in 2017. In the years since their inception, they've become one of heavy music's rising stars, with much-chattered about performances at Roadburn, Desertfest and Psycho Las Vegas.

# # #