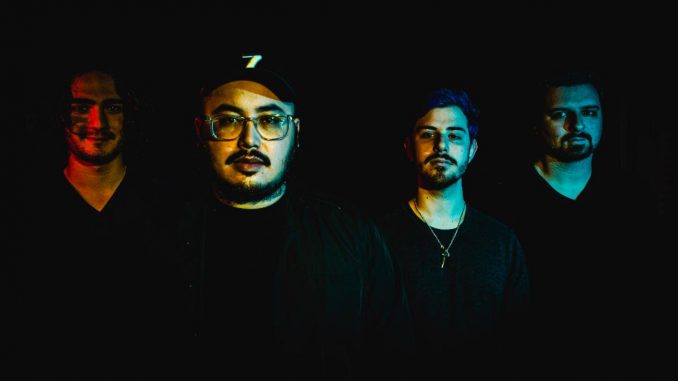 Check Out the Sonic Beauty and Emotional Raw Force!
Upcoming Self-Titled Album Dropping July 1
Pre-orders Start Today
Watch "Onwards" here: https://youtu.be/MMu3vUOIzTk
"'Onwards' is a song about personal growth. Funnily enough, it manifested itself the night I quit a job I hated. At the time, I was trying to claw myself out of a period of serious self-loathing – I was neck deep going through it everyday and needed to find my way out. I wanted to live more and do more – and most importantly I didn't want to feel held back by my traumas and my past. In order to do that, I felt like I needed to take a leap of faith and just go. 'Onwards' became my pledge to do that.
Sonically, 'Onwards' is a few things. It's incredibly powerful – the energy and force it carries within it continues to move me every time I hear it. It borrows a lot from reggaeton, Devin Townsend, and Nietzchean philosophy – it's an existential wall of sound you could dance to. I think it might be the only metal song I've ever heard that has a calypso beat and real bongos.
The video (which we shot with director Steve May) is obscenely orange. One of the record's themes is that there's a different color for every track – each color represents an emotion or a feeling that this collection of music brought back into my life over the years. 'Onwards' was a particularly transformational and pivotal point of my life, and orange is a particularly adventurous and optimistic color – I've always associated the two. Another theme of this record is how my bandmates (guitarist Mike Rance, bass player Daniel Degeorges, and drummer Ian Dubson) contribute to making this band what it is. I've always written all of the music, but without the three of them there wouldn't be Monolith Zero, the band. It was really important to me that the video put a spotlight on all four of us together. I asked Steve to capture us honestly and he did exactly that. We're all immensely proud of how the video came out and we're excited to show the world who we are." – Nick Eustaquio
Physical pre-orders for Monolith Zero start today, May 27 here: monolithzero.com or monolithzeroband.bandcamp.com
Monolith Zero was recorded at Westfall Recording Studios, produced by Anthony Lopardo and Nick Eustaquio, and mixed by Ray Marte (of Moon Tooth) and Nick Eustaquio.
Monolith Zero will be released independently via Noise Machine and will be available on every major streaming service.
Monoloith Zero will be releasing a series of NFT's alongside the record called Seekers Society. More in-depth information on Seekers Society can be found at monolithzero.com/seekers-society and will be available for purchase at opensea.io/collection/monolithzero.
Monolith Zero is an American heavy metal band from Long Island, New York. Formed in 2014, the band consists of Nick Eustaquio (vocals/guitar), Mike Rance (guitar), Ian Dubson (drums) and Daniel Degeorges (bass). Offering a fresh spin on the heavy stylings of legends like Devin Townsend, Slipknot, and Avenged Sevenfold, the group brings their individual talents together to create a musical experience like no other – a bold wall of sound filled with captivating harmonies and huge, atmospheric choruses. Armed with a stellar new album and an unwavering belief in their craft, Monolith Zero promises to show you how unique of an outfit they truly are.

Monolith Zero has released one album to date – 2020's The Great Calm – which received rave reviews from listeners for its musical diversity and uncompromising vision. An hour long and with sounds spanning from serene new age to blackened death metal, The Great Calm was a delightful display of empathy to many during a panicked and turbulent year. Singles "Embrace/Holy Infinity" and "I Am/Not Afraid" – both clocking in at over 10 minutes long – were highly praised for their palpable energies and incredible atmosphere. Monolith Zero closed 2020 with the ferocious single "Interloper", which drew heavily from the infamous Strapping Young Lad.

2020 also saw the band enter the studio with producer Anthony Lopardo and mix engineer Ray Marte (Moon Tooth). Determined to make an honest album that would stand the test of time, Eustaquio dug deep to craft a set of songs that would define his band for the years ahead. The album – titled simply Monolith Zero – passionately painted the group's style, bringing to life their signature soulful, arena-ready sound. Like its predecessor, Monolith Zero benefits wildly from its musical diversity and Eustaquio's uncompromising vision. No two songs are alike – from metal reggaeton, to pop punk despondency, to cheeky prog humor, there's something for virtually every listener. Set to release

July 1, 2022, Monolith Zero ushers in a colorful and fruitful new era for the young metal group.

Monolith Zero online:

Official Website – Monolith Zero

Monolith Zero – Home | Facebook