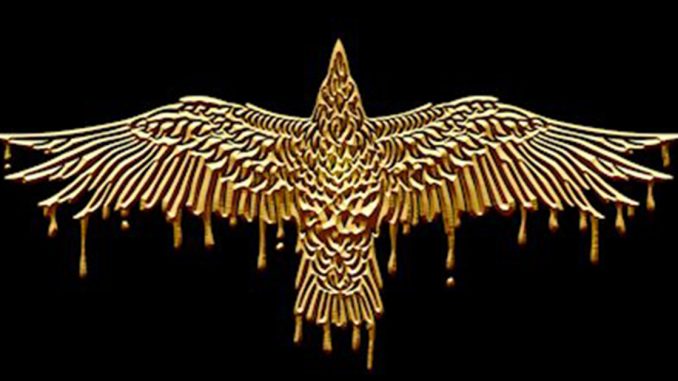 MONO INC., a gothic rock from Hamburg, Germany will release their twelfth studio album, Ravenblack in late January through NoCut Entertainment. The label is the band's own independent label formed in 2004 from frustrations of major labels wanting MONO INC. to change their style.
At the time, several members of the band, then drummer and now vocalist Martin Engler and guitarist Carl Fornia were familiar with the workings of labels. Thus the reason why NoCut Entertainment was created and giving MONO INC. the reins to their career.
Of the eleven finely crafted tracks, several video singles have been released starting with "Princess of the Night" in August.
As the months progressed, MONO INC. released "Empire," "Heartbeat of the Dead," "After Dark" and "Lieb Mich." The latest video, "At the End of the Rainbow" was released two weeks ago.
There is a tad bit of confusion related to tracks and a video though. The video "The Raven is Back" is not on Ravenblack but the title track "Ravenblack" is. The video served more as a teaser for the announcement of Ravenblack which occurred in June 2022. In other words, the announcement was letting fans know MONO INC. was back.
All the video releases provide a well rounded preview of what to expect with Ravenblack. The track, "Lieb Mich" means "Love Me" when translated into English. It's one of the two tracks on Ravenblack that MONO INC. sings in German.
The other, "Wiedersehen Woanders" is a track that's a fitting closer to Ravenblack. The song opens with a nice piano melody that is accompanied by a single string instrument. When translated, the song title means See You Somewhere Else.
The track is reminiscent of a somber farewell that's beautifully composed. To native English speakers, it's the music that pulls the emotion and not the words that are being sung.
Another unique track tucked into Ravenblack falls later in the album. The song, "After Dark "features the band Storm Seeker, a pirate folk metal band from Germany.
Track four, "Angels Never Die" which hasn't been released as a video at this time features the solo project Sanz, headed up by former Groovenom frontman Sandro Geissler.
MONO INC.'s Ravenblack from front to back is a nicely composed release fully laced up with elegant gothic elements. Screamers and string shredders are nowhere on the album and that's fine. It's not needed.
In the world of Aves, Ravens have a keen sense of intelligence. MONO INC.'s possesses a true musical and lyrical intellect and Ravenblack is a wonderful cumulation of their talents. The band will continue to gracefully glide through the music world as the wings on Ravenblack extend for flight.
Ravenblack hits the streets on Friday, January 27, 2023 through NoCut Entertainment.