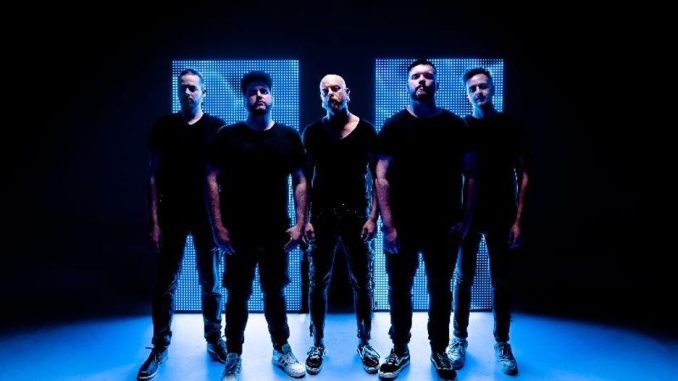 German modern heavy quintet Time, The Valuator have released their new single/music video "Binary Pulse".

The track is the fourth glimpse into their upcoming album, due for release in Spring 2023 via Long Branch Records. With songs full of emotion, powerful vocals and infectious groove, Time, The Valuator have risen to become one of the most promising new acts in the modern rock sphere.

Time, The Valuator about the new single "Binary Pulse":

"'Binary Pulse' illustrates thoughts, feelings, fears and hopes of a humanoid machine from the moment its logical procedures start to traverse through an unforeseeable amount of cycles, effectively identical to a human mind. The machine is self-aware, yet there's a lack of something substantial to experiencing the 'feeling' of identity, something uncanny beyond the visible and tangible."

Watch the Video HERE
Drawing on elements of progressive metal, alternative rock, djent and pop, Time, The Valuator create a unique sound that pushes genre boundaries and touches emotionally. Their 2018 debut album, 'How Fleeting, How Fragile' (Long Branch Records), received international critical acclaim and singles like "Elusive Reasons", "When I Meet Death" or "Vibrant" have since been streamed millions of times.

Currently the band is working hard on their upcoming album. With a theme dedicated to the humanization of machines and the mechanization of humans, fans can expect this new offering to arrive in Spring 2023.
Time, The Valuator Line Up:

Daniel Moczarski (vocals, songwriting, co-production)

Rene Möllenbeck (guitars, keys, songwriting, co-production)

Cedric Dreyszas (guitars, songwriting)

Ryan Voosen (bass, co-songwriting, co-production)

Yunus Proch (drums, co-songwriting, production)
Watch the Video for "Black Water" here
Watch the Video for "Ivy" here
Watch the Video for "Glow" here
FOLLOW TIME, THE VALUATOR: