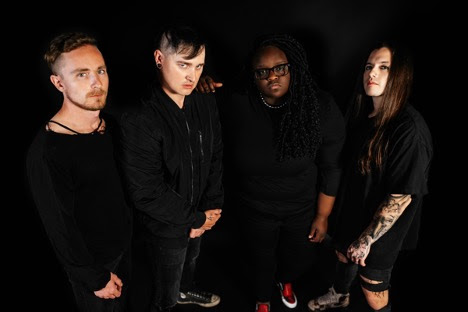 Tour Begins March 4 in Oklahoma City, OK
Tickets Available Starting Friday, January 14 at 10:00 AM Local Time
New Album, Unstable, Out Now via Napalm Records | Order
HERE
Featuring THREE Top 40 Active Rock Radio Hits!
Modern metal frontrunners TETRARCH continue their climb to the top, announcing another must-see slew of tour dates supporting heavy music trailblazers Sevendust on their upcoming March 2022 U.S. headline Animosity anniversary tour, with additional support from Dead Poet Society! The tour begins in Oklahoma City, OK on March 4 and visits several major western and central U.S. cities before coming to a close in Nashville, TN on March 27.
Tickets go on-sale this Friday, January 14 at 10:00 AM local time. See local venue listings for tickets and more information, and see below for a full listing of tour dates.
Lead guitarist Diamond Rowe says:
"We are extremely excited about hitting the road this winter/spring with Sevendust. It should be a very exciting run and we are looking forward to hitting some cities that we haven't in a while. It's Sevendust's 21st anniversary of their album Animosity which was an amazing record, so I know they have a lot of surprises up their sleeve and I know we do as well!"
Sevendust 2022 U.S. Tour Dates with TETRARCH & Dead Poet Society:
3.04 – Oklahoma City – The Diamond Ballroom
3.05 – Dallas, TX – House Of Blues
3.07 – San Antonio, TX – The Aztec Theatre
3.08 – Houston, TX – House Of Blues
3.11 – San Diego, CA – SOMA
3.12 – Sacramento, CA – Ace Of Spades
3.13 – Santa Cruz, CA – The Catalyst
3.15 – Anaheim, CA – House Of Blues
3.18 – Denver, CO – The Oriental Theater
3.19 – Denver, CO – The Oriental Theater
3.20 – Wichita, KA – The Cotillion
3.22 – Minneapolis, MN – Skyway Theatre
3.23 – Chicago, IL – House Of Blues
3.25 – Kansas City, MO – The Truman
3.26 – St. Louis, MO – The Factory
3.27 – Nashville, TN – Wildhorse Saloon
Prepare to witness TETRARCH live and watch their latest music video for "Stitch Me Up"
HERE
:
Produced by the band and Dave Otero (Cattle Decapitation, Allegaeon, Khemmis), TETRARCH's new album, Unstable, dropped on April 30, 2021 via Napalm Records to major critical acclaim! Loudwire stated, "TETRARCH are not messing around, bringing the heavy with full force…", while Alternative Press said, "The meteoric rise of nu metal's brightest new stars TETRARCH has been a compelling show for the scene around them". Upon release, TETRARCH's debut single, "I'm Not Right" cracked the Mediabase Active Rock Top 30 and has garnered multi-millions of combined cross-platform streams to date. Follow up single "You Never Listen" received support from SiriusXM, HardDrive, Full Metal Jackie and many more of the country's leading active rock outlets, while one of their most recent singles, "Negative Noise", has reached over one million views on YouTube and counting. With the release of latest single "Sick Of You", Unstable now boasts three Top 40 Active Rock radio hits!
"TETRARCH are about to have their breakout moment."
– REVOLVER (USA) –
"TETRARCH marks a revival of everything that was right in the late 90s and early 2000s."
– METAL INJECTION (USA) –
"TETRARCH have risen through the ranks of metalcore with unwavering energy. Blending tectonic drop-tuned riffs and creative samples with catchy hooks, the four-piece have effectively carved their niche in the genre."
"TETRARCH are on the verge of world domination."
– GUITAR WORLD (USA) –
"…Diamond Rowe has thrived in challenging expectations and dismantling the status quo."
– KNOTFEST (USA) –
TETRARCH is:
Josh Fore – vocals/guitar
Diamond Rowe – lead guitar
Ryan Lerner – bass
Ruben Limas – drums