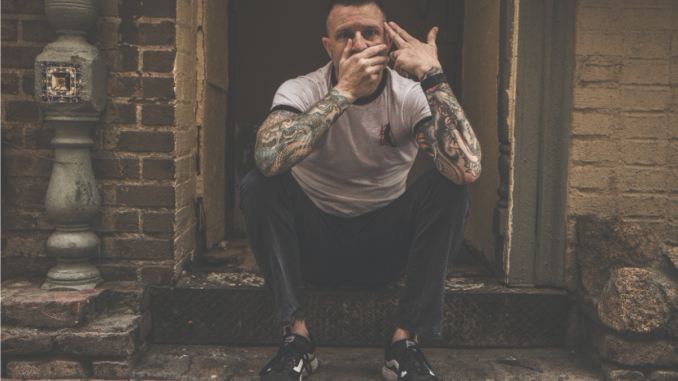 NEW PROJECT FROM FORMER ATREYU VOCALIST ALEX VARKATZAS
SHARES VIDEO FOR NEW SINGLE "SELLOUT" — WATCH
Dead Icarus, the new project of former Atreyu lead vocalist and Gold-selling artist Alex Varkatzas, has officially signed a worldwide deal with MNRK Heavy.
To herald this exciting news, Dead Icarus have shared the video for the new single "Sellout." Watch it here.
The track is a hyperkinetic slab of fast-paced, face-ripping metal with layered vocals and a pit-clearing breakdown. The song shows off a different side of the artist's musical personality. It hits hard, but it's also infused with a melody that just won't quit.
This is the first taste of new music, with a full-length project slated for Spring 2024.
Scott Givens, MNRK's SVP of Rock & Metal, says, "Alex's new project has our whole Heavy team excited. He has put together an incredible project with an amazing group of musicians."
Alex says, "I am beyond excited and grateful for DEAD ICARUS to be joining the MNRK Heavy family. MNRK understands my musical vision and has provided me with free reign over all aspects of my musical journey. I cannot wait to share what has been created as a result of this unadulterated trust. This is the most honest, painful, angry, and optimistic music I have ever created. This is my road to redemption and the truth."
A staple of Ozzfest in the mid-2000s with two gold albums, Atreyu is one of the defining bands of the New Wave of American Heavy Metal, alongside groups like Avenged Sevenfold and Lamb Of God. Metalcore classics like The Curse and A Death-Grip on Yesterday were powered by Alex's distinctive scream.
ABOUT MNRK MUSIC GROUP:
MNRK Music Group is one of the largest independent music companies in the world, with recording, music publishing, and management divisions operating in every major music market. MNRK is committed to discovering and guiding top music creators and artists and works with some of the greatest musical talent including The Lumineers and Pitbull, the music publishing catalog of Chuck Berry, plus premier music companies Dualtone Music Group and Last Gang. The company's music department services Academy Award and Emmy Award-winning producers. Its catalog across divisions consists of 54,000 music tracks, including multiple GRAMMY winners and platinum-selling hits.