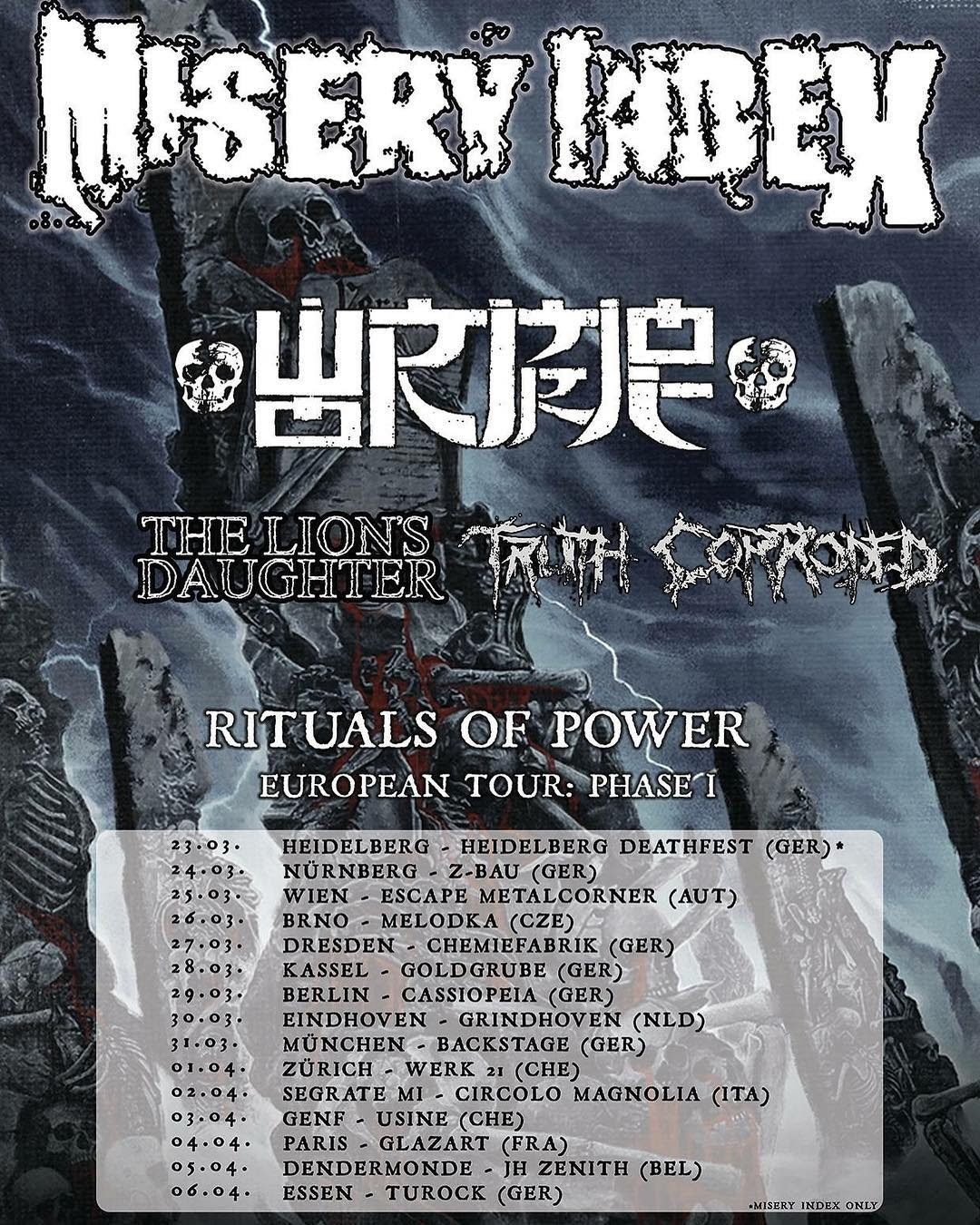 MISERY INDEX
Release Official Music Video for "Naysayer," Embark on European Tour
Death Metal extremists
MISERY INDEX
have released an official music video for the song "Naysayer," which has been taken from their latest album, 'Rituals of Power.' The video can be seen via Distorted Sound Mag at
THIS LOCATION
.
The video has been released in conjunction with the band's upcoming European tour, which kicks off this Saturday, March 23 at Heidelberg Deathfest. MISERY INDEX will be supported by label-mates THE LION'S DAUGHTER as well as WORMROT and TRUTH CORRODED. The full run of dates is listed below.
The band comment on the video: "In order to celebrate the launch of our first tour for the new album, we offer a video for the track 'Naysayer.' The video was filmed several weeks ago at our rehearsal space in Baltimore and is intended to capture the band/us in our most primal creative setting. The idea was to bring to life and visually animate what is perhaps the most ferocious, unrelenting song on the album. 'Naysayer' is to the point; it pulls the hoods off those who seek to hide behind walls (either material or digital) and calls them out for their inveracity and inhumanity. I am sure we all know a few 'naysayers.' Turn it up, let it rip and sing along."
For interviews and accreditation requests, please contact Katy Irizarry at Katy@season-of-mist.com.
MISERY INDEX
+WORMROT + THE LION'S DAUGHTER + TRUTH CORRODED
03/23: Heidelberg (DE) @ Heidelberg Deathfest
03/24: Nürnberg (DE) @ Z-Bau
03/25: Wien (AT) @ Escape Metalcorner
03/26: Brno (CZ) @ Melodka
03/27: Dresden (DE) @ Chemiefabrik
03/28: Kassel (DE) @ Goldgrube
03/29: Berlin (DE) @ Cassiopeia
03/30: Eindhoven (NL) @ Grindhoven
03/31: München (DE) @ Backstage
04/01: Zürich (CH) @ Werk21
04/02: Segrate MI (IT) @ Circolo Magnolia
04/03: Genf (CH) @ Usine
04/04: Paris (FR) @ Glazart
04/05: Dendermonde (BE) @ JH Zenith
04/06: Essen (DE) @ Turock
MISERY INDEX will be touring in support of their new album, 'Rituals of Power,' which is available now. You can order it HERE.

The band comment on the album: "'Rituals of Power' is a disavowal and warning against the consequences of our so-called 'post-truth' age. Each of the 9 songs revolves loosely around this theme, yet each track also stands very much on its own. As an album however, they are all brought to life as one 'reanimated' monster; it's roughly 35 minutes of unhinged, yet cohesive, riff-driven aural ballistics. We were pissed off and on fire during both the writing and recording, and we think it shows in spades. We set out to write the best album we could, based on what we would want to hear first as fans of this music, and we could not be happier."
MISERY INDEX
return furiously with their brand new album, 'Rituals of Power!' With their sixth full-length, the American icons of hard hitting brutality display the strength of maturity grown out of the experience gained as a relentless touring machine. The general trend of their continuous evolution to incorporate less core elements and move towards classic death metal finds a new high water mark.
When their debut EP 'Overthrow' was recorded in 2001 by vocalist and bassist Jason Netherton (ex-DYING FETUS) together with (then) guitarist and vocalist Mike Harrison and drummer Kevin Talley (ex-DYING FETUS), MISERY INDEX immediately charted a course to explore and push the limits of Death Metal and Grindcore, drawing influence from bands like MORBID ANGEL, NAPALM DEATH, TERRORIZER, BOLT THROWER and ENTOMBED. The erstwhile project shifted to a full time band when guitarist Sparky Voyles (ex-DYING FETUS) joined.
In 2003, MISERY INDEX unleashed their first full-length 'Retaliate', to exceptional reviews and followed by numerous support tours and festivals in Europe and North America. After several line-up changes, second album 'Discordia' was released in 2006 with even more touring in its wake. Their third full-length, 'Traitors' (2008) reaped raving reactions from both critics and fans and saw the band on the road again until 2009. Then MISERY INDEX dropped 'Heirs to Thievery' (2010) like a bomb on the Death Metal masses, shattering all expectations. The album was both a commercial and critical success, elevating the band to headlining slots. During that year, long time guitarist Sparky Voyles was replaced by Darin Morris.
A string of shows and festivals around the globe followed and on the Munich date of 'Full of Hate Tour' alongside CANNIBAL CORPSE, BEHEMOTH and LEGION OF THE DAMNED, the band recorded their first live album. Released early 2013, 'Live in Munich' perfectly epitomized the rawness and ferocity that MISERY INDEXelevated onto a new level with their fifth full length "The Killing Gods" in 2014.
Now, with 'Rituals of Power,' revolving around the concept of "truth," MISERY INDEX are back with nine crushing tracks which tackle how 'truth' has been constructed and molded throughout history as a means to uphold power, regimes and ideologies. Brace, hold tight and run for cover, the wrath of MISERY INDEX is upon us and they are more furious than they've ever been.