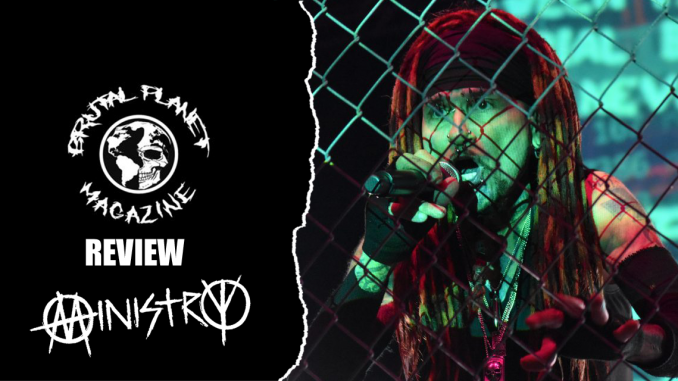 As things have been slowly creeping back to normal over the past couple months, I have made it out to a couple of shows. Nothing however, as epic and intense as the experience I had seeing Ministry's Industrial Strength Tour at the Sunshine Theater in Albuquerque, New Mexico on Saturday, April 9th 2022.
Corrosion of Conformity opened the show with their stripped down brand of blues influenced metal. The band entered the stage to "La Grange" by ZZ Top and blazed through a set that drew from both older and newer selections of their catalog. "Paranoid Opioid" was the opener followed by "Shake Like You" and "Diablo Blvd".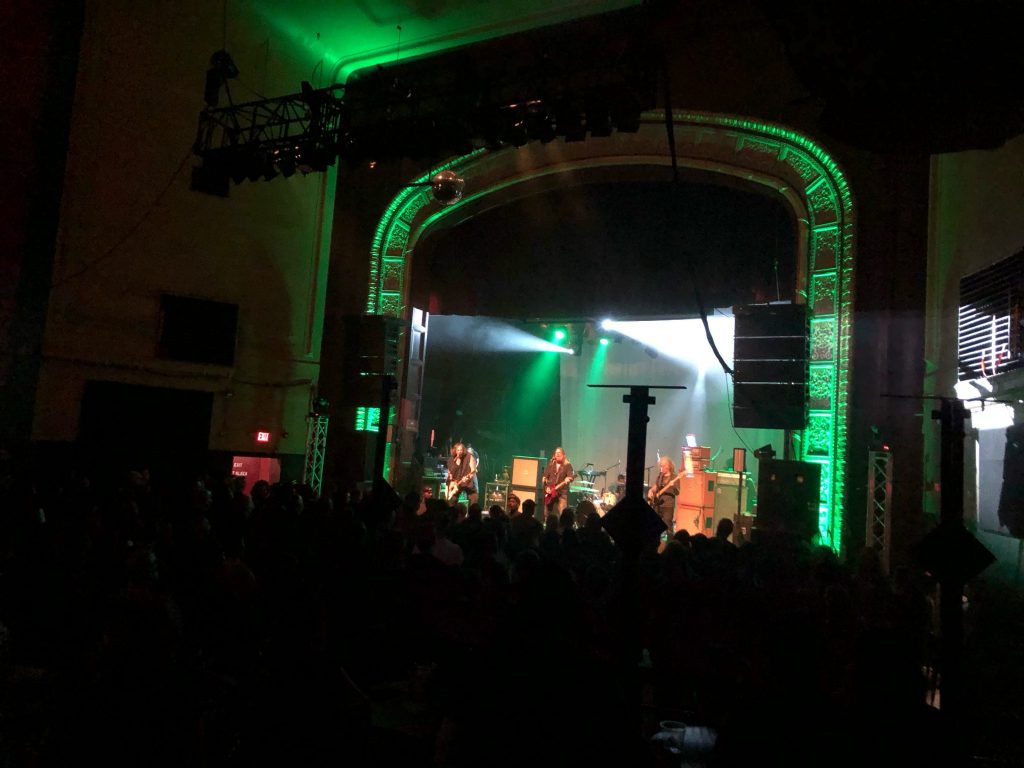 "We call this part of the set dealer's choice" Pepper noted as they plowed into "Senior Limpio" from the Deliverance album. This was followed by the classic "Vote with a Bullet" and then "Born Again for the Last Time" and "Albatross". The set built to a crescendo and ended with the very appropriate "Who's Got the Fire?"
The Melvins were up next and they performed their high-energy set in front of a projected photo of Endora, Samantha's mother and the protagonist from the TV Show "Bewitched." When they played one of their more memorable tracks "Hooch" – Ministry's current drummer Roy Mayorga joined them on stage to accompany the band.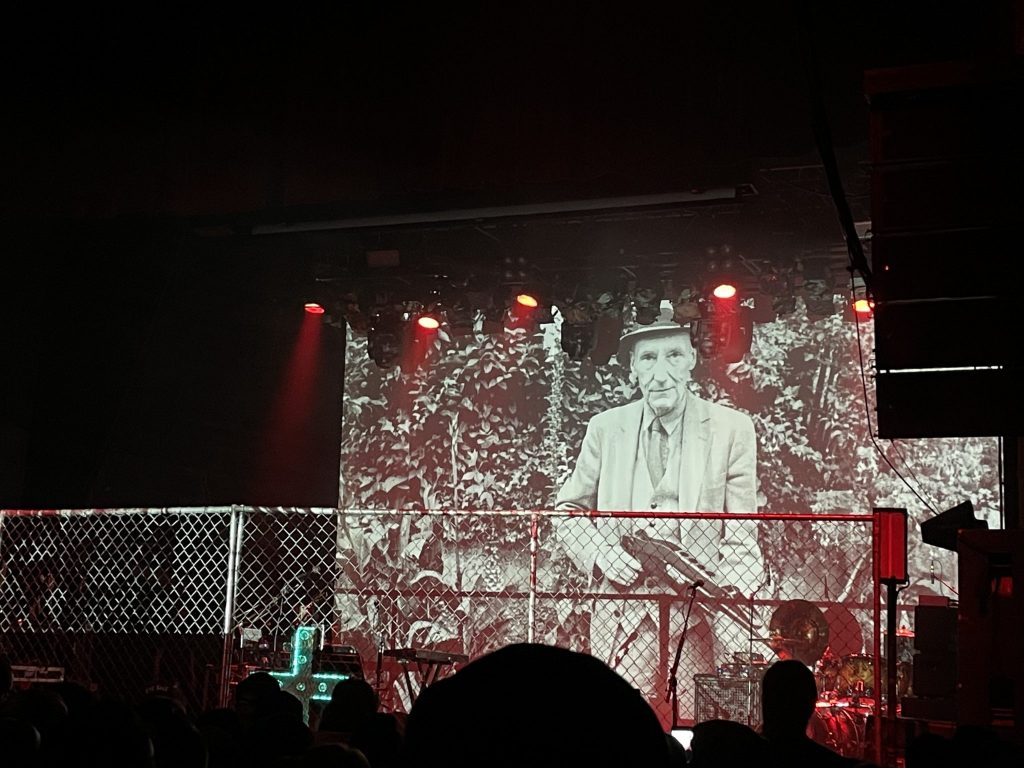 Finally it was time for the headliners. Ministry's road crew set up chain link fences in front of the stage making it look like a war zone. A graphic reading "Ministry Stands with Ukraine" was broadcast on to the screen as they played the Ukrainian national anthem over the PA system.
As someone who is baffled by the sudden support for our government's march to war by typically skeptical types, I was a little disappointed by this. Even bands like Eve 6 are smart enough to be skeptical of State Department propaganda. Now Ministry, the band who made a trilogy of anti-George W. Bush albums – is blindly parroting pro-war government narratives? It just struck me as odd.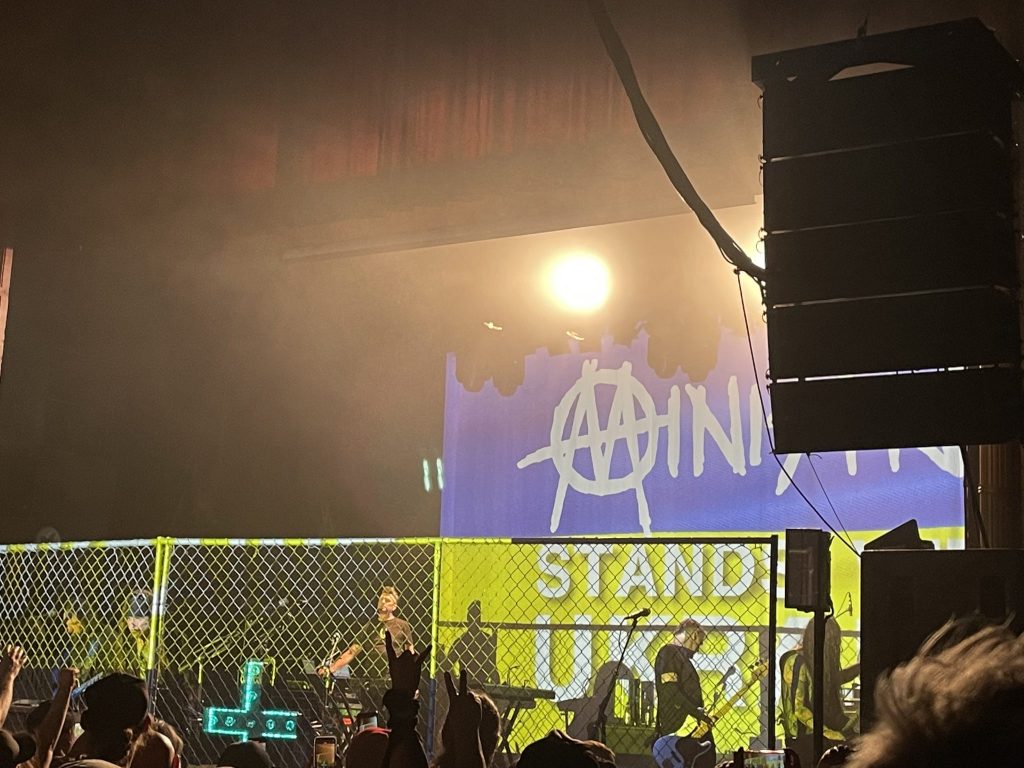 The band immediately broke into a high energy version of "Breathe" and then plowed through two more classic tracks from the Land of Rape and Honey era – "The Missing" and "Deity." This move completely took my mind off that whole "manufacturing of consent" thing they opened with. The band had executed an effective strategy that quickly won over a hardened skeptic. Yes, in 2022 the spirit of Ministry is still very alive and very well – Al's band is well rehearsed and is firing on all cylinders.
By the time they broke into "Supernaut," a Black Sabbath cover by one of Al Jourgensen's many side projects – 1,000 Homo DJ's, the crowd erupted into a complete and total frenzy. When the music paused for a moment Uncle Al told us that the next song "Don't Stand in Line" was by yet another one of his non-Ministry side project's – Pailhead. This was a project Al worked on with the legendary D.C. Hardcore Kingpin and Dischord Records founder – Ian MacKaye of Minor Threat and Fugazi.
After this the band dove headfirst into another bag of classic Ministry cuts. Tracks like "Stigmata", "Burning Inside", "N.W.O.", "Thieves" and "Just One Fix". The crowd stomped, cheered and chanted "Just One Fix!" in unison with Jourgensen during one of the peak moments of their set. Finally the band wound down to the flowing jungle beats and chants of yet another Ministry classic "So What?" Then they waved at the audience one by one and left the stage.
For a minute it looked as if they were actually gone and the road crew began tearing down the chain link fence that had been guarding the front of the stage. The crowd didn't budge though and began to chant "MIN-IS-TRY!!". Finally the band returned to the stage for a 3 song encore that started with "Alert Level".
When Al introduced the track "Good Trouble" and talked about it's theme of political activism, it brought me full circle from my initial skepticism of the band's "Stand with Ukraine" opening. It is obvious that Ministry and Al Jourgensen himself are still the anti-establishment, rabble rousers they have always been – despite helping to manufacture consent for a proxy war with Russia in Ukraine. Maybe I had been a bit too judgmental. They ended the encore with a Stooges cover "Search and Destroy" and the audience filed out of the Sunshine Theater, exhausted and fulfilled.
Make no mistake, this was one of the best heavy shows I have been to in a long long time. Al Jourgensen should also be commended for his longevity and credibility in the world of heavy music. The man continues to create great music and has a knack for assembling a talented live band that really brings the energy of Ministry's catalog to life. As a fan of the band since the 90's, this was my first time seeing them live. I can't stress enough how much you must see Ministry live ASAP. What an incredible show, if you're lucky enough to be in one of the 4 remaining cities on this tour get your ass to this show!!
Catch the Industrial Strength Tour featuring Ministry, The Melvins and Corrosion of Conformity on one of the remaining dates:
4/13/22 – Anaheim, CA – House of Blues
4/14/22 – San Diego, CA – House of Blues
4/16/22 – San Francisco, CA – The Warfield
4/18/22 – Seattle, WA – Showbox SoDo
(Additional photos provided by DW Plato)