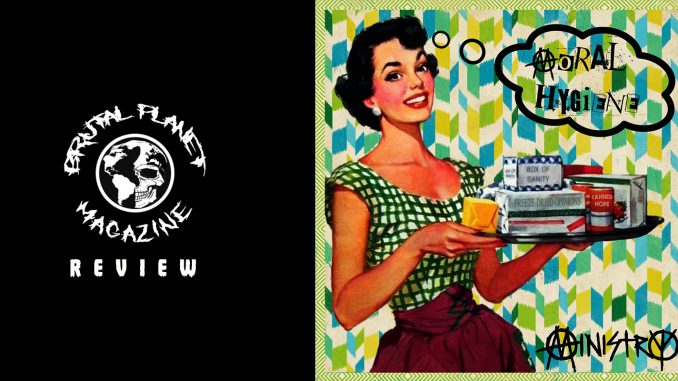 My fondness for Ministry goes back many years to when I was a rebellious teen. Ministry was the perfect soundtrack to teach me there was a time and place to tell someone "To Go Fuck Themselves." I think of Ministry as my generation's "Call to Activism" soundtrack. They were the 80's Rage Against the Machine. As I have aged, my taste has not changed; I still love Ministry and am just as likely to tell everyone. Thanks, Uncle Al. Coincidently, Ministry's music may have evolved over the years, but the message is the same: "Fuck Fascism." In 2021 there is plenty of subject matter for Al and Ministry to use as a modern-day call out. Let me introduce you to Moral Hygiene.
Ministry has created the perfect soundtrack for 2021. This is their first album in three years and the first to feature new bassist Paul D'Amour. Moral Hygiene starts with "Alert Level." A classic Ministry song for modern times. The use of sampling in the song is brilliant with the looping of "Are you Afraid." The song features the gangsta rap icon Arabian Prince, one of the founding members of N.W.A. Up next is "Good Trouble," a piece inspired and dedicated to the late Civil Rights leader John Lewis. The song exemplifies what activism is and why John Lewis was a hero for the voiceless. "Sabotage is Sex" increases the political overtones with lyrics like: "When the Body Cam-Shows Body Slam." It also features Dead Kennedy's singer Jello Biafra.
"Disinformation" is a song that contains hard riffs and some great sampling from the former president and the media.
One of the great highlights of Moral Hygiene is Ministry paying tribute to early Punk pioneers that would shape "Industrial Metal" today. Iggy and The Stooges were a band that left everything on the table and held back nothing. Their 1973 anthem "Search and Destroy" could not have been more appropriately covered in 2021 by Ministry. The beat is slowed but much heavier and darker than the original and features guitar from the amazing Billy Morrison.
The song "Believe Me" not only has excellent lyrics but has a great guitar riff paired with prominent keyboards that make it one of my favorites on Moral Hygiene. "Broken System" has an introduction reminiscent of "Khyber Pass" that transitions into a mid-melody classic.
"We Shall Resist" slows down the beat and turns up the eccentricity, which then dives into another of my favorite songs on the album, "Death Toll." It samples from insane preacher Kenneth Copeland as the death toll rises. It shifts to the chaotic "T.V. Song (Right Around The Corner Mix)" that is destined to become a Ministry classic.
As I look back on my younger years, I had lots of influences in my life. One of my biggest was music, and it makes sense that Ministry helped shape who I am today. If you are already into Ministry, you are going to love everything about Moral Hygiene. If you are looking for something to help you find your place in life, I suggest a good dose of Ministry. You can pick up Moral Hygiene on October 1st, 2021, via Nuclear Blast Records. Also, look for Moral Hygiene in my top ten of 2021.