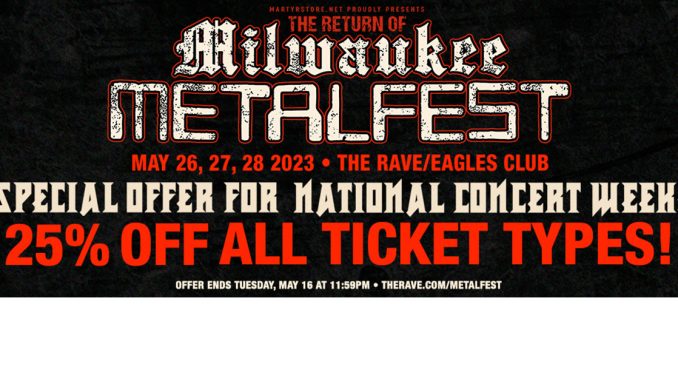 With Milwaukee Metal Fest just over a week away, fans can now purchase passes at a discounted rate! In honor of National Concert Week, all ticket and pass types are now 25% off! This promo is now extended until Tuesday, May 23 just before midnight. Passes, single day tickets, and V.I.P. packages can be found HERE.
ICYMI: Milwaukee Metal Fest has recently revealed daily schedules, which can be found below! The festival's triumphant return will take place at The Rave / Eagles Ballroom from May 26-28.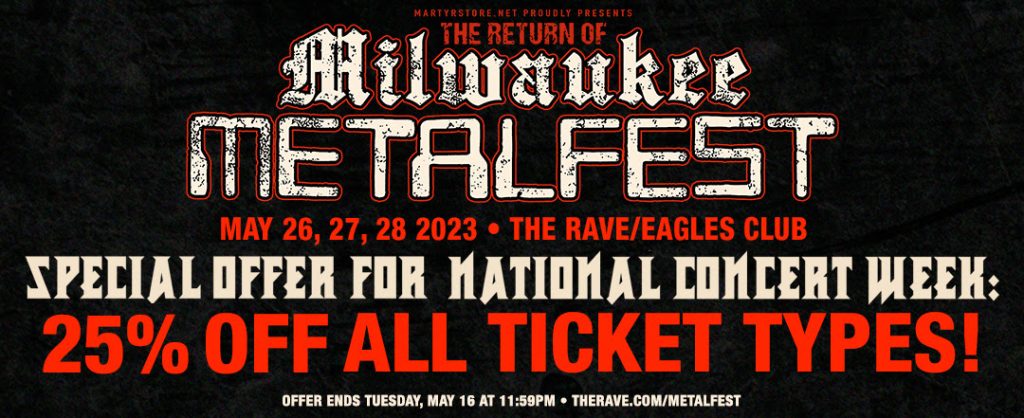 In addition, Lamb of God recently revealed that they will be performing a special 20th anniversary of the seminal album, 'As the Palaces Burn' during their headlining appearance at this year's edition of Milwaukee Metal Fest!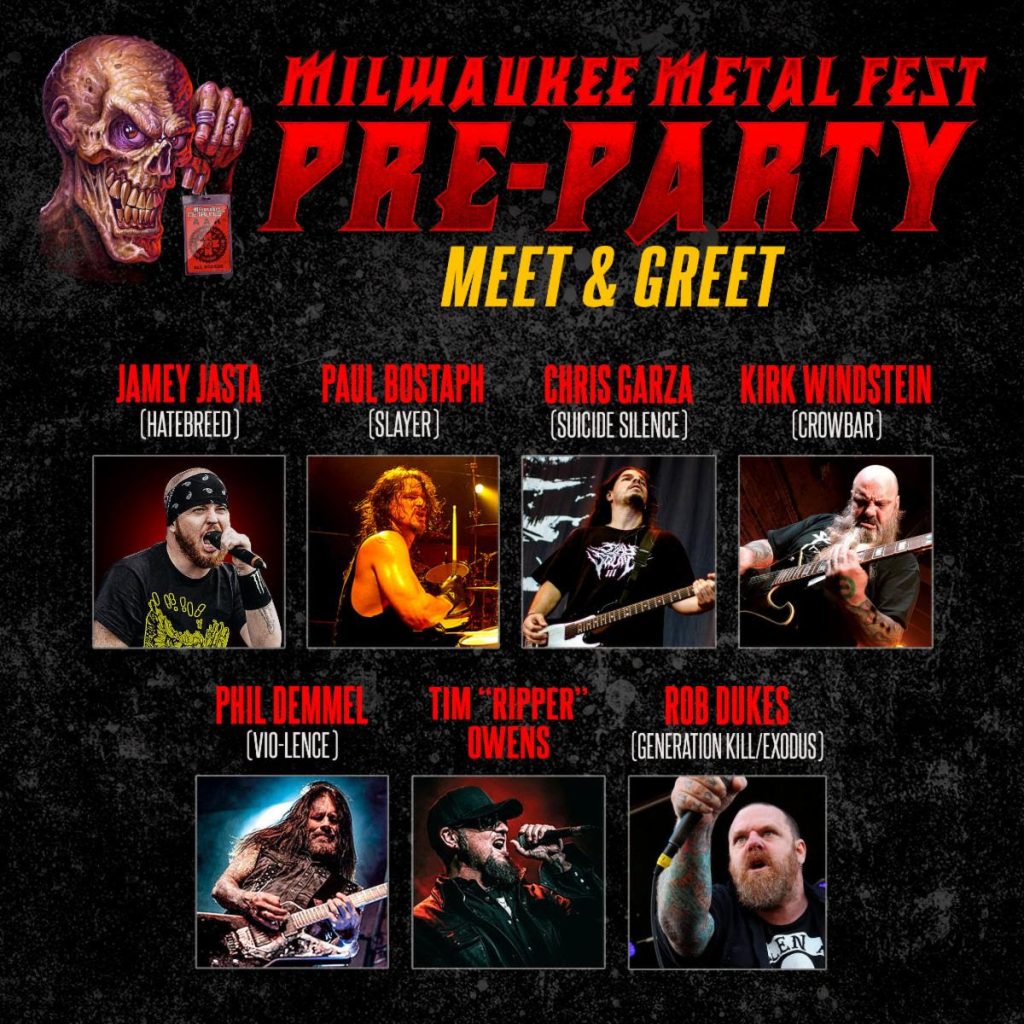 Further information on the official pre-party and V.I.P. package options can be found below!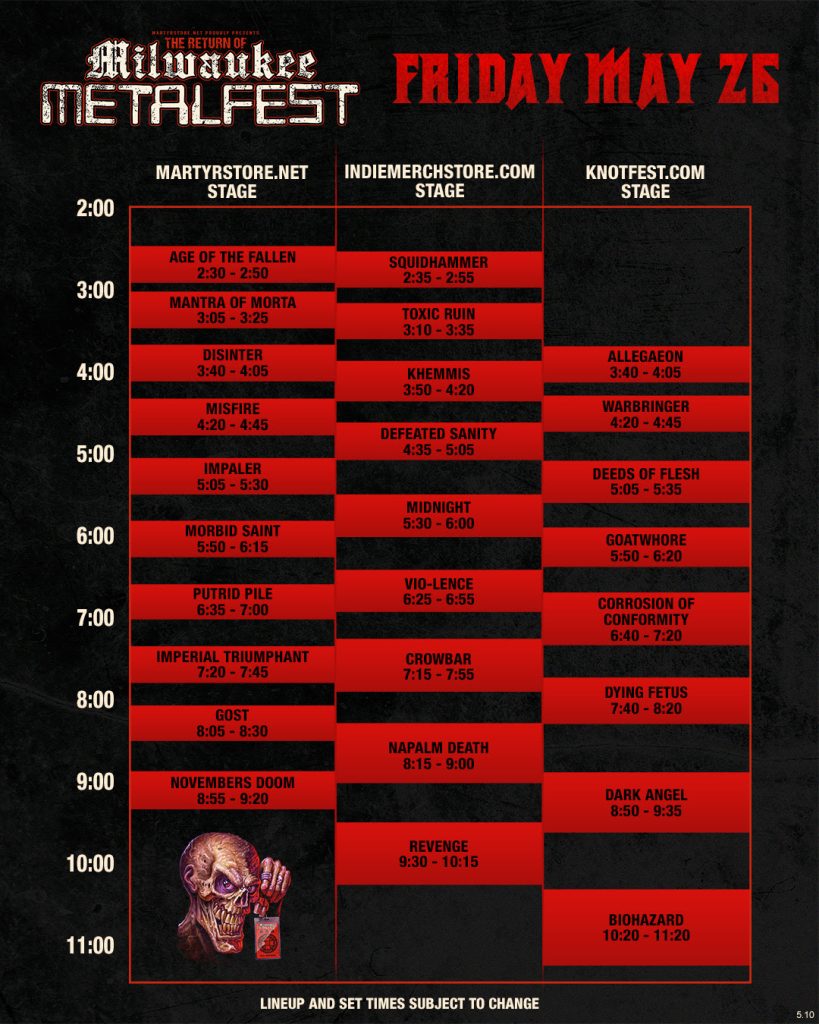 FRIDAY, MAY 26:
Doors @ 2:00 P.M.
Martyrstore.net Stage:
2:30 – 2:50 P.M. || Age of the Fallen
3:05 – 3:25 P.M. || Mantra Of Morta
3:40 – 4:05 P.M. || Disinter
4:20 – 4:45 P.M. || Misfire
5:05 – 5:30 P.M. || Impaler
5:50 – 6:15 P.M. || Morbid Saint
6:35 – 7:00 P.M. || Putrid Pile
7:20 – 7:45 P.M. || Imperial Triumphant
8:05 – 8:30 P.M. || GosT
8:55 – 9:20 P.M. || Novembers Doom
IndieMerchStore.com Stage:
2:35 – 2:55 P.M. || Squidhammer
3:10 – 3:35 P.M. || Toxic Ruin
3:50 – 4:20 P.M. || Khemmis
4:35 – 5:05 P.M. || Defeated Sanity
5:30 – 6:00 P.M. || Midnight
6:25 – 6:55 P.M. || Vio-Lence
7:15 – 7:55 P.M. || Crowbar
8:15 – 9:00 P.M. || Napalm Death
9:30 – 10:15 P.M. || Revenge
Knotfest.com Stage:
3:40 – 4:05 P.M. || Allegaeon
4:20 – 4:45 P.M. || Warbringer
5:05 – 5:35 P.M. || Deeds Of Flesh
5:50 – 6:20 P.M. || Goatwhore
6:40 – 7:20 P.M. || Corrosion of Conformity
7:40 – 8:20 P.M. || Dying Fetus
8:50 – 9:35 P.M. || Dark Angel
10:20 – 11:20 P.M. || Biohazard