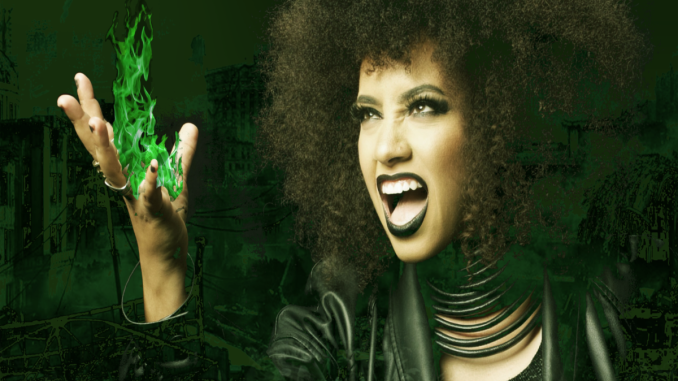 Premieres "Desires Of This World (Envy)"
Milita Vox is set to release one of her most exciting singles to date. "Desires Of This World (Envy)" is a power metal collaboration with Vox and Maryland metal outfit Reap The Light, who have also released music with Tim "Ripper" Owens (KK's Priest, Judas Priest, Iced Earth) and Laura Guldemond (Burning Witches).

Militia Vox shares, "This song is epically powerful – both the music and the message. I think this style of vocal is something that people have wanted to hear from me for a while. It's also deeply layered because I recently lost my mother. Going through all of her possessions, giving things away and keeping just a few…It's a reminder of how fragile life is and how irrelevant belongings can be."

"Desires Of This World (Envy)" was mixed and mastered by Eric Kalina.

Watch "Desires Of This World" here:
Video EFX: Craig Cefola
Directed by Militia Vox
Camera Op: Willow Waxdoll & Mike Canzoniero @ MCM stages NYC
About Militia Vox:
"ONE OF THE GREATEST ROCK VOCALISTS" – Blabbermouth
"A charismatic, badass vocalist capable of commanding any stage" (- The Guardian) and "a voice made for arenas" (- Jim Florentine Sirius XM, Vh1's That Metal Show), NYC's Militia Vox is unapologetically her own genre- stirring the elements of hard rock, heavy metal, goth/industrial, prog and psychedelic. Armed with epic originals, reimagined classic anthems, from Carnegie Hall to rock's biggest festivals- Militia Vox is the voice of rebellion.
Known for her four-octave range, raw presence and serious vocal power, this award-winning, heavy music trailblazer has performed/recorded with Rob Halford (Judas Priest- RNR Hall of Fame 2022 inductees), Twisted Sister, Living Colour, John Petrucci, Cyndi Lauper, L7, Candlebox, dUg Pinnick, members of Guns N' Roses, Bad Wolves, Kittie and more. Militia Vox is also frontwoman of the world's only all-female tribute to the metal gods, Judas Priestess.
Militia's duet with heavy metal icon Rob Halford of Judas Priest, "Push Comes to Shove" by Bad Penny, reached #23 on iTunes. She appears in the documentary "They Say I'm Different" about funk-rock legend Betty Davis [Amazon Prime Video.] She is a host from the hit TV show "Heavy Metal Makeover" and also a former Host, VJ and special guest seen on FUSE, MTV2 and VH1.
Militia Vox has performed Off-Broadway and in international tours of rock musicals, including Rock of Ages (as "Justice").
Militia Vox is featured in the new book The Art of Metal by Martin Popoff with foreword by the late Lemmy Kilmister (Motörhead). She recently had a song in rotation on Sirius XM – "Friends" by Patriarchs in Black ft. Militia Vox (w/Johnny Kelly from Type O Negative, Quiet Riot and Danzig).