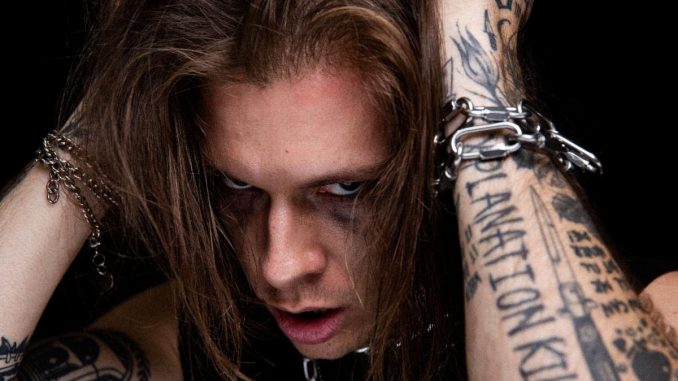 Tuesday, August 17, 2021 – Hard-hitting and darkly charismatic Los Angeles-based singer, rapper and producer, Mike's Dead has unleashed his latest track and music video for "BEES". The cast of the music video features a number of recognizable social media influencers and actors, including Colby Brock (of Sam and Colby), Mitchell Eason (star on the Netflix series "The Circle"), Jake Webber, Heir of Atticus, and other well-known TikTokers. "BEES" is taken from his upcoming 'Revenge' EP out on September 17. Speaking on today's release, Mike's Dead shares:
"The second you press play you know exactly why this song is called Bees. We got really weird with this one & honestly had a ton of fun. I wanted to take my industrial rap sound and put it on steroids and speed it up… So it kinda ended up being a drum and bass industrial rap song and I was like "yo wtf did we just make" but it turned out sick and ended up being a crowd/ mgmt favorite. Think fans are gonna go nuts for this one. Had to make the music video just as crazy as the song."
About Mike's Dead
Combining elements of legendary nu-metal/ hard rock groups such as Rammstein, Nine Inch Nails, Limp Bizkit & Korn with modern trap and electronic elements, American singer & producer, Mike's Dead, has paved his own lane as a multifaceted artist. Launching his brand in June of 2018, he quickly amassed over 1 million followers across social platforms leading him to over 15 million independent streams on his music in his first two years.
Growing up just outside of Washington D.C., he dropped out of college and at the age of 20, moved to Los Angeles to study audio engineering and music production. After years of relentless studio work, he crafted his unique sound; blending elements of hard rock with crushing bass lines and elaborate synth work. Vocally, he combines hard rap lyrics matched with raw emotion and ghostly melodies. With successful headlining tours under his belt and a "cult-like" fanbase at his side, we see an exciting future for Mike as he rolls out his new sound & inevitably his first album in 2021.