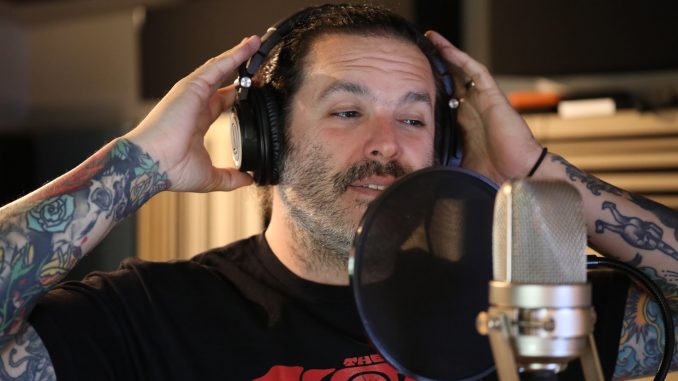 MIKE SQUIRES (LOADED, HARVEY DANGER, THE LONG WINTERS) RELEASES DEBUT ALBUM, #2 RECORD, ON NOV. 12 VIA COUCH RIFFS MEDIA

LISTEN TO "LIFE LESSON #1" NOW

ALBUM PRE-ORDERS AVAILABLE NOW

https://themikesquires.bandcamp.com/

THE COUCH RIFFS HOST DEBUTS "I NEED TO KNOW" VIDEO

FEATURING BRIAN BAKER, KATHY VALENTINE, LISA KEKAULA & JON WURSTER
Oct. 20, Brooklyn – Mike Squires, the lead guitar player in a bevy of bands including Duff McKagan's Loaded, Harvey Danger, The Long Winters and Alien Crime Syndicate, releases his debut solo album, #2 Record, on Nov. 12 via Couch Riffs Media.

The collection of 15 songs, each a mere 15 seconds long, is the direct result of Couch Riffs, an Instagram-born project that initially featured Mike on his couch playing along to his favorite records. The premise was simple, one take and no do-overs, and absolutely no editing. "I was just trying to keep up my chops by playing along to funk, disco and classic rock albums at first," explains Squires. "I never thought it would turn into something bigger."

The project grew, friends wanted in on it and before he knew it he had his former bandmate, Duff, over for a take on Jackson 5's "I Want You Back," Zwan/Bonnie Prince Billy's Matt Sweeney joining him for a rendition of David Bowie's Fame," and Testament's Alex Skolnik joining him for a cover of Devo's "Whip It." The whole thing started to steam roll until the pandemic arrived.

Squires pivoted, instead of guests joining him in Brooklyn, he featured single take recordings of socially distanced full band renditions of songs. He curated the line-ups, linking unlikely musicians like Myles Kennedy singing Earth Wind and Fire or Isaac Brook doing a Waylon Jennings track. He conducted interviews and grew the once social media experiment into a thriving podcast with guests ranging from Bad Religion's Brian Baker to Zakk Wylde, The Aquabats to the Melvins.

Using his Couch Riffs' experience, Mike created his first solo project, #2 Album. Written and performed almost entirely by Squires with guest drummers Oskar Haggdahl (Marc Martel), Dennis Lefflang (Bumblefoot), and Don Gunn (Soundgarden/Death Cab for Cutie), who also mixed the album.

The collection is available for pre-order now (themikesquires.bandcamp.com) with a digital release of 15 tracks, and a physical flexi-disc version containing 11 songs, bound in a 30-page book, featuring illustrations from Marvel/DC Comics artist Matthew Southworth.
#2 Record tracklist:

Colorblind
Stranger's Home
What Are The Odds?
You Couldn't Care Less About My Life
You Can Learn From Steve Jones
Deadly Toxic Nucular Deth
Cover Your Load
Park Carpool Carpark
Guess Again Death March
Truck Nuts

Digital only tracks:

12. I'm Your Best Friend

13. Paul Stanley Autobiography

14. For The Portland Nieces

15. 04 November 20

# # #