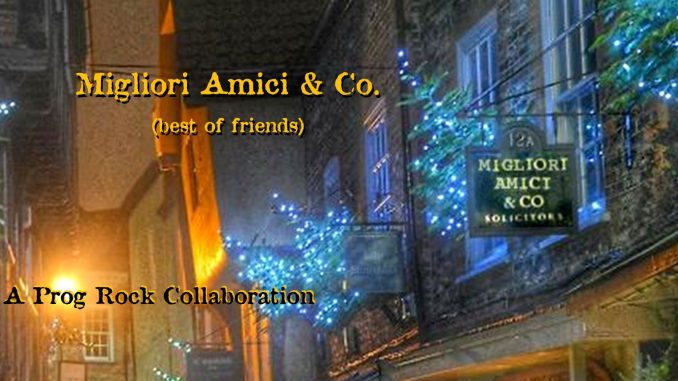 The world was forced to rethink ordinary daily tasks during the 2020 lockdown. As for musicians and the entertainment industry, individuals were forced to think outside of the box creatively.
What was once a given just to plug with a musical colleague for example was no longer an option. Musicians across the globe literally had time on their hands. Scores, notes and thoughts danced in their heads and at their fingertips.
A new way to collaborate in the studio was being born and forced upon musicians. Instead of being separated by instrument or vocal booths, musicians were not separated by the distance miles and kilometers. 
One such collaboration that was conceived during those times is now seeing the light of day, that's Migliori Amici & Co. When translated from Italian, Migliori Amici means best friends. The term Migliori for best and Amici for friends thus the name behind the collaboration of two friends.
The two musicians that spearheaded this collaboration, Michael Sciotto and Ray DeTone. Each holds impressive and respective entries on their resumes.
Sciotto, a composer and drummer, can list Jefferson Starship and From the Fire to his work experience.
DeTone who's a guitarist, keyboardist and composer as well can list Paul Di' Anno's Killers, Drive and She Said.
Sciotto and DeTone makeup the core of Migliori Amici & Co. but there's more. Woven within the collaboration fabric are names that have contributed to the likes of David Bowie, Elton John, and Steve Wilson. Add Miles Davis and Ace Frehley and the result is seasoned musicians in Migliori Amici & Co. camp.
With that being said, Migliori Amici & Co. have released a six-song EP simply titled (best of friends) through Vanity Music Group.
The EP is a unique type of release. (best of friends) consists of progressive rock elements, hard rock, 70's and atmospheric keyboards and hints of Celtic flutes. It's original material but there is one cover.
Oddly though, there are no vocals but there is an upside to that. The vocal free tracks allow the listener to really concentrate and absorb all that's being heard.
The opening track "Sick Sh*t" at 7:34 and longest is one of the heavier tracks. The song has that hard rock guitar driven vibe but accompanied by some keyboard work.
The lone cover on the EP, "Glasgow Reel" comes in at track two. Originally, the song is a happy dancing Scottish tune but it's quite different via Migliori Amici & Co. The collaboration unanimously rocks this tune and it's nice to hear the interpretation by Sciotto and DeTone.
The remaining four tracks, "Sun," "Arctic Drift," "Shattered Glass" and "Images" are unique in their own special way. It can be said, each of the six songs throughout the EP has its own personality. Hints of classical guitar, jazz, electronic keyboards and even tiptoeing into folk territory.
As a whole, the listening experience is pleasurable. The best way to describe the EP's sound is that it's clean and pristine production wise.
(best of friends) has been out and available for several months. It's just been flying under the radar but now people are taking notice of this prog rock collaboration.