Kingdom Immortal, the latest release from New Jersey's Midnite Hellion is now available for fans of traditional heavy metal.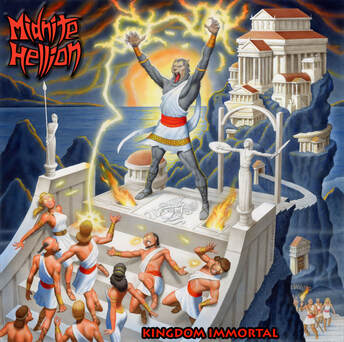 The album is the Midnite Hellion's second release that follows their debut, Condemned to Hell from 2017.
Midnite Hellion's music can be best described as New Jersey Style Heavy Metal and that's what Kingdom Immortal is. Eight tracks of east coast heavy metal with pinches and hints of familiar styles laced in here and there.
The listener will immediately experience hints of Anthrax with the album opening track "H.M.O." The song has an early Anthrax vibe to it. There's really no other way around it. It doesn't come as a surprise though with Alex Perialas at the helm, guiding the band production wise.
Perialas has been involved with many of the releases during the Golden Age of Heavy Metal. Bands such as Anthrax, S.O.D., Overkill, Exciter and Metallica to mention a few.
The intro leading into the second track, "She-Demon," immediately gives the listener a Di'Anno era Maiden vibe. The track clocking in at 2:57 doesn't stay that way for long though. It proceeds down the traditional heavy metal pathway.
Three of the eight cuts on Kingdom Immortal fall under the three minute mark. It's an odd feeling with a song gaining or building momentum only for it to stop shy of three minutes.
Listeners will sense hints of Hetfield vocals in several cuts such as "Phantomland," "Rapscallion" and "Army of the Dead."
Track seven, "Army of the Dead" clocks in on the opposite end of the timing spectrum at 7:58.
This definitely allows the lengthy cut to build and gain momentum. The chorus chants of "Fight on ! Fight on ! Fight on !" could establish "Army of the Dead" as the band's anthem. The addition the single, lone bell toll at 2:04 to lead the headbangers into a heavy metal battle.
At the 5:17 mark, the song fades out only to come back with a heavier, slower tempo and lyrics. "Rise…, Rise…, Rise from the dead to conquer and triumph again" and other lyrics.
At first, it may appear that "Army of the Dead" should bring Kingdom Immortal to a close but that's not the case. The brisk and short "In Sickness and in Hell" at 2:30 does.
Upon closer listening, the final track could be a Part II or a final chapter of "Army of the Dead." There's a continuity between the two tracks that work.
Midnite Hellion is currently marching their way across the continental United States on a 40-date tour. The band is out supporting White Wizzard and Anvil with the tour has approaching the midway point. The latter part of the tour that will conclude on July 31 will see dates in the midwest.
Kingdom Immortal can be purchased via Midnite Hellion's bandcamp or Power Chord Productions in vinyl, CD and cassette formats.