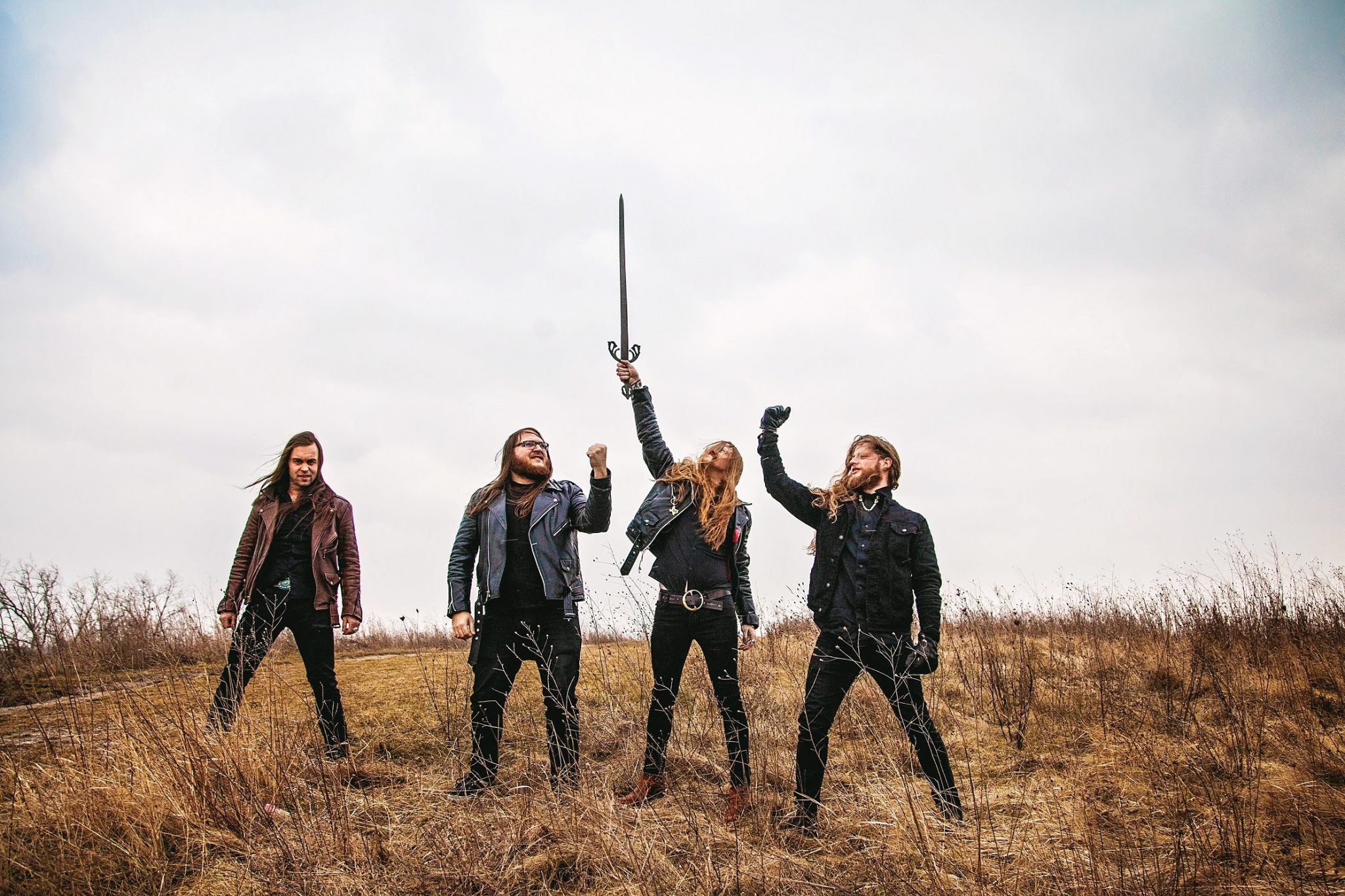 Today, solid-gold heavy metallers
Midas
premiere a new lyric video for
"White Wolf"
at
the New Wave of Traditional Heavy Metal (NWOTHM) YouTube channel
. The track hails from the band's forthcoming
Demo Tape
s collection, set for international release on March 27th via
Dying Victims Productions
on vinyl LP format. See & hear
Midas
' "White Wolf" lyric video in its entirety exclusively
HERE
.
Hailing from the mean streets of Detroit, Midas are a four-piece band of hard rock warriors. Theirs is an ancient, time-lost sound, recalling rock 'n' roll's first transitions into proto-metal during the hazy, crazy '70s. But, Midas are not simply retro-retread plagiarists looking to (hazily, lazily) replicate the past; this era and style of music BURNS within them, and it bursts forth with effervescence and excitement across their two demos to date.
Both released during 2019, Midas' Solid Gold Heavy Metal and Still Hungry each feature four effervescent, exciting songs, and both trounce most bands regular recordings. Brimming with a startling, stultifying confidence, Solid Gold Heavy Metal (which occupies Side A of this Dying Victims vinyl edition) patiently builds eldritch grooves guided by narrative lead work. There's a subtle yet no-less-dazzling mysticism here recalling earliest Scorpions, Judas Priest, and even trio-era Thin Lizzy – just witness the demo's eerily breathtaking closer, "Blackened Blade" – as well as subsequent legends Manilla Road and Cirith Ungol. The heavier stylings of the latter begin to come to the fore on Still Hungry, here occupying Side B. Now fully into late '70s heavy metal mode, Midas move beyond the moodiness of their first demo to more epic and fantastical landscapes, kicking up the octane and cruising into the night with the ever-aptly titled "Street Knights." Together, both demos could verily hold together as an exceptionally tight 'n' thematic album-length work.
Dying Victims couldn't be more excited to unleash the majesty 'n' mysticism of America's Midas to a worldwide audience. Take a trip back in time – and into the future – with Demo Tapes!
Continue the trip with the brand-new lyric video for "White Wolf" exclusively HERE, courtesy of the NWOTHM YouTube channel. Begin the trip with the previously revealed "Usurper" exclusively HERE, courtesy of Deaf Forever, Germany's defenders of the true. Cover and tracklisting are as follows:
Tracklisting for Midas (Detroit)'s Demo Tapes
1. Clash of Steel
2. Gauntlet
3. White Lightning
4. Blackened Blade
5. Sands of Time
6. Usurper
7. Street Knights
8. White Wolf
MORE INFO:
www.facebook.com/MidasDetroit

www.dying-victims.de
www.facebook.com/dyingvictimsproductions