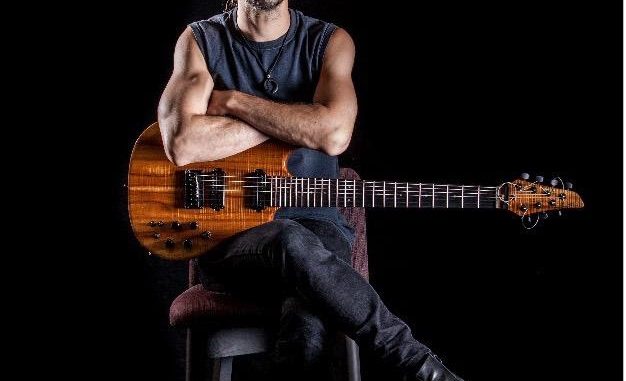 Watch HERE
New Album 'Séance In Black'
Out October 6th via Couch Cat Records
Pre-Order HERE
American guitarist, multi-instrumentalist, and composer MICHAEL ABDOW has released "Eternity", the second single from his upcoming solo album, 'Séance In Black'. The dreamy new track is accompanied by a visualizer that fans can check out on YouTube HERE.

The artist comments on his new single, "Some say that at the moment our bodies expire, we relive all of the moments of our lives in an instant, and that these events happen separately in time". ABDOW continues, 'Eternity' is a song about all of these moments being one and that time is an illusion. It's at the end of this ride that we experience and are reminded that our eternity is now."

ABDOW is known internationally to the metal world for his guitar playing in the band Fates Warning, as well as with Ray Alder and Last Chance to Reason. 'Séance In Black' serves as the Massachusetts native's fifth solo effort. It follows previous solo albums, 'Native Alien' (2010), 'Life Symbolic' (2013), 'E.S.O.' (2017), and 'Heart Signal' (2020) which features legendary bassist Tony Franklin and drummer Shawn Deneault.

Enjoy the Visualizer for New Single "Eternity" HERE
'Séance In Black' Track List
1. From The Silence
2. Oracle
3. Eternity
4. Welcome Desolation
5. The Turning
7. Evidence Of Angels
MICHAEL ABDOW's approach to playing and writing is as fluid as the timbre and spirit of his sound, viewing these not as separate elements but rather intuitively connected. Throwing caution to the wind, his style inhibits classification, invoking a wide range of

styles and embracing impulse and emotion. Despite placing great emphasis on individual musicianship, his pursuit is of the ultimate experience that is becoming lost in the sublime summation of the parts, both in music and the orchestra of life.

Hailing from Western Massachusetts, MICHAEL ABDOW is an American guitarist, multi-instrumentalist, and composer best known for his work with progressive metal legends Fates Warning, Ray Alder, Last Chance to Reason and as a solo artist.