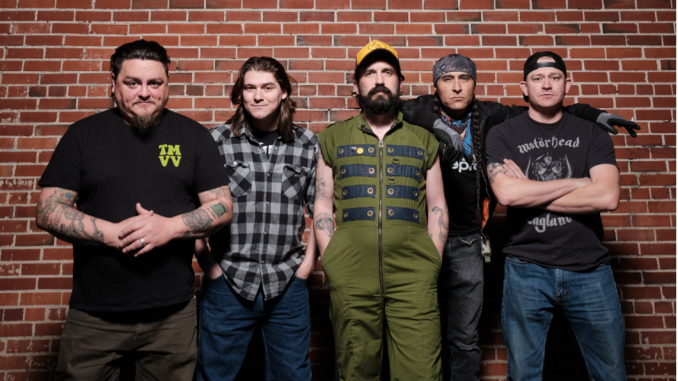 Out July 21, 2023 | Pre-Order HERE
Denver heavy groove rockers MF Ruckus have endured a long and daunting road; overcoming a string of delays, despair, and the deaths of loved ones – but each trial left them more resolute to keep kicking. Now, the band is just a few weeks away from the release of their new album, 'The Front Lines of Good Times', which is due out on July 21st via Glory or Death Records. A record that began production more than six years prior and managed to survive countless setbacks and losses, the band channels a hard driving, no frills synergy that comes with vintage bombast on every single track.

Originally premiered via Metal Sucks, watch the music video for

the album's lead single "Be Cool" HERE
MF Ruckus will be celebrating the release of 'The Front Lines of Good Times Vol I' at The Bluebird Theater with The Blind Staggers and Ipecac on July 22nd.

Copies of the record will be available for sale and signing at the show or can be pre-ordered online at GloryOrDeathRecords.com
'The Front Lines of Good Times Vol. I' Track List:
1. The Front Lines of Good Times
3. Be Cool
4. Equilibrium
5. Making a Killing
6. You Only Live Forever
7. Polly Ann Marie
8. Someday (I'll Be Better Than You)
9. It's a Mess
10. Insect Swarm (Bonus Track)
11. The Call (Bonus Track)
12. Tres Reyes (Bonus Track)
BIO:

When production began on 'The Front Lines of Good Times Vol I' in January of 2017, the future was wide open for MF RUCKUS. The band had just completed their second tour of Europe with a third on the horizon, the reissue of their metal-rock-monstrosity 'Thieves of Thunder' on Rodeostar/Napalm had enjoyed a favorable response from fans and the press alike, and they had been invited to once again act as main support for Steel Panther to a sold-out crowd at Denver's Fillmore Auditorium. At the beginning of the first recording session, they passed around a jar of moonshine given to them by Nathaniel Rateliff to commemorate what they believed to be the momentous conception of their greatest record to date. But, as the saying goes, "things fall apart."

For starters, the relationship between the band and long-time guitarist Parker Meehan began to sour, then curdle and turn rancid. For a variety of reasons, both personal and creative, tensions metastasized into a full-fledged falling-out of the most acrimonious nature. The friendship and partnership was finally dissolved with a legal separation agreement and the pulling of three Meehan compositions from the album, all but mixed and mastered, never to be heard by the public.

Then in 2019, tragedy struck when singer Aaron Howell's younger brother died suddenly after a long struggle with diabetes. It would, however, not be the last tragic event to test the band's resolve. Over the subsequent years, the members of the band would mourn the loss of no less than a dozen friends and loved ones including bassist Logan O'Connor's brother, drummer Ty Blosser's brother-in-law, guitarist Tony Lee's mother-in-law, the band's publicist Groovey Newville, and several others now listed in the record's dedication line.

In 2020, the Covid-19 pandemic caused the entire world to screech to a halt, including virtually every element of the entertainment industry. During this uncertain time in the music business, MF RUCKUS lost their label, agency, and management company overnight when a change in distribution contracts effectively dropped the band from the roster. Loss after loss and defeat after defeat, it seemed unlikely that MF RUCKUS would last this long, harsh era of darkness – and their album seemed doomed to never see the light of day. However, like 4 industrious squirrels, MF RUCKUS had stored up plenty of nuts for the winter.

With three members having, expecting, or planning on children over the late two thousand teens and early twenties, the band had already queued up plenty of work to be done during the long, infrequent years of early parenthood. In addition to studio releases, the band had comics, music videos and other content in various stages of production which they were able to release throughout 2020-2021. The one plus side of being released from their label was that the band could now release music as they pleased, and began doing so in regular intervals.

During 2022, MF RUCKUS put out a self-released live album, "Ruckus Alive!" and then followed up with 6 brand new singles from 'The Front Lines of Good Times Vol I' along with supplemental content featured on the band's various channels including lyrical deep dives, an animated music video for their single "Acropolis Now" and a handful of lyric videos. In the fall of 2022, MF RUCKUS released the single "Be Cool" along with a hilarious, unhinged music video which garnered the band a feature and exclusive premiere on Metal Sucks. In February of 2022, MF RUCKUS returned to the stage for the first time in two years, providing main support for Koffin Kats at The Gothic Theater in Denver, putting on a commanding performance and letting the world know they were nowhere near finished.

Now, thanks to Glory or Death Records and a whole lot of patient planning, MF RUCKUS is finally releasing the album started all those years ago. The sweet sting of Nathaniel Rateliff's moonshine is but a distant memory, but the completed work has been cultivated like a barrel-aged bourbon, bold and bursting with a bodacious bouquet of bombastic brilliance. The album is rock, metal, punk, country, psychedelic, surreal at moments, absurd at others and punctuated with hints of science fiction and fantasy all in just over 30 minutes. As an added bonus, the digital release will include three previously unreleased tracks from the forthcoming second volume in 'The Front Lines of Good Times' series. 'The Front Lines of Good Times Vol I' took just as long as it needed to take and after the better part of a decade, it is finally ready for your turntable.
MF RUCKUS are:

Aaron Howell – vocals

Ty Blosser – drums

Logan O'Conner – bass

Tay Hamilton- guitar

Tony Lee – guitar