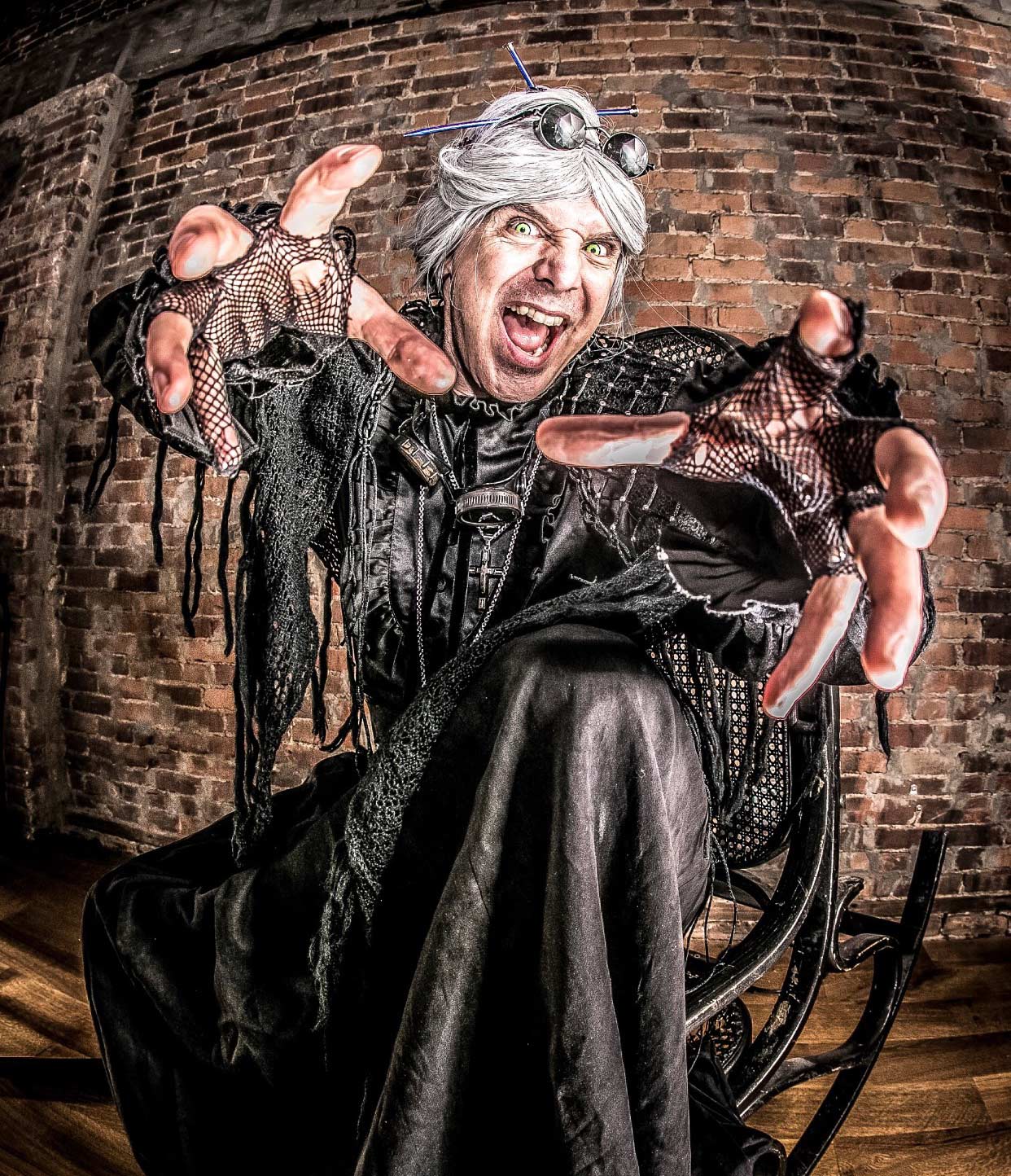 The term matriarch can be defined as an older woman who is powerful within a family or organization as well as a woman who is the head of a family or tribe.
Unbeknownst to some, there's a Matriarch of Metal known as Granny that's been wheeling and shuffling her way around North America visiting all her grandchildren in various cities.
Her apparel consists of vintage Victorian era dresses trimmed with lace and a beaded shawl that drapes on her shoulders while her gray hair is tightly secured in a bun with knitting needles. At times she wheels around in her wheelchair or can be seen rocking in her black antiquated rocking chair with her trusty cane gripped firmly in her hand.
To her there's only one "Matriarch of Metal" as Granny puts it but there may be a "Queen of Something or a Princess of Whatever but no Matriarch of Metal."
To her recollection, Granny said she doesn't believe there has ever been another Matriarch of Metal. That is until now.
Granny says her family consists "brothers, sisters, uncles, aunts, cousins and everything in between" and she likes to describe herself as "the badass surrogate metal Granny to all the rock and roll children."
Others have said she's a neo – Victorian shock rock nightmare representing the rebellious spirit rock and roll, freedom of expression and nonconformity. Either way, Granny is packing the high octane that fuels heavy metal.
Granny added, "Besides, I don't think any of these young, pretty little singers want to be associated with any name meaning old or elderly but I embrace it."
Like a good Granny whose heart is full of love, the children that touch her heart the most and the ones she likes to spoil the greatest would be those rock and roll children.
For Granny 4 Barrel, a four piece metal band that's based out upstate New York as well as the lower territories of the Empire State., those rock and roll children are the grandchildren of Granny and they are scattered all throughout North America and abroad. They are the fans of Granny 4 Barrel and for Granny, the age of the "child" is only a number and range from adolescents to the early fifties and beyond.
Granny and her immediate 4 Barrel family had an extremely busy 2018 visiting the grandchildren by the way of two successful national tours.
The first of those two family outings saw G4B hitting the road as support for Texas Hippie Coalition and Kobra and the Lotus. The tour was billed the Year of the Bull tour. The 29-date trek ran from April 19 through early June hitting many major markets such as Salt Lake City, Atlanta, Cleveland, Seattle, Los Angeles with the final three dates in Fort Worth, Houston and Austin.
The second smaller scaled family outing put G4B on the road with CKY and Nekrogoblikon for 18 dates stretching from coast to coast that started at the end of October and wrapped up in Florida that Sunday before Thanksgiving.
"We did so much touring last year that we had ample time to hone in on our best songs that really got folks excited," she added "I feel that's the best way to weed through the catalog and pick the winners."
Originally as 2018 was closing out, G4B was on course to release an EP that included a classic Judas Priest cover from the British Steel era but the EP has now evolved into a full blown album under the guidance of multi-platinum, award winning producer David Bendeth who Granny is overly and super excited to have in the family G4B family.
Granny refers to Bendeth as "Super produce David Bendeth" and she highly recommends the readers to tap into Wikipedia to read about him.
"I mean, this guy has produced everything from Breaking Benjamin to Killswitch (Engaged), I Prevail, Beartooth and everything in between." She continued with pure excitement, "30 number one singles and let me tell you, Granny sure is beaming with pride to have David record and produce G4B."
Granny said, "We were sitting on a ton of songs when we were offered the opportunity to record some brand new material with David. Once we started recording and realized how kick ass this was, I decided to bring some of the tracks we that we had already previously record into the new David Bendeth paradigm."
Granny stated with delight, "Simply put, it was pure metal magic."
While the grandchildren new and old wait for G4B's new album to be released, she's dropping a sneak preview, the world premiere for "Nitro Sexy" that will be hitting Sirius XM Octane on Friday, May 31 but she issued a stern grandmotherly warning, "Hold onto your vaginas and ball sacks!"
With a little research, G4B material can be found such as the official video for a track called "Beautiful Beast" but Granny's rock and roll children should start prepping their ears for the thunderous and heavy "Monolithic", a track that's certain to please her grandchildren.
As for the Priest cover, Granny has utilized denture grip to remain tight lipped about what song will be on the G4B album. She said, "I ain't saying nothing, you'll just have to wait and see," followed by loud crackling Granny laughter.
The Family
Like a good Grandma, Granny takes pride in her immediate 4 Barrel family. Using the term wicked to describe the band is an understatement. To Granny, the family members that accompany her on stage every night are "major ass kickers" as she politely put it.
Granny best describes her extended G4B family like a family tree. "The Granny lineup is in continual evolution. We've been doing things this way since the beginning." She continued, "I like to keep things fresh. That's my special recipe."
According to Granny the extended family which includes notable musicians such as Dave Navarro and tenured personnel associated with the likes of Charlie Daniels, Dolly Parton, Garth Brooks, Reba McEntire and Jason Aldean. These are the heavy hitters in the G4B extended family.
Granny said, "We don't get together very often but from time to time you can expect to see some accomplished names laying down some track with Granny."
Granny professes so much love for the family of misfits and criminals that she doesn't want to leave anybody out of the party.
And hosting a party like no other is what Granny does best, only second to throwing it down G4B style on stage like being true to one's self, villainess and girls getting the upper hand.
Granny said, "There are a few key themes I like to stick with because they're so much fun to write about but I mean, I have no chains on me." She added, "I write about whatever I want, whatever moves me at the time. I like to keep things interesting."
Going to Grandma's
As high octane Granny can be, she and the family are very fan oriented and if given the opportunity Granny would let loose with what would be referred to as Camp Granny on a day off that doesn't require travel. It would be a day at camp that would live on in infamy.
As Granny promises, "It would be a fun filled day and night" but there will be no need for campers to bring along a little red vintage suitcase that says "Going to Grandma's" on the front.
As the loving Granny, she would start the day off by serving a healthy breakfast with lots of food.
She said, "That's what Grannies want for the grandkids."
Secondly, according to Granny, "You're going to need your nutrition for the day ahead." As a good Granny, she doesn't want anyone petering out at some point during the eventful day which will include whole body workouts.
"You'll need your fuel," she exclaimed.
After all the serious business of nutrition and workout is complete, the fun can begin and it all starts at a big box store where model rocket engines, archery arrows and electrical tape can be purchased. From there, campers return to Granny's house to assembly the special custom made G4B bottle rockets.
Granny proceeds to explain the assembly process. "We electrical tape the rocket engines to the pointed ends of the arrows, stuff a fuse in the engine, light it and stand back."
With her Granny laugh, she said "You won't believe how high those bitches fly."
Granny said the rest of the afternoon can be spent messing around, laughing, telling stories and playing practical jokes on each other, prank calling people followed by dinner.
According to Granny, the best part of the fun is just beginning as the evening sets in by letting loose via vices and alcohol.
Granny and the campers then head into the community but not to a bar or for a movie.
"We're going to dress in all black from head to toe just like a Ninja so no one sees us," Granny explained.
She proceeded, "When you're driving around town and sometimes you'll see a sign or a name of a company or business and you think, 'wouldn't it be funny if we changed the letters or words to make it sound really f***** up?' For example, they change the HOLLYWOOD sign to HOLLYWEED" as she laughed in that Granny laugh.
She proceeded to explain how the festivities could continue through the night with plenty of laughter saying how "it would be a day and night to remember."
But being the good Granny she gives reassurance to her grandkids. "Don't worry about getting arrested. I know most of the cops in every town. Plus, I am so old so they'll forgive me… Just tell them Granny made me do it."
In all seriousness, Granny and the G4B family are busting parts of the body to get the word of Granny out to the grandchildren that are unaware they have another Granny they haven't met.
"We have so much fun recording and touring that we can't wait to get back out on the road again and show people what we've been cooking up," she said.
As a concerned Granny, she says, "Always expect the unexpected from Granny" or in other words, a high octane experience whether on stage or on the day off.