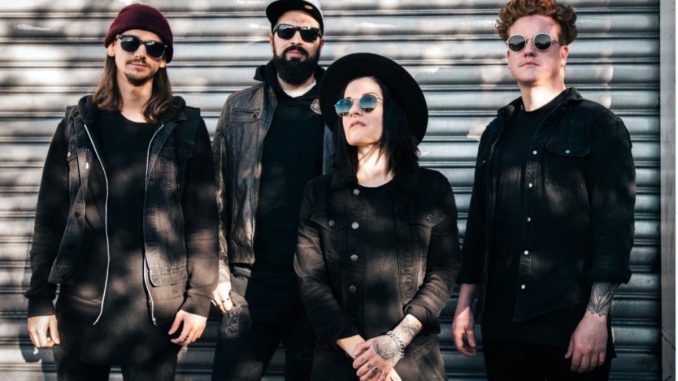 Watch NOW!

New Line-Up Announced!

Latest Album, Nightfall, out via Napalm Records| Order HERE!
"SETYØURSAILS recommend themselves as the most promising newcomer of the German metalcore and post-hardcore scene."

Fuze Magazine, GER

"A clear voice with the elegance and coolness of Paramore combined with massive, all-tearing shouts."

Metal Hammer, GER

"SETYØURSAILS have already delivered one of the standout albums of the year…"

Knotfest, USA

"Album full of magnificent contrasts. One would hardly believe that SETYØURSAILS are actually newcomers to the scene."

Spark, CZ

"SETYØURSAILS breaks all the barriers, blending different styles, from hardcore to metalcore, to pop punk, and creates a unique and original sound."

Rock Hard, IT

After dropping their second album and label debut, Nightfall, a few months ago, German metalcore powerhouse SETYØURSAILS have just unveiled another new outburst, showcasing their variety and multifaceted sound in the best way with a powerful cover of Lady Gaga and Bradley Cooper's soundtrack hit "Shallow". Joining forces with Mike Perez from No Bragging Rights, they turn the ballad upside down and into a modern and massively energetic hardcore performance.

The new single is visually underlined via an intense music video capturing the band's eclectic attitude and framing it with eccentric lighting in different colors. In addition, the video marks a new chapter in the band's history, as it features new band members Hendrik Kellershohn (drums) and Nicolai Hoch (bass) for the very first time.

SETYØURSAILS about "Shallow":

"We are very happy to release the video for our fourth single 'Shallow' feat. Mike Perez today. Yes that's right 'Shallow' by Lady Gaga and Bradley Cooper! Since Mike Perez of No Bragging Rights is one of Jules' favorite singers, we feel it is a great honor to have him on board.

We are not fans of judging genres, which is why covering 'Shallow' made us extremely excited. It's an incredibly well written song, with wonderful melody lines. To transform this into our style was just mega exciting. Our producer and friend Julian Breucker did a really great job. Love greetings at this point.We hope that people like it as much as we do. Since we're on tour right now, we've already had the opportunity to play it live for the audience."

Watch the Official Music Video for "Shallow" NOW:
SETYØURSAILS about the official video for "Shallow":

Shooting the video was a lot of fun. Of course we had to come up with something since Mike is based in LA and we are based in Cologne. But luckily we had great video people around us who created a great result. At this point a thousand thanks and warm greetings to: Jan Barthel, Thorsten Gruna and Frédéric Sapart!

We hope you like it!

Claim your copy of Nightfall NOW!
Young, enraged and standing steadfastly against hate – SETYØURSAILS perform uncompromising yet melodic post hardcore-influenced metalcore, convincing both live and on record. The unit has already performed at well-known festivals (Reload Festival, Traffic Jam Open Air) and converted fans alongside genre greats like Bullet for My Valentine, Hatebreed, Jinjer and Walls of Jericho with their unbeatable live energy. Their first album, Enough (2018), has attracted the attention of noteworthy outlets like FUZE and MoreCore, and now, SETYØURSAILS are proudly heading for round two.

Nightfall stands as an impressive return for SETYØURSAILS, who once again prove their musical diversity. A mixture of catchy choruses and intense breakdowns are evident on brutally melodic "Why", the changing spectrum of "Deadline", and "Into the Storm", which starts with a crisp deathcore intro. Among others, "Nightfall" (featuring Andy Doerner of metalcore veterans Caliban) shows the full straightforward range of Jules Mitch's vocals, which oscillate between concise and clear, intense screams and expressive growling. "Mirror"begins atmospherically before bubbling up to an impressive journey through personal conflicts without losing its undeniably catchy quality. With tracks like "Secrets" and "Forgive Me" the band also presents its softer side. SETYØURSAILS are also full of surprises – together with Mike Perez from No Bragging Rights, they cover "Shallow" (from the film A Star Is Born) by Lady Gaga and Bradley Cooper, and give the ballad their personal touch, once again proving their musical diversity. Nightfall was produced, recorded, mixed & mastered by Annisokay vocalist/guitarist Christoph Wieczorek and songwriter/producer Julian Breucker at Sawdust Recordings. Both have already worked with greats like Beyond The Black, Eisbrecher and Emil Bulls – just to name a few.

SETYØURSAILS about their new album:

"This album is the most honestly written work we could get out of ourselves. It reflects the struggle of dealing with oneself, fear and life itself. It's dark, it's loud and it hurts. But most importantly- it's true."

Nightfall tracklist:

1. Ghosts

2. Nightfall

3. Secrets

4. Why

5. Mirror

6. Into the Storm

7. Anchor

8. Forgive Me

9. Deadline

10. What's Wrong

11. Reason

12. Fckoff

13. Shallow

Nightfall is available in the following formats:

– 1 CD Digipak

– 1 LP Gatefold Recycled Color Vinyl

– 1 Digital Album
[1 LP Gatefold Recycled Color Vinyl]

Catch SETYØURSAILS live on tour with Annisokay and Future Palace

13.05.2022 DE Cologne / Club Volta

14.05.2022 DE Osnabrück / Bastard Club

15.05.2022 DE Hanover / Musikzentrum

16.05.2022 DE Stuttgart / Im Wizemann

18.05.2022 AT Vienna / Chelsea

19.05.2022 HU Budapest / Barba Negra

20.05.2022 CZ Prague / Rock Cafe

26.05.2022 DE Göttingen / Exil

27.05.2022 DE Hamburg / Logo

29.05.2022 DE Berlin /Hole 44

SETYØURSAILS are:

Jules Mitch – vocals, songwriting

Andre Alves – guitar, songwriting

Dizzee Pascal – drums

Dominic Ludwig – bass

SETYØURSAILS SOCIAL MEDIA: