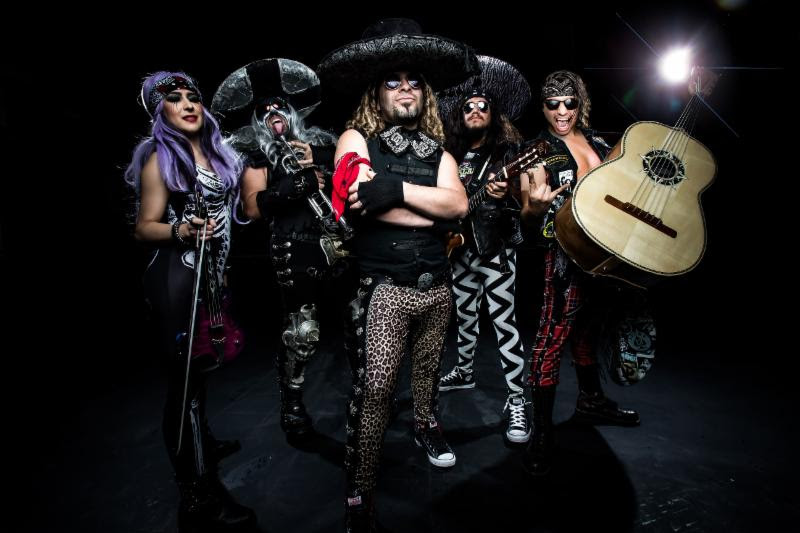 Tour Begins July 19 in Flagstaff, AZ | Tickets On Sale via Individual Venues
METALACHI Press Photo by Jeremy Saffer
METALACHI – the world's first and only heavy metal mariachi band – have scheduled even more tour dates this summer, kicking off on July 19 in Flagstaff, AZ. During this tour, the band is scheduled to perform at Heavy Montreal and in Toronto and Waterloo, marking METALACHI's first foray into Canada!
METALACHI manager Warren Moscow says, "We are especially excited to be crossing the border… not the one to the south, but the one to the north, for the first time ever as we do two solo shows in Toronto and Waterloo! We're even more excited to reach a METALACHI milestone as we perform on our biggest festival stage yet at Heavy Montreal! The fest features an amazing lineup, including Anthrax, Quiet Riot, Steel Panther, Godsmack, Ghost and Slayer… just to name a few."
METALACHI Summer 2019 Dates:
7/19 – Flagstaff, AZ @ Orpheum Theater
7/20 – Albuquerque, NM @ Sister Bar
7/21 – Denver, CO @ Denver County Fair
7/28 – Montreal, QC @ Heavy Montreal at Parc Jean-Drapeau
7/30 – Toronto, ON @ Lee's Place
7/31 – Waterloo, ON @ Starlight Social Club
8/2 – Lombard, IL @ Brauerhouse
8/3 – St. Paul, MN @ Turf Club
8/4 – Omaha, NE @ The Waiting Room
8/6 – Denver, CO @ The Oriental Theater
8/8 – Reno, NV @ Virginia Street Brewhouse
8/9 – South Lake Tahoe, CA @ Heavenly Village Summer Concert Series
8/10 – Mammoth Lakes, CA @ Mammoth Margarita Festival at the Village at Mammoth
METALACHI
is touring in support of their most recent full-length album, 2018's Tres. The album is available via all major digital platforms and
www.metalachi.com
, and features covers of songs originally performed by artists such as Judas Priest, Dio, Journey, Guns N' Rosesand more!
Tres
features METALACHI's popular cover of the Queen classic, "Bohemian Rhapsody". The music video, which features a cameo by comedian
Felipe Esparza
and was directed by Michael Estrella, can be viewed here:
https://youtu.be/ISIlsp3LIDk
Hailing from Hollywood, CA via Juarez, Mexico, METALACHI is a musical/comedy stage show that somehow seamlessly blends the world of Spinal Tap and Cheech & Chong into an over-the-top stage spectacle. The band is comprised of a five-piece ensemble of classically trained mariachi musician siblings, that have been fused together with the power of heavy metal. Fans can expect an unlikely meshing of metal classics from artist such as Metallica, Slayer, Ozzy Osbourne and more with traditional mariachi standards from the likes of Vicente Fernandez and Mariachi Vargas de Tecalitlan… all played with traditional mariachi instrumentation but with a stage show that strays far from traditional!
METALACHI takes their cues from outrageous stage shows like KISS, GWAR and Rob Zombie with outrageous costumes, stage production, personas and onstage antics. The band features Vega De La Rockha on vocals, Queen Kyla Vera on violin, Kiko Cane on guitarron, Paco Halen on guitar, El Cucuy on trumpet and is managed by mysterious impresario Warren Moscow.
METALACHI has garnered worldwide acclaim for their unique brand of raucous humor and innovative musical mastery, quickly amassing a loyal and diverse fan base of music lovers in addition to gaining praise from music royalty such as Dave Lombardo (Slayer), Vinnie Paul (Pantera, Hellyeah), Eric Wilson (Sublime), M. Shadows (Avenged Sevenfold), Billy Idol, and Howard Stern along the way (fun fact – for the past five years, Sublime has used METALACHI's debut album Uno to time their set changes, blasting the entire album over the PA at their live shows).
METALACHI
has been featured on America's Got Talent, CNN's Great Big Story, Rolling Stone en Español, BBC's Outlook via NPR, Huffington Post, and National Geographic, and their music has been heard on FX's
The Bridge
and in a new TV commercial for DirecTV.
METALACHI
has been named one of the 10 best Mexican Metal Bands worldwide by OC Weekly, was named #4 on a list of the top 20 tribute bands based in Los Angeles by LA Weekly, and
was voted as one of the best live shows in Southern California by Examiner.com.
METALACHI online: