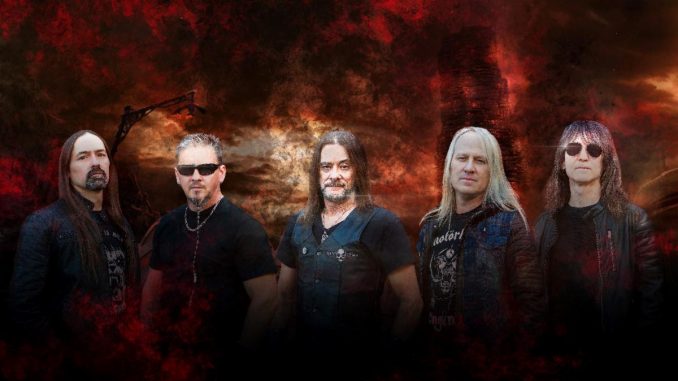 Blood In The Water Out June 4 via AFM Records
Metal legends FLOTSAM AND JETSAM have debuted a video for "
Brace For Impact
," the third single from the band's blistering fourteenth studio album, Blood In The Water.
Scheduled for release on June 4 via AFM Records, Blood In The Water is unarguably the Arizona-based quintet's finest, hardest-hitting release to date. After spending most of the past year in a pandemic-induced holding pattern, FLOTSAM AND JETSAM made the best of a struggling situation and let their angst-ridden creative juices flow, resulting in the twelve crushing tracks that comprise Blood In The Water.
"We knew we had to come out strong after 'The End of Chaos,'" says drummer Ken K Mary. "I'm not sure we really believed we could deliver. Those fears, it turns out, were unfounded. The events around us just poured fuel on the creative fires. I'm very proud of this album and the band."
Adds guitarist Michael Gilbert, "We weren't really sure what we had left in the tank, as we put so much work, sweat and blood into the 'Chaos' album. As it turns out, we had plenty to say. With everything that's happened in the world, the friends we lost this last year, and not being able to perform or tour… you hear all of that in our music. It's angry, it's aggressive, and our emotions pour out all over this album."
"FLOTSAM AND JETSAM have been working very hard for many years, and the strength and energy of this band just keeps getting more forceful," says guitarist Steve Conley. "This is our new theme song… we're hoping this is the album that gets us to where we want to go…and we smell 'Blood In The Water' this time."
Blood In The Water was mixed and mastered by Jacob Habsen (U.D.O., Volbeat, Amaranthe, Powerwolf), who also worked on the band's 2019 album, The End of Chaos, and will be available in several configurations:
Boxset (limited to 666 units) containing the Digipak-CD, an exclusive Blood In The Water t-shirt, a "Brace For Impact" poster, a sticker and a Certificate of Authenticity
Ltd. gatefold milky/red/black splatter LP (limited to 100 units and exclusive to the AFM webshop)
Ltd. gatefold clear red LP (500 units only)
Ltd. gatefold clear orange LP (500 units only)
Ltd. gatefold black/red LP (400 units only)
Digipack CD
Three and a half decades since their landmark debut – still the only album to ever receive a 6K rating from the influential British magazine Kerrang! – Blood In The Water sets FLOTSAM AND JETSAM up to finally shed the "most under-rated metal band on the planet" tag and lay claim to the thrash metal throne.
FLOTSAM AND JETSAM is:
Eric "AK" Knutson – vocals
Steve Conley – guitar
Michael Gilbert – guitar
Bill Bodily – bass
Ken K Mary – drums
FLOTSAM AND JETSAM online: