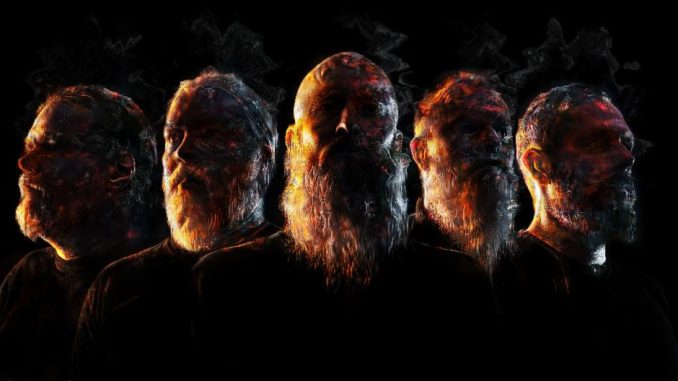 From The Forthcoming Full-Length Album Immutable Is Out Now!
MESHUGGAH has just unveiled the new single "Light The Shortening Fuse," from their impending new album, Immutable, out on April 1st via Atomic Fire.
Stream the track now at:
This band blow minds for a living, outdoing themselves with every new release. Immutable is their most explosive work of monstrous art yet. Destined to be one of 2022's most hailed and talked-about releases, Immutable once again showcases MESHUGGAH's collective brilliance, including some of the most jaw-dropping ensemble performances they have ever executed: In particular, drummer Tomas Haake has somehow outstripped his own incredible past achievements, and guitarist Mårten Hagström makes a point of singing his long-time comrade's praises, "Tomas has always been a monster behind the drum kit, but I think we managed to capture more of his drumming style this time around. Like I've said, Tomas has always sounded great, but this is stepping it up a notch."
Fans should prepare themselves for the unexpected. The release of the Swedish icons' ninth and most fearlessly creative studio album is full of surprises and instantly recognizable as the work of metal's most idiosyncratic force. Immutable redefines and redesigns the MESHUGGAH sound across more than an hour of the most stimulating and absorbing music the band has ever made. Despite the challenges of the last couple of years, the progressive principles that have always informed their artistic efforts remain as cherished as ever. As we spiral towards a dystopian future, MESHUGGAH still stands alone.
Describing MESHUGGAH's music has always been a tricky business, and Immutable is no different. Brimming with multiple fresh elements and previously unexplored dynamics, yet still utterly crushing, it represents another great leap forward for these tireless artisans.
Mavericks. Pioneers. Unique. Immutable.
Six years on from the band's most recent full-length, The Violent Sleep Of Reason, 2022 brings a fresh and fearsome revelation from MESHUGGAH. Shattering even the highest of expectations, Immutable is simply their wildest and most esoteric sonic adventure yet. Immutable was recorded at Sweetspot Studios in Halmstad, Sweden, mixed by Rickard Bengtsson and Staffan Karlsson, and mastered by multiple Grammy award winner Vlado Meller (Metallica, Rage Against The Machine, Red Hot Chili Peppers, System Of A Down). Visionary artist Luminokaya once again created the fantastic cover artwork.
Immutable Track Listing:
1. Broken Cog
2. The Abysmal Eye
3. Light The Shortening Fuse
4. Phantoms
5. Ligature Marks
6. God He Sees In Mirrors
7. They Move Below
8. Kaleidoscope
9. Black Cathedral
10. I Am That Thirst
11. The Faultless
12. Armies Of The Preposterous
13. Past Tense
MESHUGGAH:
Jens Kidman – vocals
Mårten Hagström – guitars
Dick Lövgren – bass
Fredrik Thordendal – guitars
Tomas Haake – drums