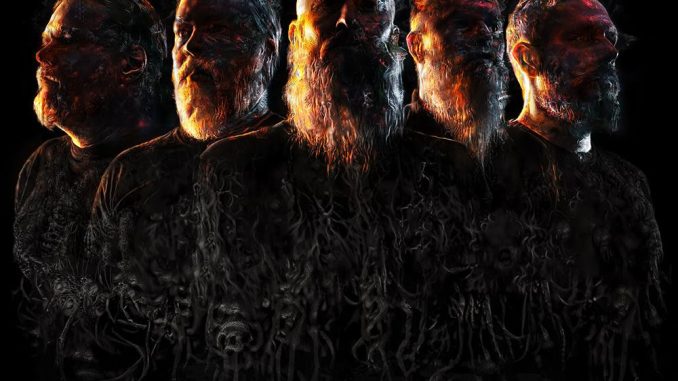 Today, long-running metal icons Meshuggah issue new limited vinyl editions of their "Nothing" and "Koloss" full-lengths via Atomic Fire!
"Nothing", the band's fourth studio album, was initially released in 2002 and is celebrating its twentieth anniversary this year. Pitchfork lauded, "a viciously crafted effort," while All Music wrote, "Nothing truly gives new meaning to the word heavy, redefining boundaries by pushing metal into the realms of abstract science; for those lucky enough to be tuned into Meshuggah's unique wavelength, the album, like all good art, tickles the subconscious while probing both the internal (the mind) and the external (space). And when Meshuggah explores, it's into uncharted territory. If only more metal bands could be so daring."
Celebrating its tenth anniversary, the band's monumental Koloss full-length, released in 2012, once again showcased Meshuggah at their peak. Metal Injection crowned the band's seventh studio offering, "one of the year's best," Blabbermouth hailed, "another magnificent album," adding, "Doing wrong just isn't in the cards for Meshuggah," while Spin Magazine elaborated, "Nothing feels safe when you're listening to Meshuggah…Whether playing death metal in 7/4 time or recording epic, single-track symphonies of sickness that would be impossible to replicate live, the group has forged its own path. In a genre full of rebels, these guys are Dadaist deconstructionists, thumbing their noses at convention wherever and whenever they can. In the process, they've become underground heroes."
Each release comes in several exclusive color variants, and each one is limited to under 1000 copies worldwide. Find "Nothing" HERE and "Koloss" HERE.
Additionally, you can find the band's critically-lauded "Immutable" full-length, released earlier this year, on CD, LP, and digital formats HERE.
Since forming in 1987, the Swedish sound architects have developed into one of the most technically complex and virtuosic groups of players the metal realm has ever encountered, their distinctly unique brand of progressive, groove‐infused extreme metal inadvertently launching an entirely new subgenre. Called "one of the ten most important hard and heavy bands," by Rolling Stone, Meshuggah has earned the respect and admiration from fans and musicians alike. Stay tuned for more Meshuggah news in the coming weeks!
Meshuggah are currently confirmed for eight festivals in Europe in 2023, including Rock am Ring, Rock im Park, Nova Rock Festival, Mystic Festival, Copenhell, Graspop Metal Meeting, Jera On Air Festival, and Full Force Festival.
Ultimately, stay on top of the Meshuggah updates by signing up for email news, and receive more information about Meshuggah's upcoming tours along with exclusive offers https://immutable.se.
MESHUGGAH is:
Jens Kidman | Vocals
Mårten Hagström | Guitars
Dick Lövgren | Bass
Fredrik Thordendal | Guitars
Tomas Haake | Drums

MESHUGGAH online:
http://www.meshuggah.net
http://www.facebook.com/meshuggah
http://www.instagram.com/meshuggah
http://www.twitter.com/meshuggah
http://www.atomicfire-records.com
http://www.facebook.com/atomicfirerecords
http://www.instagram.com/atomicfirerecords
http://www.twitter.com/atomicfirerec
https://label.atomicfire-records.com/project/meshuggah