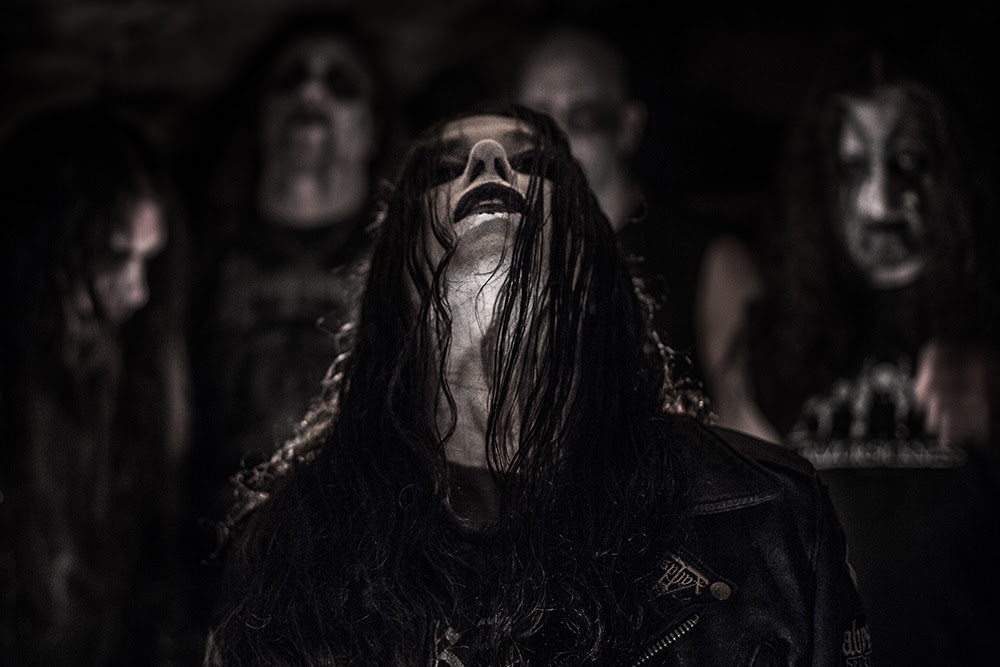 Black metal legion MERRIMACK will kick off their upcoming run of American and Mexican tour dates tomorrow, May 24, in Brooklyn, NY. The band will then make their way to Baltimore, MD for a set at Maryland Death fest on May 26, which will be followed by a run of dates in Mexico. The full itinerary is as follows:

MERRIMACK Tour Dates:
05/24 : New York, NY @ Brooklyn Bazaar [EVENT LINK // TICKETS]
05/26: Baltimore, MD @ Maryland Deathfest
05/30: Mexico City, MX @ Gato Calavera
05/31: Xalapa, MX @ Rubia Morena Forum
06/01: Guadalajara, MX @ Laboratorio Cultural de Diversidad
06/02: Querétaro, MX @ Noisy Bar

MERRIMACK will be touring in support of 2017's release, 'Omegaphilia.' The album can be streamed HERE and purchased at THIS LOCATION.
Musicians as any artists can be roughly categorized into different groups by their approach to composing. There are those for example, who come with restless souls and always try to find new ways and break into uncharted territories. Others prefer to evolve within a certain genre, driven by a desire to hone their skills and striving to bring their art to perfection.
MERRIMACK
as black metal traditionalists obviously belong to the latter circle and their fifth full-length with the apocalyptic title 'Omegaphilia' is an impressive demonstration of how far the French band has matured.
MERRIMACK are breathing fresh life into an exhausted genre, not by heaping up epithets such as progressive, post, and avant-garde, but by razor-sharp songwriting, captivating melodies, and close to perfect arrangements. 'Omegaphilia' achieves excellence through hard work and experience that shows through on every single song.
MERRIMACK were founded by guitarist Perversifier in 1994 with a clear vision to keep the black metal flame burning as an act of aesthetic terrorism – as adamantly based in the underground as opposed to any attempts to co-opt, commercialize, or turn the style into a self-parody.
With a number of demo recordings ('Prologue' – 1995, 'Act 1' – 1995, 'Horns Defeat Thorns' – 2001) and split releases (with Hirilorn in 1998 and Sargeist in 2002), the French gained respect in the scene by remaining true to their words. Although MERRIMACK decided to reach out to a larger audience with the release of their first full-length 'Ashes of Purification' (2002), the Parisians did not sever their roots with the underground at any time.
'Of Entropy and Life Denial' (2006) and 'Grey Rigorism' (2009) followed and witnessed MERRIMACK closing ranks with the most influential, active, and authentic acts of the French black metal scene. Their classic combination of harsh sound with epic structures appealed to critics and fans alike and put the band on their celebrated first US tour with MARDUK and NACHTMYSTIUM in 2009.
Following the recording of 'The Acausal Mass' (2012) again in the legendary Necromorbus Studio (WATAIN, DESTRÖYER 666), MERRIMACK embarked on a European tour with Norwegian icons MAYHEM and accepted invitations to prestigious festivals such as Hellfest in their native France, Germany's Party-San Open Air and Summer Breeze and Montreal's Messe des Morts in Canada.
Having firmly established their black name and message around the globe, MERRIMACK are setting a bold exclamation mark with 'Omegaphilia'. Be warned, this album is determined to remain in your playlist for a long time.
Style: Black Metal
Line-up
Perversifier – guitars
Vestal – vocals
A.K. – guitars
Daethorn – bass
Blastum – drums
For more on MERRIMACK, visit their official WEBSITE and FACEBOOK.