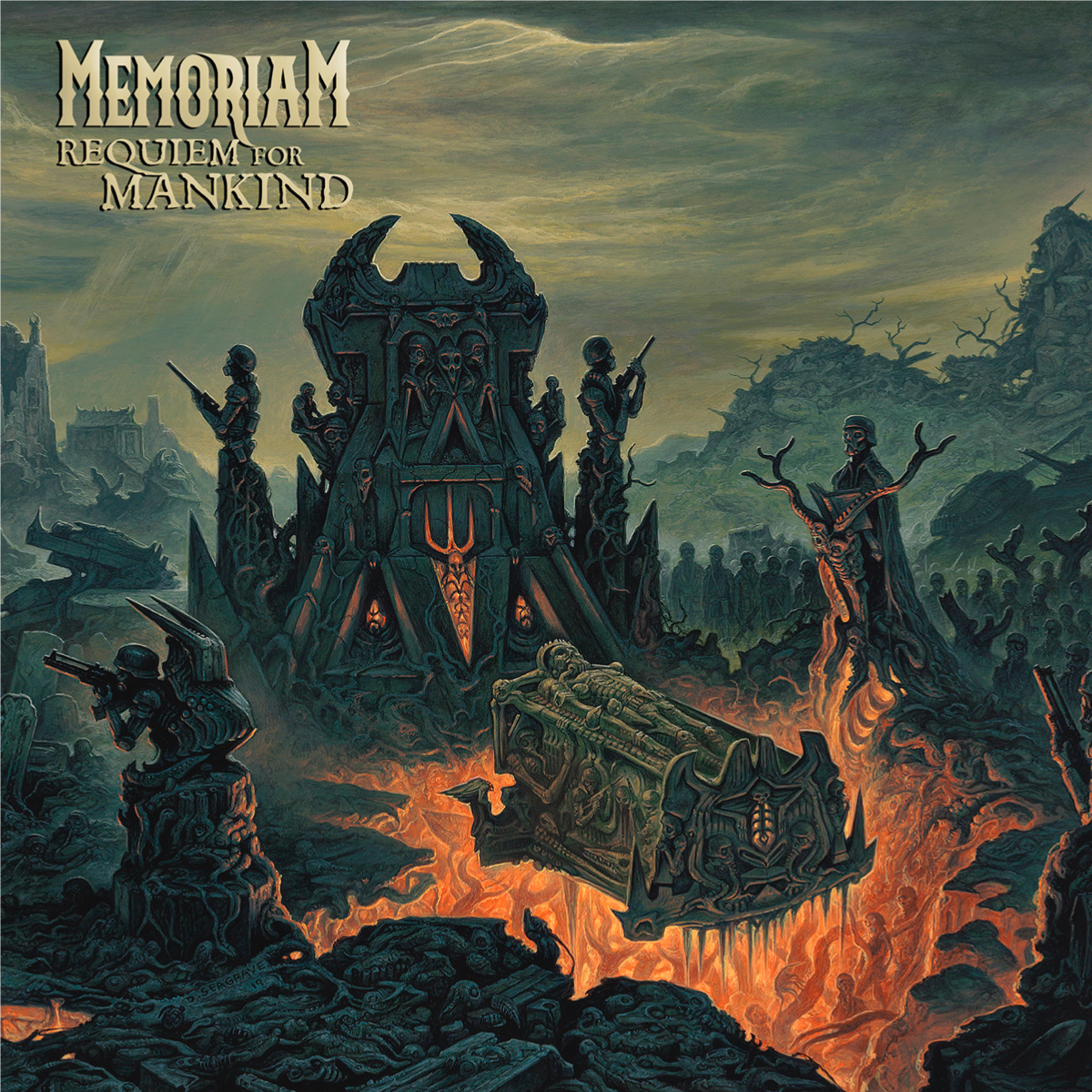 The war rages on! The third album from old school metal veterans
MEMORIAM
,
Requiem For Mankind
, was releases on June 21st, 2019. The album entered the official German album charts on a fantastic
#20.
While their debut album For The Fallen (2017) was heavy, depressing and marked by grief, the second work The Silent Vigil (2018) showed a relentlessly aggressive side. It was without question another great album, created by musicians who blindly understand their craft yet do not repeat themselves. This also applies to the third and latest string to their bow Requiem For Mankind.
Order Requiem For Mankind now: http://nblast.de/Memoriam-RFM
To celebrate the release of the album, the band present a new lyric video for the title track "Requiem For Mankind". Check it out on YouTube: https://www.youtube.com/watch?v=22cTn0u-WzQ
The band states:
"Lyrically it ties in with the burial as depicted on the artwork of the album itself. It could also be interpreted as a lament for the state of the world we are living in, we have left enough room in the lyrical content to draw your own conclusion! Musically it's another headbanger ( we seem to have a lot of those on this album) with a nice heavy deep end rumble. It needed to be the title track! It has that old school feel, it's organic, it's out now and all you need to do is listen, absorb, and bang your head !
Enjoy."
More on Requiem For Mankind:
"The Veteran" OFFICIAL MUSIC VIDEO: https://www.youtube.com/watch?v=_uTsdsc3cys
"Shell Shock" OFFICIAL LYRIC VIDEO: https://www.youtube.com/watch?v=2olgPmHY-84
"Undefeated" OFFICIAL MUSIC VIDEO: https://www.youtube.com/watch?v=zlhLxXD5ERw
Album Trailer #1 – Recording the new album with Russ Russell:
https://www.youtube.com/watch?v=1_YkgvtGqc8
Album Trailer #2 – Artwork and Trilogy:
https://www.youtube.com/watch?v=ovs1R47Cp-o
Album Trailer #3 – Karl and Frank discuss the vocals on the new album:
https://www.youtube.com/watch?v=jlMOXCwsMb4
Album Trailer #4 – Karl discusses 'Undefeated':
https://www.youtube.com/watch?v=0MewrEcqIRE
Ablum Trailer #5: Karl and Andy discuss the evolution of the band:
https://youtu.be/F4jhnzvweIU
Requiem For Mankind – Track Listing:
01. Shell Shock
02. Undefeated
03. Never The Victim
04. Austerity Kills
05. In The Midst Of Desolation
06. Refuse To Be Led
07. The Veteran
08. Requiem For Mankind
09. Fixed Bayonets
10. Interment
The album's impressive artwork was created again by Dan Seagrave (BENEDICTION, DISMEMBER, HYPOCRISY, SUFFOCATION,…).
The colossal songwriting and the first-class recordings have been immortalised through the sublime production work of Russ Russell (NAPALM DEATH, DIMMU BORGIR, AT THE GATES, AMORPHIS, etc.) at Parlour Studios, giving the record raw production values, whilst providing the perfect scenario to showcase the musicianship so beautifully displayed on the album.
—–
MEMORIAM live:
27.07. NL Steenwijk – Stonehenge Festival
31.08. D Lüdenscheid – Bautz Festival
w/ TEN TON SLUG, ZEALOT CULT
06.09. IRL Dublin – The Grand Social
07.09. IRL Limerick – Dolan's
27.09. B Deinze – Elpee Club
28.09. D Bochum – Rockpalast
18.10. UK Manchester – Rebellion
19.10. UK Glasgow – Slay
2020:
21.03. D Heidelberg – Deathfest