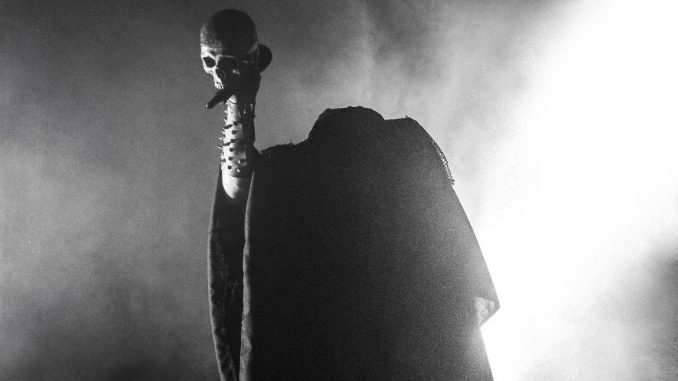 MAYHEM

Unveils Official Live Version

"Chainsaw Gutsfuck"
'Daemonic Rites' closes the chapter on the band's 'Daemon' era and is due on September 15, 2023 via Century Media Records!
+ Touring North America this autumn with Cannibal Corpse, Gorguts, and Blood Incantation!
True Norwegian black metal pioneer MAYHEM will be releasing a monumental live album, 'Daemonic Rites,' on September 15, 2023 via Century Media Records! The record is a comprehensive look at the legendary band's chaotic and intense performances from various cities around the world over the last two years. The album promises to be a thrilling sonic journey for fans and a testament to Mayhem's unparalleled live prowess.

Now, Mayhem is debuting the live version of "Chainsaw Gutsfuck" along with a visualizer, which can be found at THIS LOCATION.

"We wanted to document how great the band and set sounds like after almost 40 years of playing live," Necrobutcher previously explained. "As a treat to our fans, we decided to release this live recording.

"I knew from day one back in 1984 that this band was going to be outstanding—one of the best bands ever! I guess that's a big reason why we still are here after 39 years—and counting."

'Daemonic Rites' marks the culmination of the 'Daemon' era, which commenced in 2019 with the release of their critically acclaimed studio album, 'Daemon.' The journey continued with the savage EP 'Atavistic Black Disorder' in 2021, leaving audiences hungry for more. This latest live conglomeration serves as the ultimate chapter-closer for this landmark.

Fans can pre-order and pre-save 'Daemonic Rites' HERE.
For fans who are hungry for the real thing, fret not! Mayhem will be hitting the road later this year with Cannibal Corpse, Gorguts, and Blood Incantation. The extensive trek will kick off on September 22 in Nashville, TN and will draw the final curtain a month later on October 21 in Louisville, KY. Tickets can be found HERE. The full itinerary is as follows:

Mayhem Live North American Dates

(w/ Cannibal Corpse, Gorguts, Blood Incantation):

09/22: Nashville, TN @ Marathon Music Hall

09/23: Charlotte, NC @ The Fillmore

09/24: Knoxville, TN @ The Mill & Mine

09/26: Pittsburgh, PA @ Stage AE

09/27: Toronto, ON @ Rebel

09/28: Montreal, QC @ L'Olympia

09/29: Worcester, MA @ The Palladium

09/30: Brooklyn, NY @ Brooklyn Steel

10/02: Detroit, MI @ The Royal Oak

10/03: Gary, IN @ Hard Rock Live

10/04: Minneapolis, MN @ The Fillmore

10/06: Denver, CO @ Mission Ballroom

10/07: Salt Lake City, UT @ The Depot

10/09: Tacoma, WA @ Temple Theatre

10/10: Spokane, WA @ Knitting Factory

10/11: Boise, ID @ Knitting Factory

10/13: San Francisco, CA @ The Warfield

10/14: San Diego, CA @ SOMA

10/17: San Antonio, TX @ The Aztec Theatre

10/18: Dallas, TX @ The Factory

10/20: Atlanta, GA @ The Eastern

10/21: Louisville, KY @ Paristown Hall
The cover artwork for 'Daemonic Rites' can be found below along with the tracklisting.
Tracklisting:

01. Intro

02. Falsified and Hated

03. To Daimonion

04. Malum [WATCH]

05. Bad Blood

06. My Death

07. Symbols of Bloodswords

08. Voces Ab Alta

09. Freezing Moon

10. Pagan Fears

11. Life Eternal

12. Buried by Time and Dust

13. Silvester Anfang

14. Deathcrush

15. Chainsaw Gutsfuck [LISTEN]

16. Carnage

17. Pure Fucking Armageddon
'Daemonic Rites' will be available in the following formats:

– Ltd. CD Digipak

– Gatefold Black 2LP

– Ltd. Transp. Magenta 2LP (Limited to 1.000 units)

– Ltd. Gatefold Transp. Red 2LP (Limited to 500 units)

– Ltd. Gatefold Silver 2LP (Limited to 500 units)

– Ltd. Deluxe Box Set (incl. Gatefold Golden 2LP, CD, Poster, Setlist, Tour Laminate w. Lanyard

& Signed Guitar Pick Set – Limited to 1.000 units)
With a reputation built on their unyielding commitment to the darkness, Mayhem has

become a revered name in the world of extreme metal. As a band that defies expectations

and pushes the boundaries of the genre, their live performances are known for leaving

audiences breathless and in awe.

Mayhem is thrilled to share this live opus with their dedicated fans, who have stood by

them throughout their tumultuous and illustrious career. 'Daemonic Rites' is not only a

celebration of the past but also a declaration of the band's continued relevance and power

in the present-day metal landscape.

Lineup:

Necrobutcher – Bass

Hellhammer – Drums

Attila – Vocals

Teloch – Guitar

Ghul – Guitar

Follow Mayhem: