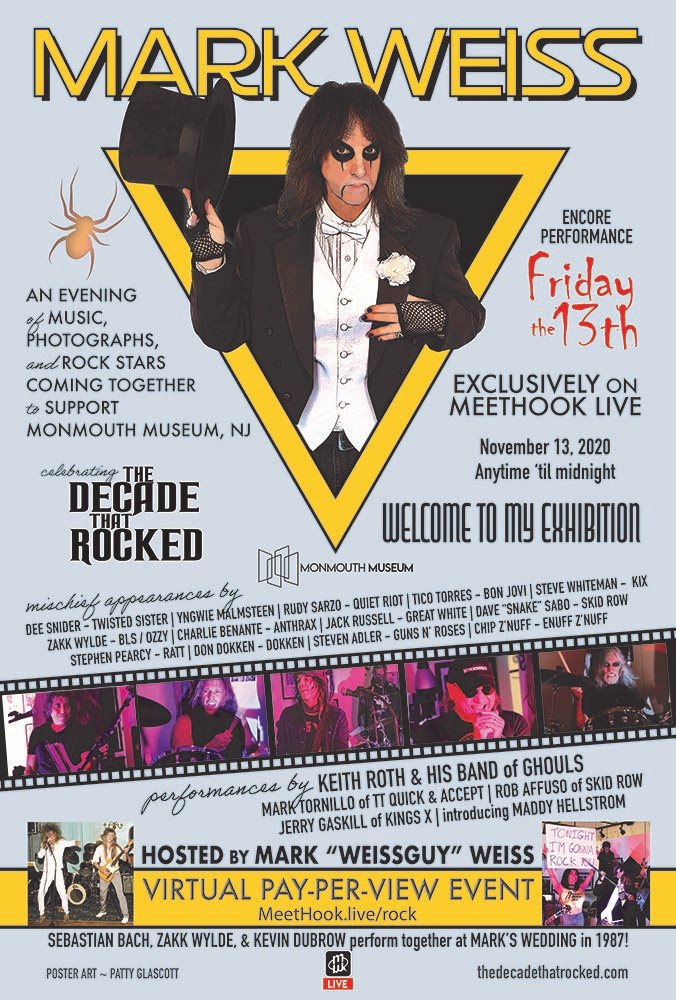 Mark "WEISSGUY" Weiss invites you to join him for the Friday the 13th
ENCORE PERFORMANCE
of Welcome To My Exhibition on November 13, 2020 Anytime 'til Midnight
Twas the night before Halloween, A Trick & Treat event when photographer Mark "WEISSGUY" Weiss along with Keith Roth and his band of Ghouls will be Treating you to the music that made the 80s rock! Sign up on this Virtual night of Tricks as the host Mark "WEISSGUY" Weiss (as Alice that evening) Welcomes You To His Exhibition! Spend an evening with many of his Tricksters from his book THE DECADE THAT ROCKED. Join Mark as he Welcomes YOU to His Exhibition! Go to
MeetHook.live/Rock
to buy your ticket and join us for this event. Don't miss it!
Mark "WEISSGUY" Weiss invites you to join him for the
Friday the 13th ENCORE PERFORMANCE of Welcome To My Exhibition
November 13, 2020.
Maria Bach during the performance of Spinal Tap's classic
"Tonight I'm Gonna Rock You Tonight" ​
Mark Tornillo frontman of Accept performs AC/DC's "What's Next to the Moon"
Rob Affuso performs Skid Row's "Piece of Me"
Mark Weiss and Keith Roth and Maddy Hellstrom perform Alice Cooper's "Eighteen"
IT'S A WRAP!
Keith Roth and the band of Ghouls with Mark Tornillo (Accept), Danny Murro (White Tiger) Jerry Gaskill (Kings X) Rob Affuso (Skid Row)
Danny Muro (WhiteTiger) with the photo featured in Chapter 1980 of The Decade That Rocked. White Tiger was the first metal band that Mark did a studio session with. Mark Tornillo of TT Quick, now front man of Accept hanging at Mark's Exhibition. The making of the show:
PHOTOS FROM THE PARTY
.