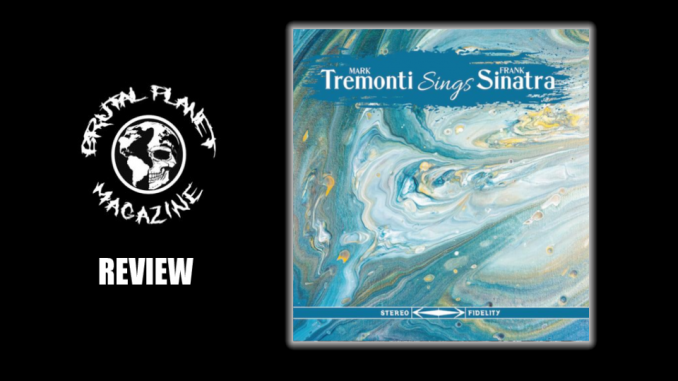 Few musicians have the awards and accolades that Mark Tremonti has. He has played lead guitar and sang in successful bands such as Creed, Alter Bridge, and his solo band, Tremonti.  Altogether he has released over 15 full-length albums, 4 of which have been certified multi-platinum.  He has also been nominated for a Grammy 3x and won the Best Rock Song in 2001. Guitar World Magazine named him "Guitarist of the Year" for three consecutive years as well as "Guitarist of the Decade," and he has been listed among the top heavy-metal guitarists of all time by many others.

All of these accolades are impressive, but are they really that important?  They sound impressive, sure, but a wall full of awards doesn't necessarily help people does it? Except Mark doesn't simply get awards. This man has a heart of gold and wants to make a difference, that's why he broke the mold and did something no metal musician has done before- recorded a Frank Sinatra covers album and gifted it to the National Down Syndrome Society (NDSS).

"Tremonti Sings Sinatra" features 14 songs from Sinatra's extensive catalog and will be released on May 27th.  Not only is Mark covering "Ol' Blue Eyes," but he teamed up with the man's own band! As I alluded to earlier, this album is stemmed from Mark's new project called "Take a Chance for Charity," which you can read all about here. The charity Mark is donating to is the NDSS because his daughter, Stella, was born with Down Syndrome and he is very passionate about seeing people with disabilities get the support they need. 100% of the proceeds from this album will go to help people with developmental disabilities.

I normally listen to an album once or twice before I start writing my review, but with this album, I decided to write as I listen and cover each song individually. This is a unique project so I thought I would join in and do something different as well!
Track one: "I've Got You Under My Skin" (Sinatra version- 1946)
Starting off the album is the upbeat hit "I've Got You Under My Skin." I am blown away by how amazingly similar Mark's voice sounds compared to Frank's. His volume crescendos and decrescendos at just the right moments- giving the song great composition. I also really enjoy what sounds like a trombone solo 2/3rds of the way through the song and the light piano note to end. This is a great opening track.
Track two: "I've Got the World On A String" (Sinatra version- 1953)
This song starts out with a lingering feel but soon burst forth with joy. One thought I had while listening, was how the lyrics were being played out as I listened- as Mark is singing the lyrics of having the world on a string, I feel like he has me on a string just waiting to see where he will pull me next. I'm only two songs in and I think this album is great!
Track three: "I Fall In Love Too Easily" (Sinatra version- 1944)
I was actually familiar with this song before. Mark does a great job of drawing out his voice and holding his pitch. The song picks up halfway through and has some great jazz solos, particularly the saxophone.  After the solo, the song really slows down, giving it an emotional ending.
Track four: "Wave"  (Sinatra version- 1967)
This song starts out sounding a little too much like elevator music for my liking, (I really don't like flutes,) but I soon found a real appreciation for it. Mark began singing and soon dropped to an incredibly low note for his typical baritone voice. I'm curious now to know if he got vocal coaching for this song. When you hear it, I think you will be shocked as well. Also featured in this song is a soft, yet elegant guitar solo that fits well. 
Track five: "Fly Me to the Moon" (Sinatra version- 1964)

This song has some great piano and basslines. Again, I'm not a big fan of flutes, but it fits well in this style of music so I won't comment anymore. Mark's voice sounds great and I would imagine this was one of the more enjoyable songs for him to perform. The ending, like the Sinatra version, is memorable. 
Track six: "Nancy (With The Laughing Face)" (Sinatra version- 1963)

After a saxophone intro, Mark comes in singing about a girl named Nancy. Originally, it was thought that this song was written for either Frank Sinatra's wife or daughter (both named Nancy). Before the song started, I assumed Tremonti might change the name "Nancy" in the song and use his own daughter's name, Stella, but he stayed true to the Sinatra version. The song ends with a saxophone again. Great song. 
Track seven: "My Way" (Sinatra version- 1969)
Prior to listening to this album, I was only familiar with a handful of Sinatra songs. "My Way" was one of those songs. I really liked Mark's take on this one. During the first half of the song, it sounds like Mark's voice is only accompanied by a guitar and piano. During the second half, the song crescendos and adds other instruments and Mark's vocal performance gets more passionate. This is the longest song on the album, coming in at just under five minutes. Excellent work.

Track eight: "You Make Me Feel So Young" (Sinatra version- 1956)
This song features a groovy jazz beat. As I listen, it makes me think of that feeling someone gets when they fall in love with someone- a peppy, upbeat, over the moon type feeling. This is a great song to listen to (or sing along to if you're bold enough) when you're on Cloud Nine.

Track nine: "Luck Be A Lady" (Sinatra version- 1963)

This is another song I was quite familiar with prior to listening to this version.  The band plays with exhilaration and Tremonti sings with gusto. Again, I am impressed with how well Mark covers such an iconic singer.  I can tell Mark had a lot of fun on this project. Musically, I loved hearing the different band parts. This is the talent of the highest quality.
Track ten: "That's Life" (Sinatra version- 1966)

This song starts with a piano intro in 6/8 time.  As with any song with this time signature, it is quite catchy and really allows the jazz musicians to shine. Tremonti's intonation and enunciation are perfect in this version of Sinatra's arguably most popular song. 
Track eleven: "Come Fly With Me" (Sinatra version- 1958)
As I mentioned earlier, I don't listen to Frank Sinatra often, but when I do, this has always been my favorite song. I love traveling and lyrically, this song is all about wanderlust. I particularly like the trumpets being highlighted. This is definitely a highlight of the album.
Track twelve: "In The Wee Small Hours of the Morning" (Sinatra version- 1955)

If the previous song featured a more-spirited feel, "In The Wee Small Hours of the Morning" really brings this down, at first anyway. It gives the listener a feeling of tiredness and worries, but then soon picks up for about fifteen seconds as the trumpets wail and a quick saxophone solo is thrust into the spotlight. As the song comes to its end, the pace slows down once again as if the dreamer is falling back to sleep. Great track! 
Track thirteen: "The Song is You" (Sinatra version- 1942)

This song has a lighter feel to it. The drum plays a soft 4/4 rhythm as the band swells back and forth with their accompaniment. Mark's soothing voice swaggers back and forth with fervor and warmth. 
Track fourteen: All Or Nothing At All" (Sinatra version- 1939)

"All Or Nothing At All" closes the album with a bang. This is one of Sinatra's earlier hits and Tremonti performs it perfectly. In my opinion, this song's chorus really speaks volumes to this project as a whole. "All or nothing at all. Half a love never appealed to me. If your heart, never could yield to me, then I'd rather have nothing at all."  Mark has given it "all" because of his love for his daughter, Stella, and his passion for seeing people support charity work. If it was between all or nothing, he gave his whole heart to this work. 
My musical choices usually are on the heavier side of the spectrum. Alter Bridge has been one of my favorite bands since their inception in the early 2000s and I have really been digging the harder side of Tremonti's work with his solo band's albums. However, I can appreciate all types of music if they are performed well and have passion behind them. Tremonti Sings Sinatra is something I can really get behind.  I might not jam this record when I'm fighting Minneapolis traffic, but you can bet I will be playing this often when it's my turn to cook dinner, or when we are playing board games with friends. Besides, ALL of the proceeds go to support charity. How can you not appreciate and admire that?  I stand behind this work 100% and I can guarantee you that I will be telling others to support Mark in this endeavor. Mark Tremonti has been one of my favorite musicians for over two and a half decades. "Tremonti Sings Sinatra" is a passionate work of art and love. I recommend buying a copy for yourself and sending another to one of your family members. I'll be frank (yes, pun intended), you'd be a fool not to support this incredible album.