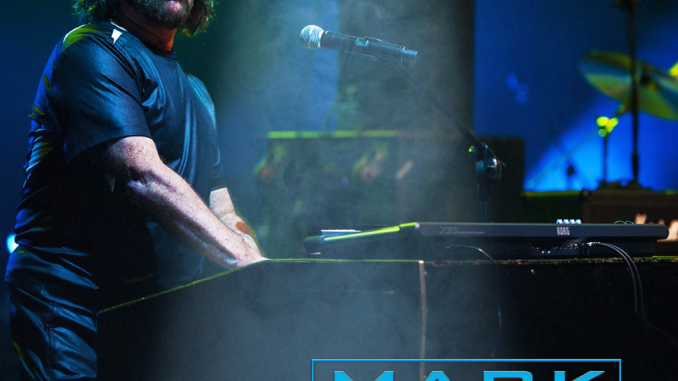 MARK STEIN, THE VOICE OF VANILLA FUDGE, RELEASES SINGLE AND LYRIC VIDEO FOR THE TEMPTATIONS CLASSIC "BALL OF CONFUSION". TAKEN FROM HIS FORTHCOMING ALBUM 'THERE'S A LIGHT' OUT ON DEKO ENTERTAINMENT NOVEMBER 26TH.
Iconic musician Mark Stein is set to shine with his new collection of songs about Hope, Unity, Concern and Redemption. Sidelined by the Covid-19 pandemic and unable to perform live with popular rock band, Vanilla Fudge, lead vocalist and keyboardist Mark Stein decided to put his down time to good use. He wanted to write and record songs about what was going on in America and the rest of the world. He saw social unrest, racial disparity, political division, violence, widespread sickness, and an entire world on the brink of an economic disaster due to the spread of a disease like no other. Yet, at the same time, Stein saw a great opportunity.
The second single from the album "Ball of Confusion" is an interpretation of The Temptations classic done only in a way that Mark Stein could do. He is no stranger for making new classics out of remakes, much like he had done with the Vanilla Fudge remake of The Supremes song "You Keep Me Hangin On". Mark had this to say about why he decided to do this song, "I had produced and arranged "Ball of Confusion" for a film called "Rockin' The Wall "….and although this was a huge hit by the Temptations in the early '70s, the lyrics are still relevant in today's volatile world and fits well with the theme of my solo album 'There A Light'.
View video here: BALL OF CONFUSION
'There's A Light', Mark's first ever solo album is a thematic collection of ten songs which weave a remarkable story of what America was, has become, and may or may not face in its future. Aside from the aforementioned "Ball of Confusion", and first single "We Are One" Stein has written and recorded songs whose titles pretty much sum up what they are about. Including "We Are Survivors," "Lyin'." "Let's Pray for Peace," along with a powerful new version of The Rascal's "People Gotta Be Free".
Mark Stein first came to prominence in Vanilla Fudge, formed with Carmine Appice, Tim Bogert and Vince Martell. Sold out world tours; hit albums and singles; and a reputation as a group steeped in cutting-edge musicianship has allowed Vanilla Fudge to be one of the most influential acts to rise from the revolutionary 1960s. In addition to his many years within Vanilla Fudge, Stein has also worked extensively with such rock legends as Alice Cooper, Dave Mason, and the late guitarist Tommy Bolin. He has also made guest appearances with Deep Purple, Carl Palmer, Steve Miller and once recorded and sang with Michael Jackson.
There are limited edition bundles (while supplies last), which can be ordered via the Mark Stein Store here: MARK STEIN STORE
Product Includes:
– One (1) Mark Stein – "There's A Light" CD (Autographed)
– One (1) Mark Stein – "There's A Light" T-Shirt
– One (1) Mark Stein – "There's A Light" Bandana
– One (1) Mark Stein – Exclusive "We Are One" Bracelet
– One (1) Mark Stein – "You Keep Me Hangin' On" Book

"There's A Light" Tracklist:
01. We Are One
02. Ball of Confusion
03. We Are Survivors
04. Lyin'
05. Racism
06. All Lives Matter
07. Let's Pray For Peace
08. People Got to Be Free
09. Break It Down
10. America The Beautiful

FOR MORE INFORMATION, VISIT:
www.mark-stein.com
www.dekoentertainment.com
Ball Of Confusion