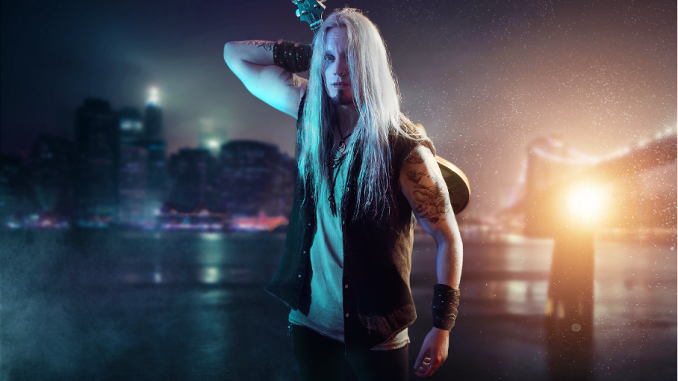 Watch HERE!
'Starbound Stories' Out this Friday, August 25, 2023
via Napalm Records | Pre-Order NOW!
Just before his first solo album drops this Friday, DragonForce vocalist MARC HUDSON has released the third single and title track from his highly anticipated solo debut, 'Starbound Stories'. On this track, he's joined by prog guitarist Galen Stapley (Azure), who provides a fascinating solo. Together with MARC HUDSON's crystal clear vocals, the song develops to an uplifting anime-inspired power track that further enhances the magical atmosphere and backs up the skillful guitars and drums.

This last advance taste of the album perfectly showcases what can be expected of it – an uplifting journey through MARC HUDSON's universe of power metal, anime influences, Japanese music and video game soundtracks. This impression is underlined by a magical and colorful music video released alongside the single.

MARC HUDSON on "Starbound Stories":

"'Starbound Stories', the title track, serves as the unrelenting epilogue to the album's sonically rich tapestry of adventure & destiny, resounding into skies and souls alike the ultimate power metal anthem of perseverance & belief in the self."

Check out the Official Video for "Starbound Stories" HERE
"'Starbound Stories' is a soaring rocket ride of sparkling anime-inspired power metal and I can't wait for everyone to hear it!"- MARC HUDSON
Instrumental album opener "As The Twilight Met The Sea" acts as an introduction to the soundscapes of the album and features samurai metal master Ryoji Shinomoto (RYUJIN, previously known as Gyze) on traditional Japanese instruments. Shinomoto also lends his vocals on the following track, "Freedom Heart", which also features a solo by guitar virtuoso Syu (Galneryus). Explosive power metal anthem "Dracula X" features a guitar solo by Jacky Vincent (ex-Falling in Reverse, ex-Cry Venom) and guest vocals by Adrienne Cowan (Seven Spires). Beautifully emotional successor "Stars" features classically trained violinist Mia Asano on electric violin. Energetic "The Siren" is led by a tingling melody and ballad-like vocals. "Swansong" starts off with a beautiful keyboard intro that could be pulled from a movie soundtrack. Sentimental vocals approach before the song progresses into a full-blown power metal ballad, with high screams and plenty of effects that further enhance the magical atmosphere while backing up the guitars and drums. Steve Terreberry, known on YouTube as Stevie T. (3.32M subscribers), performs a guitar solo on "Call Of The Martyrs" and is joined by prog guitarist Galen Stapley (Azure). Stapley also provides a solo on the following title track, "Starbound Stories". "One More Sight Of The Sun With You" is sung in Japanese, staying true to the main themes of the album and closing the entire offering on an uplifting note.
MARC HUDSON's debut solo album is an outstanding musical adventure balanced between power metal, video game soundtracks, Japanese music and even pop influences, showcasing virtuosity throughout all of its grand instrumentation.
'Starbound Stories' Track List:
1.As the Twilight met the Sea
2.Freedom Heart
3.Dracula X!
4.Stars
7.Swansong
8.Call of the Martyrs
10.One more sight of the sun with You
'Starbound Stories' will be available in the following formats:
=> 1 LP Gatefold translucent Blue (incl. 24 page booklet + recordbutler)
=> 1 LP Gatefold Black (incl. lyric sheet)
=> 1 CD Digipak + T-shirt
=> Digital Album
[1 LP Gatefold translucent Blue (incl. 24 page booklet + recordbutler)]
Line Up:

Marc Hudson – Vocals, Guitar, Backing vocals

Shaz D – Keyboards

Frédéric Leclercq – Guitars, Bass

Rich Smith – Drums

FOLLOW MARC HUDSON: