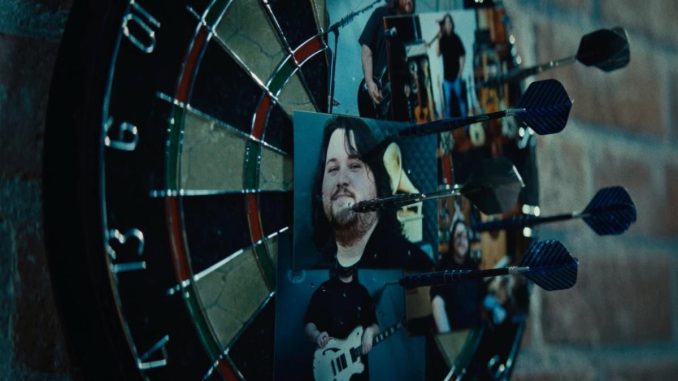 MAMMOTH WVH RELEASES OFFICIAL MUSIC VIDEO FOR NEXT SINGLE "I'M ALRIGHT"
SOPHOMORE ALBUM MAMMOTH II OUT THIS FRIDAY VIA BMG – AVAILABLE FOR PRE-ORDER
https://MammothWVH.lnk.to/MammothIIPR
North American Tour with Dates Alongside Metallica, Alter Bridge,
and Numerous Headline Shows Now On-Sale
(New York, NY – August 2, 2023) – With two days to go until his sophomore album Mammoth II is available worldwide via BMG, Mammoth WVH – the brainchild of Wolfgang Van Halen – is releasing a music video for another song from the album. The next single "I'm Alright" is another rocker featuring a driving drumbeat, a hypnotic piano riff and a blistering guitar solo that features his uncle – Patrick Bertinelli – on wah pedal operation. The lines "Sorry – I'm so sorry – It's kind of you to say – F@#k off and back away and let me breathe" are sentiments that are relatable to anyone and given extra bite with Wolfgang's pointed delivery. The music video picks up after the video for "Another Celebration at the End of the World" where the former band of Wolfgangs – who have been fired from Mammoth WVH – start their own band Mammoth WWW and enter the same Battle of the Bands as Mammoth WVH. Hearing the band rehearsing "I'm Alright," Mammoth WWW steals the song from Mammoth WVH to surprising results. Keeping it in the family on "I'm Alright," Wolfgang's mother -legendary actress and chef Valerie Bertinelli – also makes a cameo appearance in the video. The video marks the third video with director Gordy De St. Jeor and can be viewed here: https://youtu.be/uy0mCPvGFeY.
"'I'm Alright' is the single that is coinciding with the album release. The video is really fun continuing the story that was established from 'Don't Back Down' and 'Another Celebration at the End of the World.' I think it's really funny that the lyrics are quite angry but delivered through the lens of sort of a comfy rock song. If there ever was an anthem for myself about standing up for what I believe I should be doing – as opposed to what people expect – this is certainly that song," explains Wolfgang.
Mammoth WVH will be celebrating the release of Mammoth II with an appearance on NBC News' TODAY on the morning of Thursday, August 3rd. The band will be performing two songs from the new album: the previously unreleased ballad "Waiting" in the 8AM hour and the radio-edit of the next single "I'm Alright" in the 9AM hour. Check local listings for regional broadcast times.
Continuing the tradition of writing all of the songs and performing all of the instrumentation and vocals himself, GRAMMY® Award nominee Wolfgang Van Halen set out to challenge himself to expand his sound beyond what people had already come to know him for. The 10-track collection Mammoth II is slated for release on August 4th via BMG. From the rocking opener "Right?" to Beatles-esque fade on closer "Better Than You," Mammoth II showcases the growth of Wolfgang as a songwriter, musician and especially vocalist. Songs like "Miles Above Me," "I'm Alright" and "Waiting" are all sonically different from each other but unique to what Mammoth is. The debut single from Mammoth II is the upbeat rocker "Another Celebration at the End of the World" is currently in the Top 10 at Active Rock radio. The music video for that song is an 8:25 introduction to the Mammoth live band that was directed by Gordy De St. Jeor. The video can be seen here: https://youtu.be/yIQH0HcdQnE. A lyric video for the instant grat track and new live show favorite "Like A Pastime" can be seen here: https://youtu.be/I04dvZMsH3M and also the opus "Take A Bow" can be seen here: https://youtu.be/Uo3QeXqkQcU. Recorded at the legendary 5150 studio, Mammoth II was produced by friend and collaborator Michael "Elvis" Baskette and is available for pre-order in multiple configurations here: https://MammothWVH.lnk.to/MammothIIPR and at all fine music retailers starting Friday, August 4th.
The track listing for Mammoth II is:

1. Right?

2. Like a Pastime

3. Another Celebration at the End of the World

4. Miles Above Me

5. Take a Bow

6. Optimist

7. I'm Alright

8. Erase Me

9. Waiting

10. Better Than You
Mammoth WVH is currently in the middle of a North American tour in support of the release of Mammoth II. The live band – comprised of Wolfgang Van Halen (vocals/guitars/keyboards), Frank Sidoris (guitars), Jon Jourdan (guitars), Ronnie Ficarro (Bass) and Garrett Whitlock (drums) – are performing shows in support of Metallica on their M72 World tour and other dates with Alter Bridge and Sevendust along with select headline dates. A headline tour this November with Nita Strauss as support was also recently announced and tickets for all Mammoth WVH appearances can be found here: https://www.mammothwvh.com.
Aug 2 – Asbury Park, NJ – Stone Pony Summer Stage *

Aug 4 – East Rutherford, NJ – MetLife Stadium #

Aug 5 – Grantville, PA – Hollywood Casino Outdoors *

Aug 7 – Richmond, VA – Virginia Credit Union LIVE! *

Aug 8 – Cleveland, OH – Jacobs Pavilion *

Aug 10 – Quebec City, QC – Agora Port de Québec *

Aug 11 – Montreal, CA – Olympic Stadium #

Aug 12 – Mashantucket, CT – The Premier Theater (at Foxwoods Resort Casino) *

Aug 13 – Johnstown, PA – 1st Summit Arena *

Aug 16 – Springfield, IL – Illinois State Fair 2023 *

Aug 18 – Arlington, TX – AT&T Stadium #

Aug 19 – Corpus Christi, TX – Concrete Street Amphitheater *

Aug 20 – San Antonio, TX – Boeing Center at Tech Port *

Aug 22 – Tucson, AZ – Rialto Theatre ^

Aug 25 – Inglewood, CA – SoFi Stadium #

Aug 26 – Sacramento, CA – Ace of Spades ^

Aug 27 – Santa Ana, CA – Observatory OC ^

Aug 30 – Monterey, CA – Golden State Theater ^

Sep 1 – Glendale, AZ – State Farm Stadium #

Sep 3 – Pryor, Ok – Rocklahoma

Sep 5 – Lincoln, NE – Bourbon Theatre ^

Sep 8 – Albuquerque, NM – New Mexico State Fair

Nov 3 – St. Louis, MO – The Dome at America's Center #

Nov 4 – Milwaukee, WI – The Rave ^

Nov 5 – Minneapolis, MN – First Avenue ^

Nov 7 – Columbus, OH – The Bluestone ^

Nov 9 – Chicago, IL – The Vic Theatre ^

Nov 10 – Detroit, MI – Ford Field #

Nov 11 – Grand Rapids, MI – Elevation at the Intersection ^

Nov 13 – Toronto, ON – The Danforth Music Hall ^

Nov 14 – Montreal, QC – Théâtre Beanfield ^

Nov 15 – Boston, MA – Big Night Live ^

Nov 17 – Sayreville, NJ – Starland Ballroom ^

Nov 18 – Philadelphia, PA – Keswick Theatre ^

Nov 19 – Baltimore, MD – Rams Head Live ^

Nov 21 – Atlanta, GA – Buckhead Theater ^

Nov 22 – Lake Buena Vista, FL – House Of Blues ^

Nov 24 – Houston, TX – Warehouse Live Ballroom ^

Nov 25 – Dallas, TX – The Factory in Deep Ellum ^

Nov 26 – Austin, TX – Emo's ^

Nov 28 – Denver, CO – Gothic Theatre ^

Nov 29 – Salt Lake City, UT – The Depot ^

Nov 30 – Boise, ID – Knitting Factory ^

Dec 2 – Spokane, WA – Knitting Factory ^

Dec 3 – Seattle, WA – The Showbox ^

Dec 4 – Portland, OR – Roseland Theater ^

Dec 7 – San Diego, CA – House of Blues ^

Dec 8 – Las Vegas, NV – House of Blues ^

Dec 9 – Los Angeles, CA – The Belasco ^

^ Headline Show

* Supporting Alter Bridge

# Supporting Metallica

Tour Dates 2024

May 24 – München, DE – Olympiastadion München #

Jun 7 – Helsinki, FI – Helsinki Olympic Stadium #

Jun 14 – Copenhagen, DK – Telia Parken #

Jul 5 – Warszawa, PL – PGE Narodowy #

Jul 12 – Madrid, ES – Cívitas Metropolitano #

Aug 2 – Foxborough, MA – Gillette Stadium #

Aug 9 – Chicago, IL – Soldier Field #

Aug 16 – Minneapolis, MN – US Bank Stadium #

Aug 23 – Edmonton, CA- Commonwealth Stadium #

Aug 30 – Seattle, WA – Lumen Field Event Center #

Sep 20 – Mexico – Foro Sol #

Sep 27 – Mexico – Foro Sol #

# Supporting Metallica