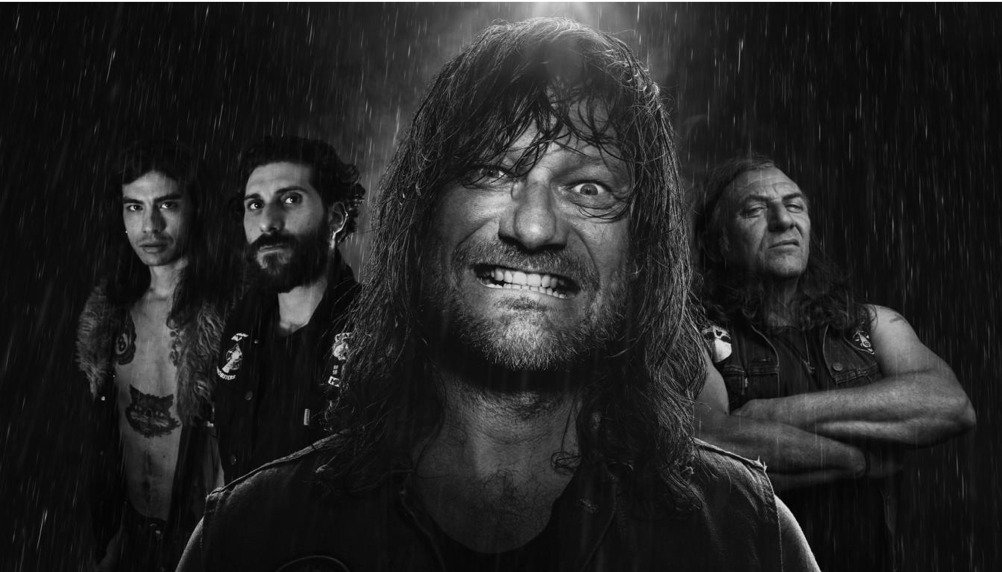 | | |
| --- | --- |
| Kreuzung Due Out November 8th on Napalm Records! | |
November 8th will see Australia's finest, high-energy rock juggernaut, MAMMOTH MAMMOTH, return with their fifth studio album, titled Kreuzung, on Napalm Records.
Recorded and produced by Richard Behrens in the winter of 2018/19 at Big Snuff Studio, Berlin, Kreuzung ( (German for crossroads) is the first album with the new line-up consisting of original members, Mikey Tucker (vocalist) and Frank Trobbiani (drums) and introducing new members, Marco Gennaro (guitarist) and Kris Sinister (bass). The band seized the opportunity to refine their hard-rock formula since the release of Mount The Mountain two years ago. The result is an electrifying sledgehammer: Kreuzung proves that the gritty Rock`n`Roll manifesto of MAMMOTH MAMMOTH has truly evolved and they know exactly where they're heading next. Today we get to hear a second single taken from Kreuzung, to the high voltage but yet lyrically-touching song Tear It Down. Watch the brand new lyric video right
HERE
!
"We're excited to release our next track 'Tear It Down' from our new record Kreuzung set for release on November 8th." Charismatic MAMMOTH MAMMOTH vocalist, Mikey Tucker, explains. "I think this track is a great example of how we've taken this album in a slightly different direction with our new lineup but still keeping the hard and dark edge we've always had. Lyrically, the song is about how difficult life can get for many people who suffer from mental health issues. These dark times can push you into having suicidal thoughts or putting up defensive walls to try survive, but if you're fortunate to have someone who loves you unconditionally, then they can help tear that wall down, enabling you to see that life is worth living."
In January 2017, MAMMOTH MAMMOTH found themselves at a crossroads. Already committed to two European tours, including their first visit to Spain and Portugal plus a large number of shows on the summer festival circuit, original guitarist Ben Couzens and bassist Pete Bell were unable to perform those ongoing commitments. In order for MAMMOTH MAMMOTH to honour those shows, Tucker and Trobbiani needed to find replacement musicians to continue to bring the high-energy, beer- soaked, dirty-rock shows to their loyal fan base. Inspired by all new surroundings, line-up changes and studio location, Kreuzung signifies where the band had found themselves in 2017, somewhere between the past, the present and the future.
Kreuzung Tracklisting:
1. I'm Ready
2. Wanted Man
3. Motherf@cker
4. Screamin´
5. Kreuzung
6. Tear it Down
7. Tonight
8. Mad World
9. Let Go
10. Lead Boots
11. God´s Gonna Hate Me
Known for their intense and high-energy Rock`n`Roll shows, MAMMOTH MAMMOTH will be hitting the road again this Fall, with a heavy touring schedule to follow. Join the party and catch them live at the following dates:
14.11.2019 DE Köln – MTC
15.11.2019 DE Frankfurt – Das Bett
17.11.2019 DE Weinheim- Café Central
18.11.2019 DE Nürnberg – Hirsch
19.11.2019 DE Bochum – Rockpalast
20.11.2019 DE Hamburg – HeadCrash
21.11.2019 DE Berlin – Musik & Frieden
22.11.2019 DE Erfurt – Museumskeller
23.11.2019 DE Leipzig – Bandhaus
26.11.2019 DE München – Backstage Club
27.11.2019 DE Stuttgart – Goldmarks
MAMMOTH MAMMOTH is:
Mikey Tucker – Vocals
Frank Trobbiani – Drums
Marco Gennaro – Guitar
Kris Sinister – Bass
For More Info Visit: